At a glance
Expert's Rating
Pros
Incredibly versatile: indoors, outdoors, and entirely wire free
Great video quality, day or night
Very affordable compared to the competition
Cons
Some features were still in development at press time
Enabling all its features will really eat away at battery life
Our Verdict
A rechargeable battery makes the Battery Cam Pro Wyze's most versatile low-priced home security camera to date.
Indoor? Outdoor? Both? For its latest home security camera, Wyze dispenses with labels and focuses instead on its freedom from wires. Outfitted with a beefy 6200mAh rechargeable battery, this pint-sized device is ready for deployment in any environment.
The blockish camera fits in well with Wyze's long legacy of diminutive surveillance cams, an upright rectangle measuring 3.5 x 2.5 x 2.5 inches (HxWxD). The camera can sit on its base on a bookshelf or be mounted to a wall with the included hardware. The default mounting hardware, however, only works for wall installations, not ceilings. If you want to hang the camera from your roof eaves or ceiling, you'll need to add the $10 Wyze Universal Mount to your shopping cart.
The Wyze Battery Cam Pro is great value given its extensive range of features, amazing flexibility, and low price tag.
Wyze Battery Cam Pro design and build quality
Wyze has assigned an IP65 weatherization rating to the Battery Cam Pro, which means it's dustproof and that it's protected from water jets coming at it from any direction. Honestly, the camera just doesn't look all that rugged, having what appears to be an open speaker grille on its backside. Dust might not get all the way inside the unit and cause it to fail, but the tiny holes sure look like they'll get clogged with grime if left outside.
Inside or out, the Battery Cam Pro boasts plenty of other solid specs in addition to that IP rating: Maximum resolution is 2560 x 1440 pixels, with a 134-degree diagonal viewing angle. That resolution can be dropped down a tick if you need to save storage space and reduce the camera's bandwidth consumption. Two-way audio, along with a 100dB siren, is also included.
The typical infrared night vision is onboard, but the unit also includes two small LEDs that can provide a modest level of spotlight illumination. These are triggered when motion is detected, but don't think of them as substitution for a porch light. Their primary mission is to provide a degree of color night vision, at least within a few yards of the camera's lens.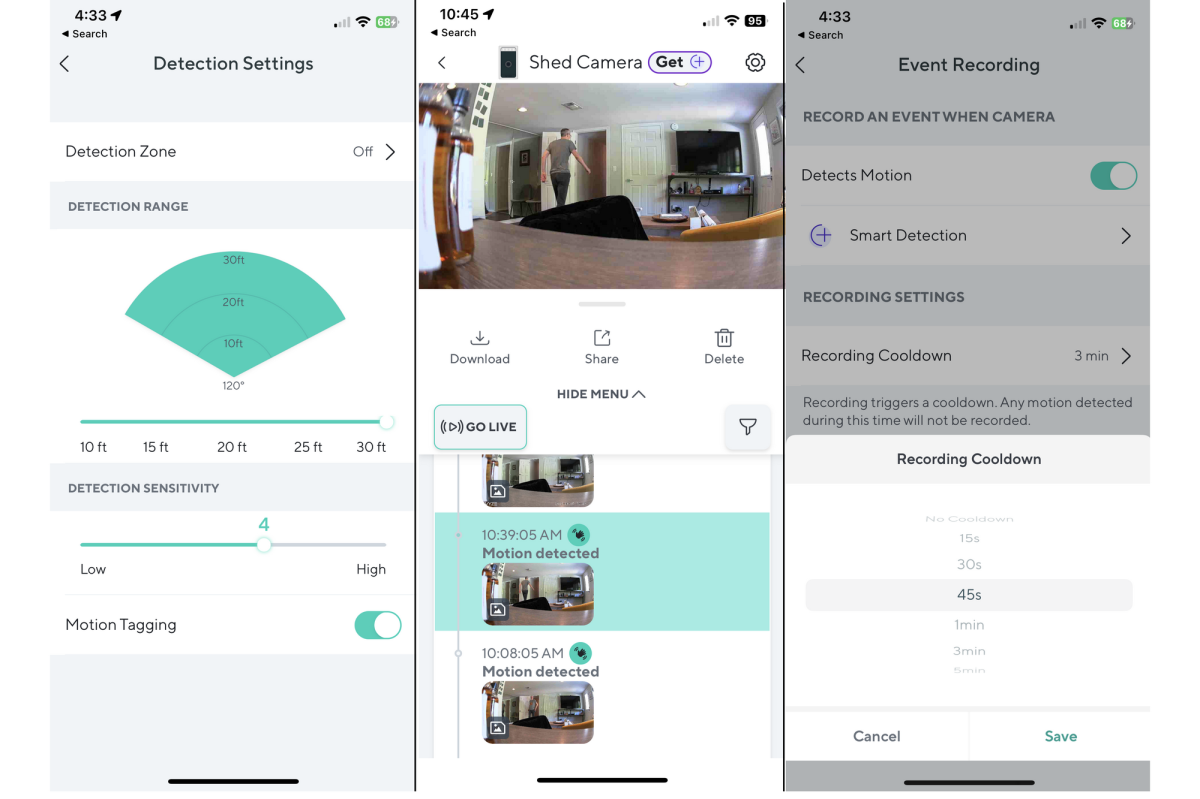 All the Wyze Battery Cam Pro's settings (left and right) are easy to find, as is the history of recorded clips beneath the camera's live view window.
Christopher Null/Foundry
Speaking of motion detection, the Wyze Battery Cam Pro is outfitted with two motion sensors: a standard passive infrared sensor augmented by radar, which is not something you typically find in a consumer-grade security camera.
I found the unit very accurate at catching movement, and the Wyze app categorizes motion into five types: person, pet, vehicle, package, or something else. This feature seems to be evolving in the app; it had about 90 percent accuracy in my testing (and never properly categorized sightings of my cat as "pet" motion).
The Wyze Battery Cam Pro is easy to set up
Setup starts with the charging of your battery via USB-C cable. As has become annoyingly common, Wyze includes the cable in the kit, but not an A/C adapter. A full charge can take 9 hours to complete, after which Wyze suggests a maximum 6 months of running time.
My experience, however, saw the battery drain by half after just 8 days of admittedly heavy testing; so, 6 months seems awfully optimistic to me, even in low-usage scenarios. You'd probably be smart to spring for a spare battery ($29), charging dock ($18), and/or solar panel ($25) to help avoid downtime.
Wyze's setup has always been streamlined, and dual-band Wi-Fi support (2.4GHz and 5GHz) ostensibly makes that even easier for the Battery Cam Pro. The camera connects directly to the network, with no bridge required, so setup should be as simple as it gets. Unfortunately, I tested this camera just as it was entering the market, however, and a few kinks were clearly still being worked out of the system.
My camera wouldn't stream live video for the first few days, for example, and local recording to an onboard microSD card was and is still listed as "coming soon" at press time. Without local recording, you'll need to upgrade to Wyze's Cam Plus subscription service if you want to store and stream recorded video and enable key features like person and other types of detection. Fortunately, Wyze Cam Plus remains cheap, at $20/year or $3/month for one camera, or $99/year or $10/month for unlimited cameras.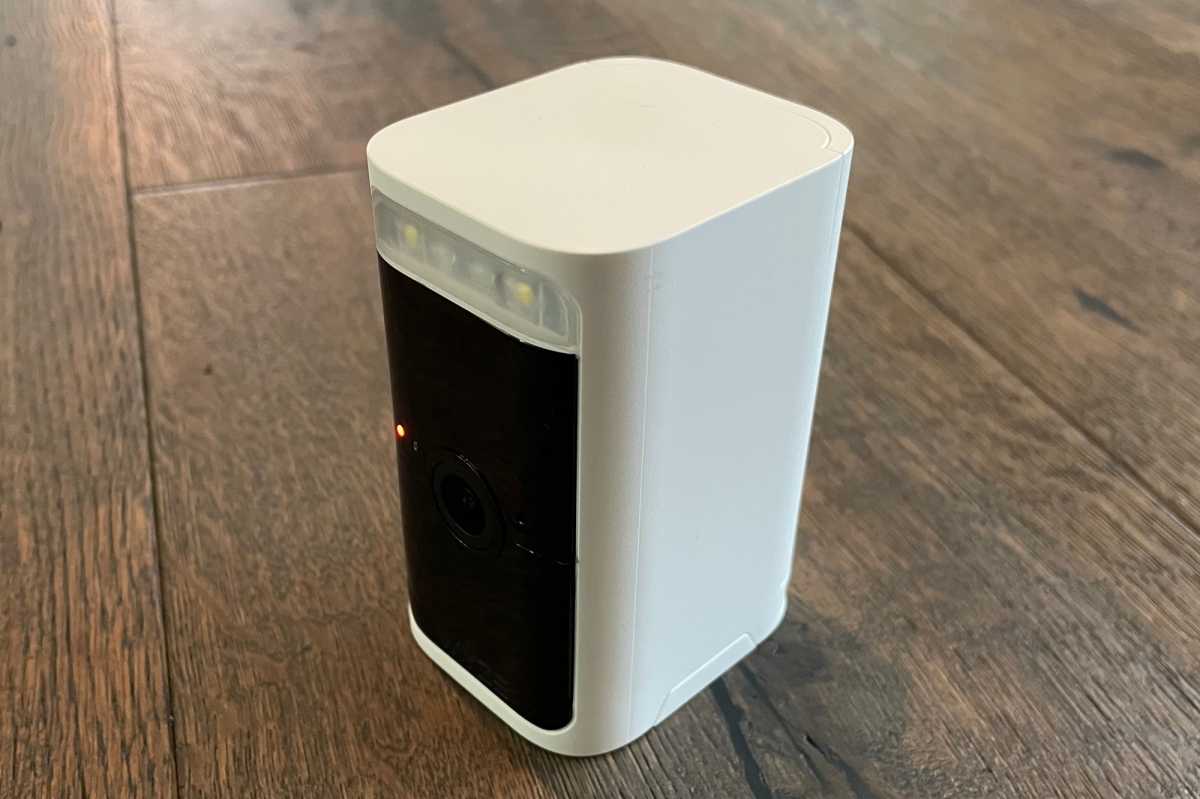 The Battery Cam Pro isn't the most elegant camera Wyze has every offered, but it needs its plus-sized proportions to accommodate its ginormous Li-Ion battery.
Christopher Null/Foundry
Once Wyze squashed some of the initial bugs, I found the camera worked remarkably well. Video is crisp and clear, notifications arrive promptly, and recorded clips are easy to find by simply scrolling down below the live view feed. If you need to go further back, the "all events" button will take you to a thumbnail-enabled timeline sorted by date and hour of the day. Night vision quality is excellent, with a range of at least 40 feet. Interacting with the camera was quick and playback is responsive, usually taking only a couple of seconds to buffer before video starts rolling.
Even better, everything is not only configurable, but all these settings are easy to find. Smart detections can be individually enabled, and you can select whether you want to receive notifications for each type of detection. Cooldown between clips is configurable—from none at all to 5 minutes—and maximum video length is configurable from 12 seconds to 5 minutes. (Recording will end earlier if motion stops, and Wyze's firmware is aggressive about determining what constitutes a "stop.") All these settings have an impact on battery life, so keep that in mind when making your selections.
Should you buy a Wyze Battery Cam Pro?
The $94 asking price makes this decidedly the most expensive standalone camera Wyze sells (compare to the Wyze Cam v3 at just $36), but it's a great value given its extensive range of features and amazing flexibility. Give it a few weeks of app and firmware updates if you don't want to deal with growing pains; come September, this will be a no-brainer buy if you're looking for a battery-powered indoor/outdoor security camera.