At a glance
Expert's Rating
Pros
Affordable
Great quality light
Good indoor range to choose between
Cons
Colour problems when using Alexa
Some luminaires are expensive
Limited range of outdoor lights
Our Verdict
WiZ is a top-quality smart lighting system that's a lot less expensive than Philips Hue and LIFX. The app is great, and there's now an indoor security camera which is good value too.
Best Prices Today: WiZ Connected Warm White Bulb
$7.36
For years I've used LIFX bulbs in my home and put up with fairly frequent Wi-Fi connection problems because I love the quality of colours they produce.
There are literally dozens of cheap alternatives if LIFX's prices – and Philips Hue for that matter – are just too expensive for you. The problem is that most cheap smart bulbs offer a poor range of colours and the absolute cheapest might try and use a combination of red, green and blue LEDs to make white, which never works.
Pair that with awful apps and you end up wasting money on products that are horrible to look at and frustrating to use.
Enter WiZ Connected: a range of affordable smart lights that can do proper whites and colours and also have a great app that makes it simple (even enjoyable) to control them.
WiZ makes both LIFX and Philips Hue look horrendously overpriced, which is why it might come as a bit of a surprise that WiZ is owned by Signify, the company that also makes Philips Hue bulbs.
In fact, WiZ bulbs used to be sold as Philips WiZ Connected, but have since dropped the Philips branding.
If this wasn't enough, you don't even need to buy a separate 'bridge' to use WiZ lights because they just use Wi-Fi to talk directly to your router. Plus, WiZ lights offer a few bonuses, including SpaceSense, that you won't find elsewhere. And fairly recently, WiZ added a security camera to the range for those that prefer to control their smart devices from as few apps as possible.
The WiZ range
The choice of bulbs and lights is impressive given that WiZ has only been around a few years.
In addition to the standard white and colour bulbs for screw and bayonet fittings, the range also includes GU10 spotlights and E14 (Small Edison Screw), retro filament bulbs, LED strips, plus many actual light fittings, known in the trade as luminaires.
There are spotlights, ceiling lights (such as the brilliant Rune), wall lights, a floor 'pole' light and table lamps. There's even a battery-powered lantern and, just recently, the first-ever outdoor addition to the range, the String Lights.
The choice of indoor lights, then, is excellent.
For this review, I asked WiZ to send over a selection of these to test out, including the Linear, a bar light that's designed to provide a 'wall wash', GU10 spots, screw-in colour bulbs, the Rune dual-zone ceiling light, the portable, battery-powered lamp and the outdoor String Lights.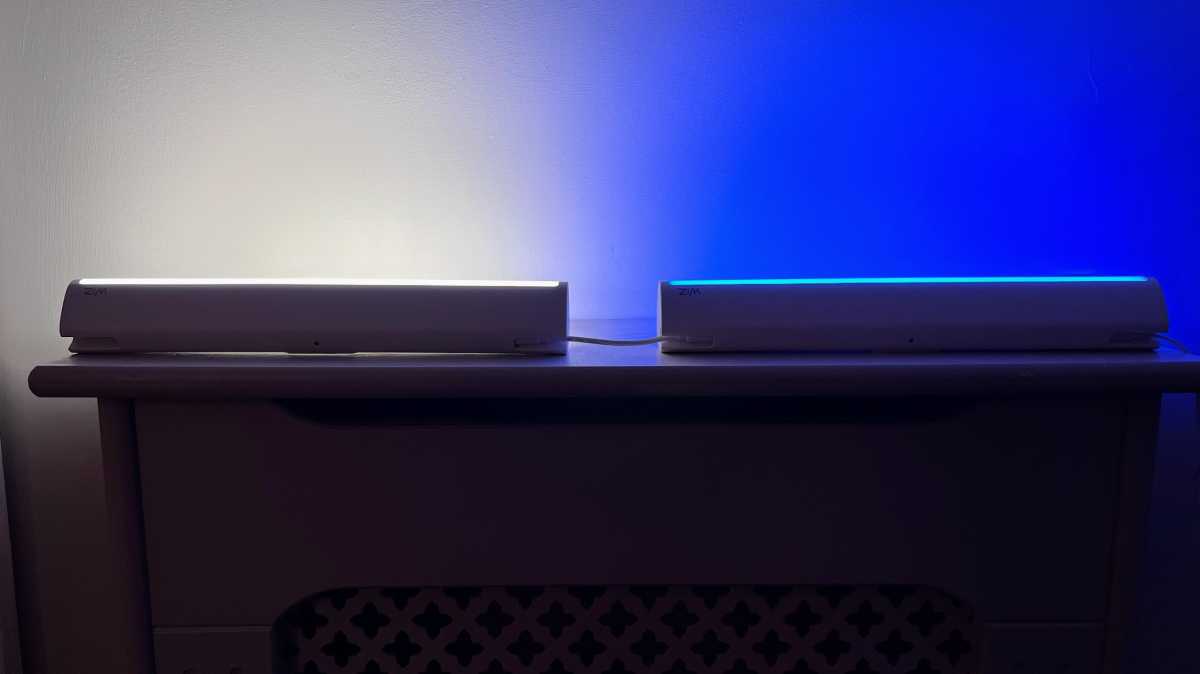 WiZ Linear
Jim Martin / Foundry
All deliver similarly good light quality. The only one that proved tricky to use was the Rune as it has separate lights for whites and colours: the strip around the edge is colour-only and the main panel handles whites. The app isn't really set up for this, so getting the combination of white and colour that you want isn't easy.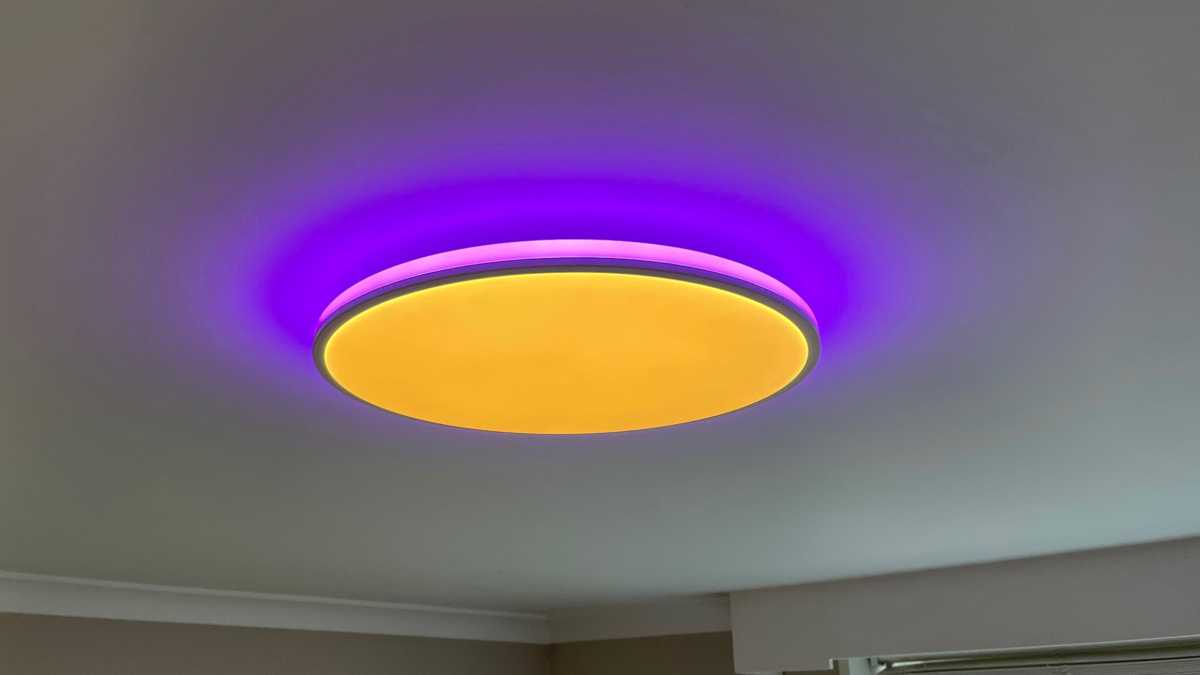 Jim Martin / Foundry
It was slightly disappointing that the lowest colour temperature for white is 2700K when all the other WiZ bulbs go down to 2200K, but that's a minor gripe. (The photo above makes the white light look much warmer than it actually is.)
The Mobile Portable Light is great for a variety of reasons, including the fact there are several dual-zone presets you can toggle between using the button on top, and there's a useful touch-sensitive slider for quickly adjusting brightness. Battery life at full brightness is about three hours and, oddly, there's no way to see the battery charge level, even in the app. It's best to turn it off using the switch underneath, as leaving it 'on' and connected to Wi-Fi will drain the battery even if the light itself is off.
Jim Martin / Foundry
However, it was the String Lights that I liked most. Each of the 12 LEDs is separated by a metre of chunky wire and, of course, they are weatherproof. You'll need to install them where the box near the end of the cable has a decent Wi-Fi signal.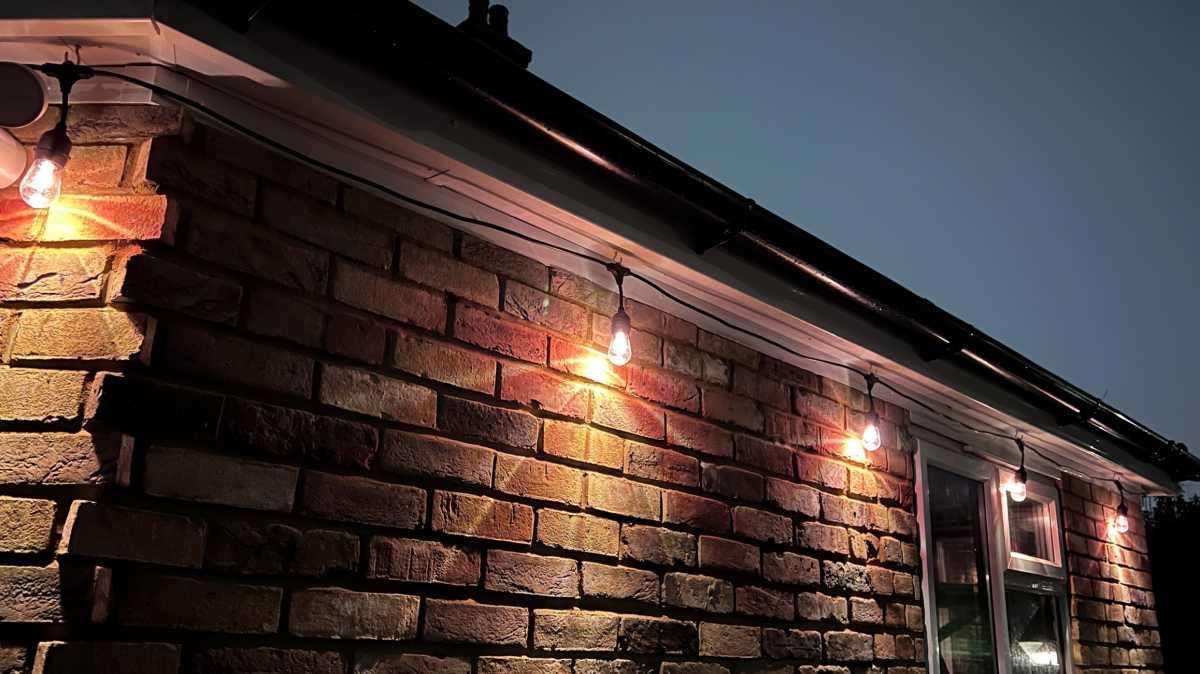 Jim Martin / Foundry
As you might guess, the dynamic modes really come alive on the String Lights, with party mode being ideal for traditional bright colours. But the white modes are also great, with subtle but noticeable changes in the Golden White mode. Steam Punk is great, too.
WiZ says each light produces 10 lumens for a total of 120, but they seemed brighter than that to me.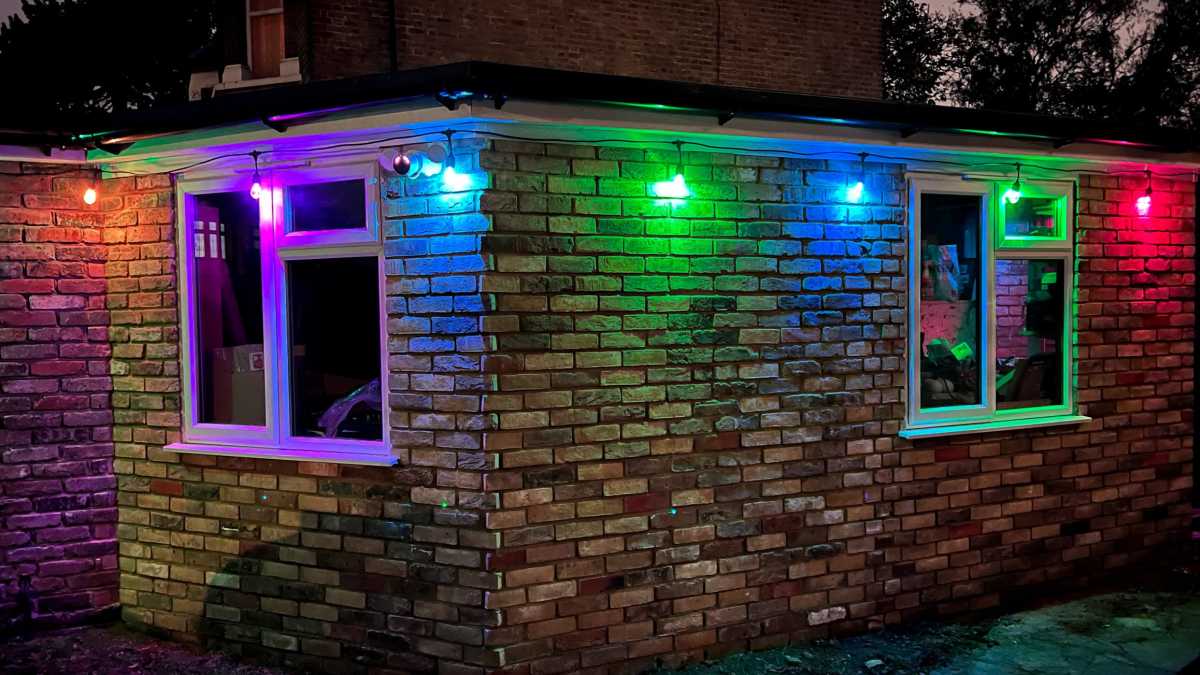 Jim Martin / Foundry
WiZ Indoor Wi-Fi Camera
It's unusual for company that makes smart lights to branch out into security, but that's precisely what WiZ has done. And although the $69.99 / £79.99 Indoor Wi-Fi Camera is quite basic, it does exactly what most people want a security camera to do.
Jim Martin / Foundry
You can view a live feed, but it will also detect any motion or loud sound and record clips – either to the cloud or a microSD card you provide – so you can see what happened while you weren't watching live. It may have a bog-standard 1080p resolution, but quality is very good both during the day and using infrared for black-and-white footage at night.
In the WiZ app (see below) you can tweak settings to adjust motion sensitivity and, if you subscribe to the Heads-up cloud storage package, you can also set up zones to monitor for activity as well as others that you don't want to monitor at all. It's a shame that feature is locked behind the subscription, but it's pretty much the only one that is, and it's great to have the option of using a microSD card and not pay a subscription – something I wish Google and Ring would do.
Of course, there has to be some connection with the lighting side of things, and there is. As it can detect motion, the camera can be used as a trigger to switch on the WiZ lights in the same room when someone walks in. In the app, you can choose exactly what colour and brightness they should be, as well as how long they should stay on.
WiZ app
As there's Bluetooth as well as Wi-Fi in each light, setting up a WiZ light is amazingly easy. The app lets you add individual lights manually, but can also detect multiple new lights, prompt you to name each and choose which room they should be a part of. That makes it incredibly quick to install, say, a bunch of GU10 spotlights in a room without having to go through the process for each bulb. Well played, WiZ.
One thing worth knowing is that there are two separate apps: you'll want to get WiZ V2 which is the latest one.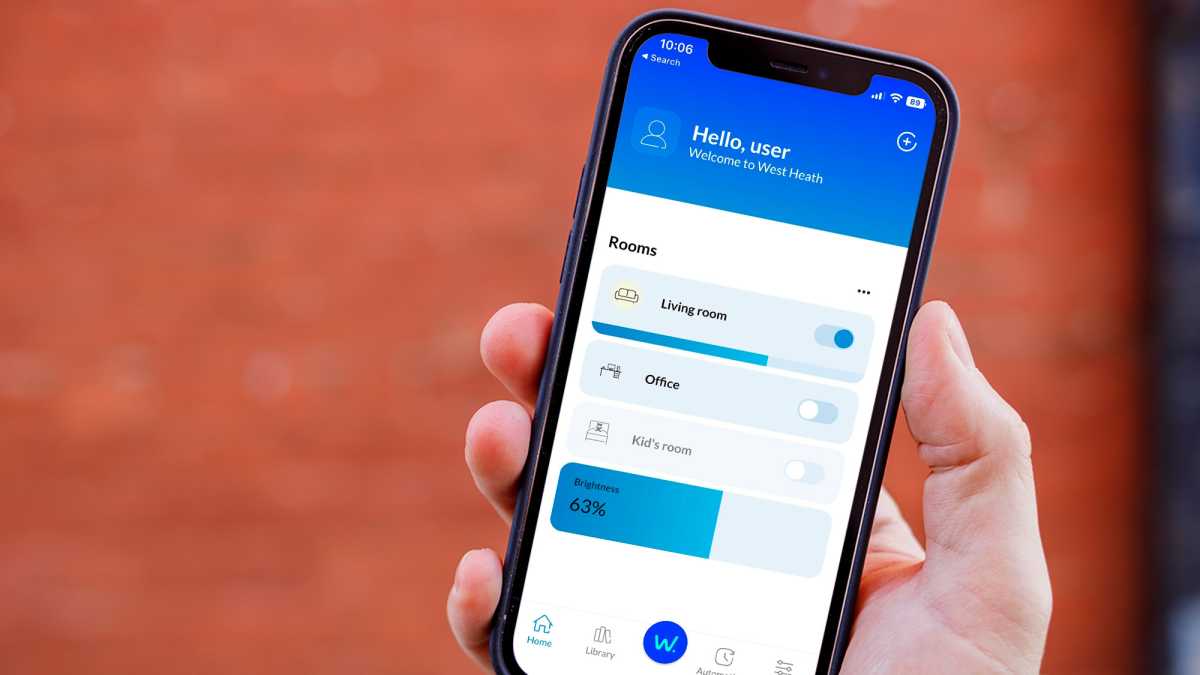 Jim Martin / Foundry
It's one of the best apps for any smart lights, besting the LIFX app and even Hue app, in my opinion.
It's sensibly based around rooms rather than individual lights. Once you've created rooms and named them, such as lounge and kitchen, you can then easily set a colour and brightness for each.
Of course, if you've bought lights that support colours and not just white, then there are a host of them to choose as well. But where the WiZ app really shines is in the dynamic modes, which are readily accessible (unlike in the LIFX app, for example).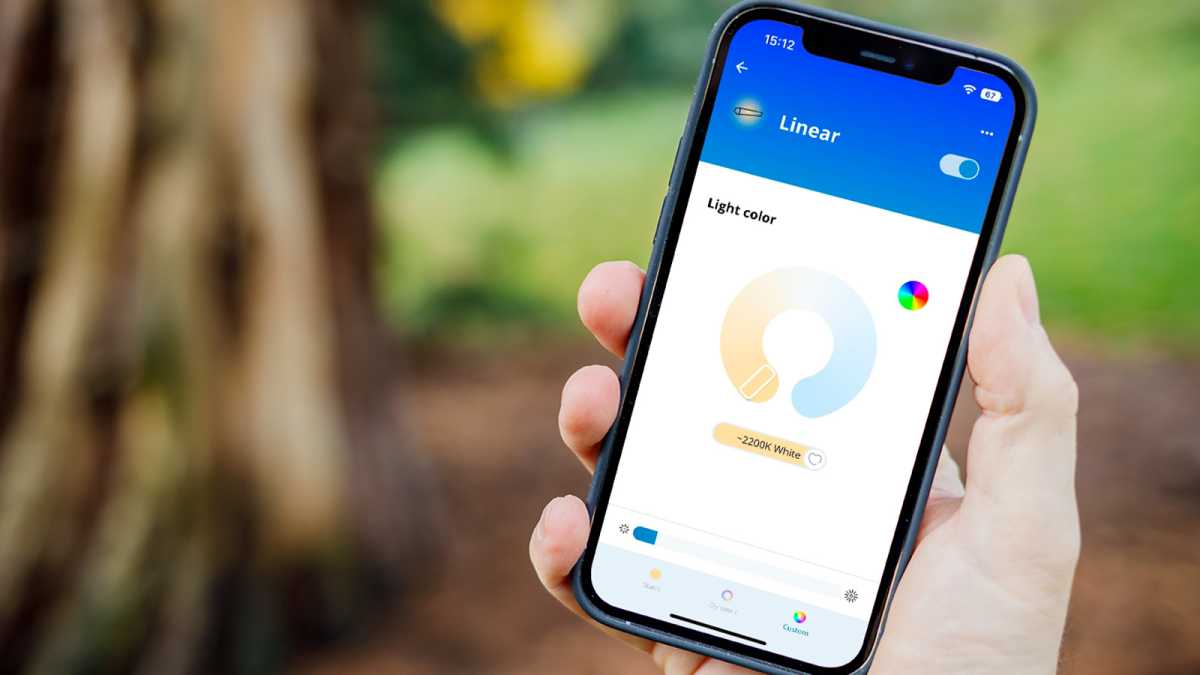 Jim Martin / Foundry
In fact, in V2 of the app, it's easier to set a dynamic mode than to pick a specific colour. They're split into White and Colour, with two Progressive modes (wake up and bedtime).
Simply tap on one of the options and all the lights in that room will constantly change colour, using colours appropriate to the mode you've picked. Go for Party, and you'll get bright primary colours, while Fall includes oranges and yellows.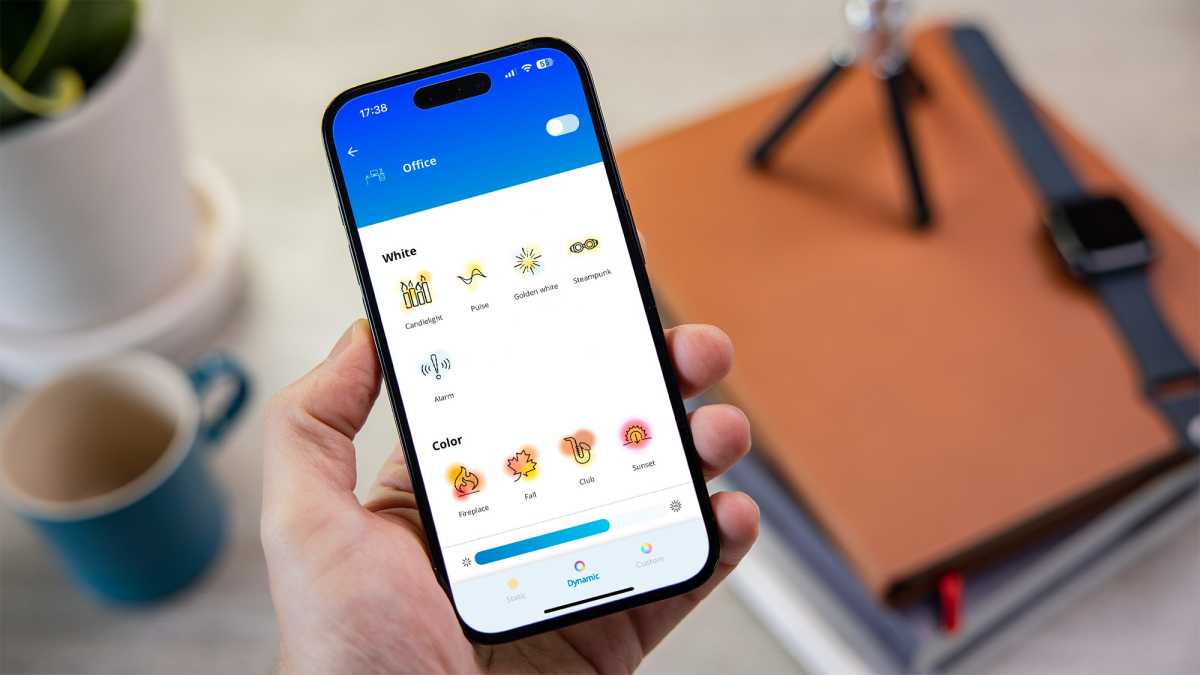 Jim Martin / Foundry
A slider at the bottom adjusts brightness, but you can tap on Speed to get a slider to adjust how quickly or slowly those colours change.
As you might guess, these work best when you have at least three or more lights in a room, and don't really make sense if you have just one. They're great on the outdoor string lights, though.
If Dynamic modes don't appeal, you can pick shades of white from cool to warm or any colour you like.
A separate tab, Automation, allows you to schedule when lights turn on and off. This could be improved. It forces you to choose a specific start and end time, and has no options to, for example, turn on lights 30 minutes after sunset.
It also forces you to turn all the lights on in a particular room: there's no option to select which ones you want.
If you want to turn a room on and off more than once per day, you'll have to create a separate schedule for each period, and there's no way to duplicate them.
You can, at least, choose which colour, white or dynamic mode you want, and brightness.
Jim Martin / Foundry
Some of the missing features there are mitigated somewhat by the Rhythms option. By default there is only one: Circadian.  This is probably the only one you need, and it changes the colour of the lights according to the time of day, so cool in the morning, then gradually getting warmer in the afternoon and into the evening, just like real daylight.
The beauty of this is that you can turn lights on and off at will and when you turn them back on, they'll adjust to the appropriate colour for the time of day as long as Circadian Rhythm is enabled for the room.
Better still, you can pick in the app what happens when light switches (or power switches) are used. This is called 'WiZclick' and allows you to set up two modes which kick in when you flip the switch once or twice.
For example, you could set one to 'warm white' at a specific brightness, and the other to a dynamic mode at a different brightness.
This could be useful if you prefer to use switches to control your lights: faster than using the app.
You can even set how long the lights take to fade on and off, which is a particularly nice option to have, and you can do all this per light.
It's worth noting that with WiZclick disabled, the light will always go back to its previous state when the switch is used. In other words, if it was set to blue at maximum brightness when it was turned off, it'll be exactly that when turned back on.
Another useful option is "Power outage recovery" which stops all your WiZ lights turning on after a power cut. They'll only turn back on if they were on before the power outage.
SpaceSense is a new feature that uses the bulbs' Wi-Fi to 'sense' when movement is detected in a room and use this as a way to automate lights without buying separate motion sensors.
Jim Martin / Foundry
I spent some time testing this and found that it depends upon where you place the lights in a room as to whether it works well or not.
For a start, you need at least two lights in a room, and one needs to be near the centre, with other at least 2m away. That immediately caused a problem in room I wanted to use because I have four GU10 spotlights, one in each corner.
I tried to pick one as the 'beacon' and the others as the 'processors' but even though the calibration process appeared to work ok, detection proved unreliable.
There's a sensitivity slider, but even with it set quite high, it mostly failed to detect anyone moving, and didn't switch on the lights.
Yet, on occasions, the lights in that room would be on when no-one was home, suggesting they'd been triggered by the cat or dog.
Ultimately, you'll need lights in the optimal positions and to use trial and error to get the right sensitivity. It's a nifty feature, but not one you should count on.
Integrations
Last but not least are all the integrations. You can probably guess Alexa and Google Assistant support, but there's also IFTTT, Samsung SmartThings, Enki, Alice, Magenta SmartHome, Ozom, Homey, Marusya and iflares – many of which you won't have heard of.
I spent most time using the Alexa integration and found it worked reasonably well. You can't ask Alexa to set any Dynamic modes, which is expected, but the big disappointment was the mismatch between Alexa and WiZ colour names.
It's a problem I haven't experienced with LIFX or Hue bulbs, but when you ask Alexa to set WiZ lights to, say, pink, you'll actually get a whitish purple. You have to say "Alexa, set lounge to dark pink" to get normal pink. And it's similar with orange, yellow and other colours.
The big omission, and surely one reason why WiZ bulbs are cheaper, is the lack of support for HomeKit. This means those with Apple hardware can't currently control WiZ lights with Siri, or from their iPhone Control Centre.
However, WiZ lights made since the second half of 2021 are Matter compatible. That means they can be added to the Apple Home app and controlled locally – so they'll work even if your internet connection goes down.
Price & availability
WiZ bulbs start at around $10 / £10 for a simple dimmable white bulb and $12.99 / £12.99 for a colour A19 / E27.
A 2m LED strip kit costs $45 / £45, and the Linear (with two lights) costs $84.99 / £79.99.
Speciality lights are more expensive: $119.99 / £109.99 for the String Lights and £129.99 for the Rune Ceiling light, available from Screwfix in the UK.
You'll find the range on sale at Amazon, as well as other retailers including Walmart and Home Depot in the US, and Very, B&Q, Argos and John Lewis in the UK.
Verdict
If you're trying to decide on a smart lighting system and want something that's relatively inexpensive yet is still great quality – and easy to use – then WiZ certainly fits the bill.
In fact, it's one of the only options that ticks all those boxes and also has a broad range of bulbs and light fittings to choose between.
The outdoor options are rather lacking, but hopefully WiZ will expand that side of the range.