Air fryers must be the most talked-about kitchen appliance of the moment, and with good reason. They are much more versatile than you'd expect – they're not just for beige frozen food. You can use them to roast, bake – and even make an excellent cheese toastie.
We've tested some of the best, from straightforward, dial-controlled appliances, to combination air fryers, to dual-zone and smart air fryers.
If you're wondering what an air fryer is – well, it's not really a fryer at all. It's essentially a mini convection oven, so you can use it to cook anything you would in a conventional oven. It'll mean tweaking your favourite recipes to get the best results, but ask the legion of people who have switched their daily cooking from oven to air fryer and they'll tell you it's well worth it.
There are good reasons to invest in an air fryer. They cook more quickly than an oven, are easier to clean, give crispy results without the need to add extra oil and, perhaps most importantly now – when bills are skyrocketing – they'll use significantly less electricity than oven cooking. And depending on the model you choose, you can opt for a combination air fryer with a number of cooking methods.
The downside is that it'll take up a big chunk of your kitchen counter space, so you'll need to measure up and see what space you have available before you buy.
If you want to know whether you should invest, have a look at our article on whether you should buy an air fryer. And if you need more help on which size and features to go for, read our FAQs under the chart. Otherwise, read on to see our top picks.
1. Ninja Foodi MAX Dual Zone Air Fryer – Best air fryer
Pros
Intuitive operation for hassle-free cooking
Super easy to clean 
Versatile: packed with features
Innovative Digital Cooking Probe
Cons
Build quality could be better
Cumbersome: takes up a lot of counter space 
Pricey
If you haven't tried a dual-zone air fryer, you should know that they are well worth the investment – as long as you have the counter space to stand one, as they are big appliances.
Ninja's last dual-zone model – called the called the Foodi 6-in-1 Smart 10-qt. 2-Basket Air Fryer (DZ550) in the US and the Foodi MAX Dual Zone Air Fryer (AF451UK) in the UK – has every feature you could possibly want, including a cooking probe, for perfect meat and fish.
Each basket has a 5QT/ 4.75L capacity and you can programme them independently, match them, or even set them in sync mode – to finish cooking at the same time, for hassle free meals.
It has six cooking modes: air fry, max crisp air fry, bake, roast, dehydrate, and reheat. There's no grill function, however. It works beautifully and looks pretty good as well. We were slightly disappointed by its build quality as it's almost entirely plastic, whereas Ninja's Speedi and its health grill have steel sections in their construction.
Read our full
Ninja Foodi MAX Dual Zone Air Fryer review
2. Instant Vortex Plus 6-in-1 air fryer – Best larger air fryer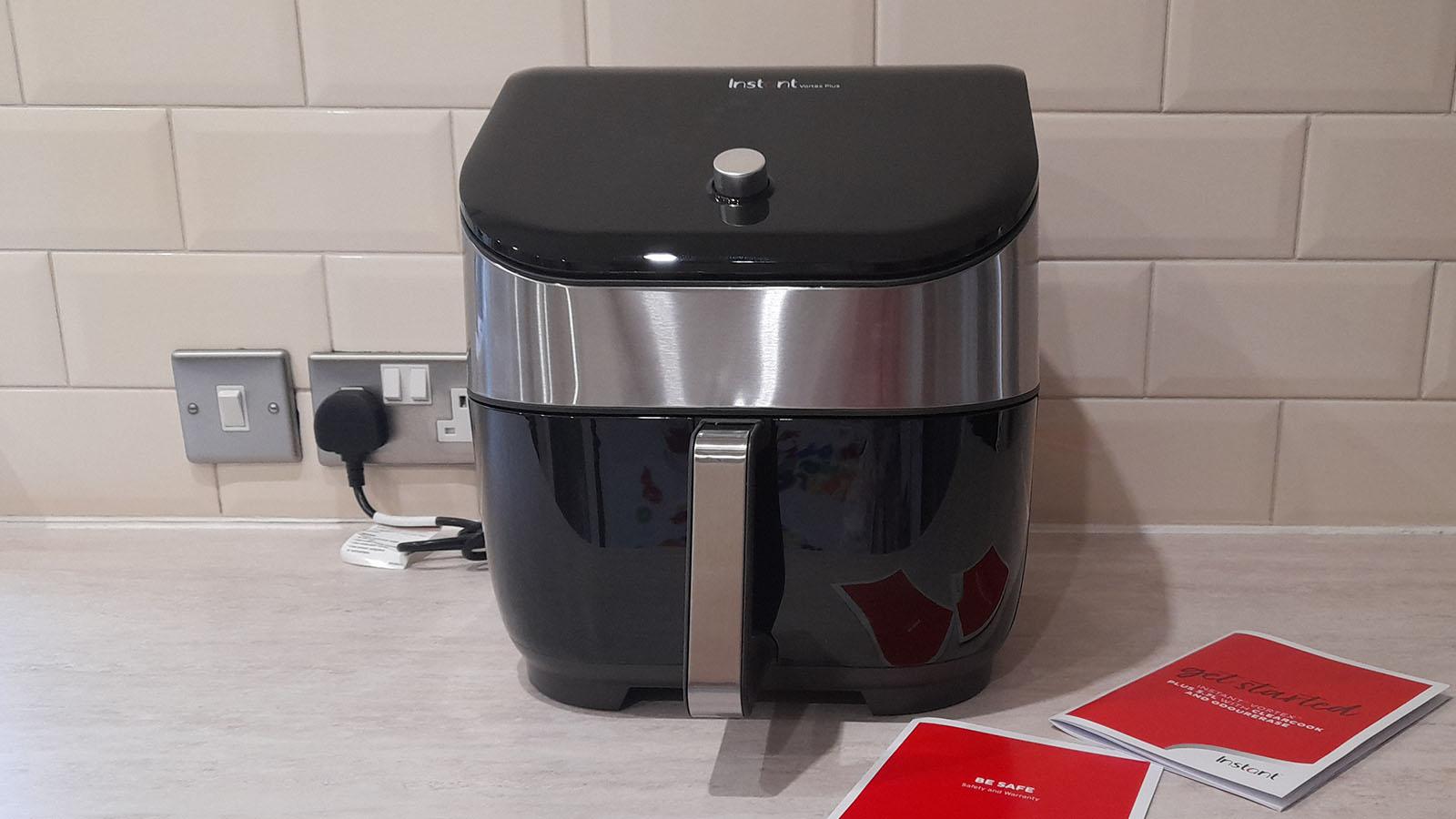 Pros
ClearCook window
OdourErase technology
Fantastic for chips and roast joints
Cons
No cooking pre-sets
Tricky to serve from drawer
Rubber tray feet must be removed for cleaning
This is a traditional air fryer, with a deep, pull-out cooking drawer. It's capacious too, at 5.7 litres/6 QT. It's not particularly heavy, but it is still designed to have a permanent space on your countertop. It's controlled via a digital touchscreen on top of the appliance.
There are six programmes to choose from: air fry, bake, grill, dehydrate, reheat and roast. But there are no pre-sets, so there's no guidance as to the time and temperature you should use when cooking. This won't be a problem for people accustomed to air fryer cooking but novices might have to do a bit of online research and be prepared to experiment at first.
There are some excellent features to recommend it over rival products: there's a window to allow you to see how your cooking is getting on without opening the door, and the OdourErase technology really works. But if you're buying specifically for these features, make sure you get the right model as Instant makes a number of similar models, with none, one, or both of them.
Read our full
Instant Vortex Plus 6-in-1 air fryer (5.7L/6QT) review
3. Ninja Speedi – Best multifunctional air fryer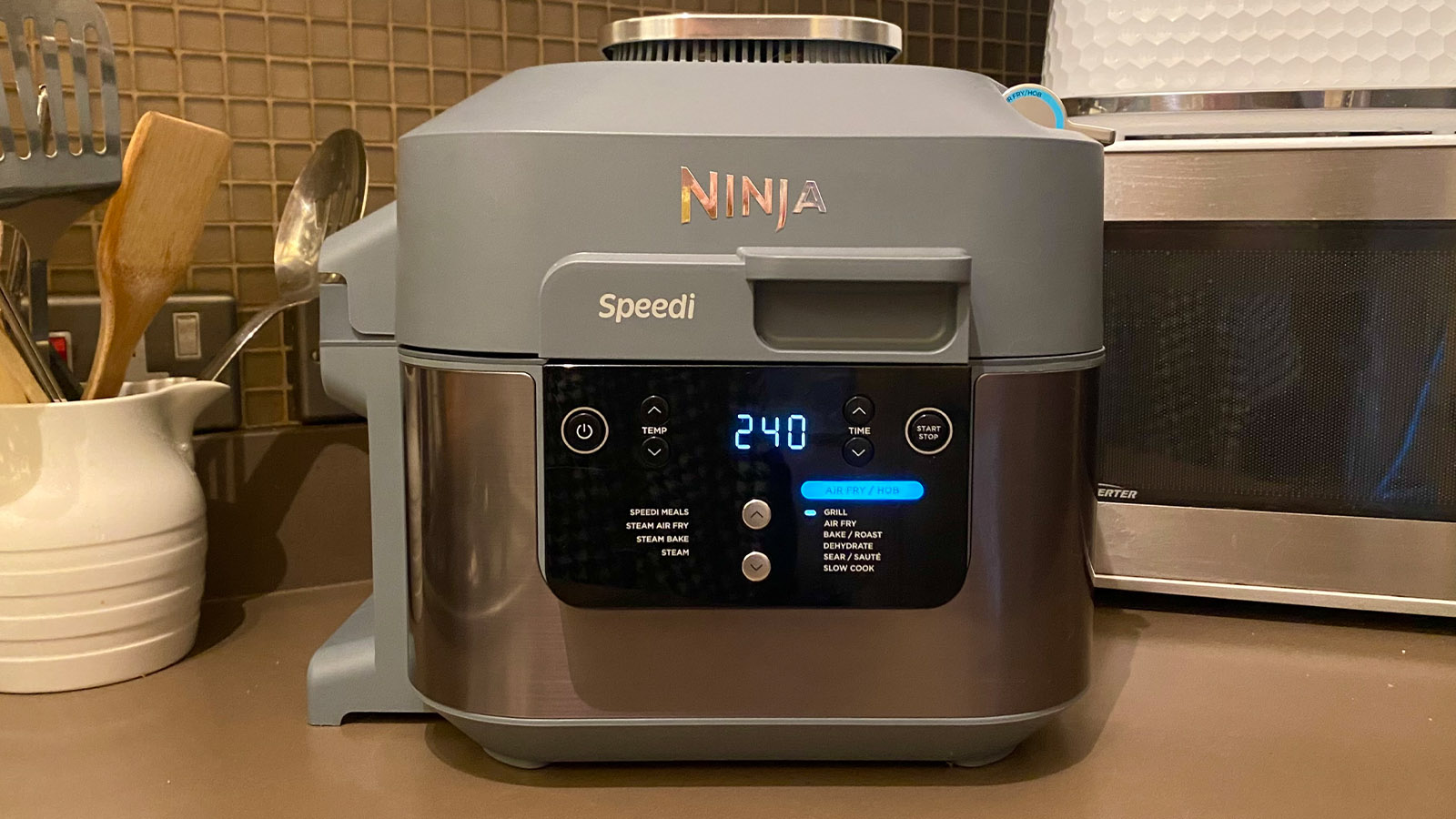 Pros
Full meals in 15 minutes
Steam and air fry at the same time
Hard to think of anything you can't cook in it
Cons
Large appliance that takes up a lot of countertop space
Heavy lid doesn't lock in its open position
Not as economical to cook in as smaller air fryers
The Ninja Speedi is a huge appliance but if you invest in one, you can say goodbye to all your other countertop cookers. Its ten cooking functions mean it can do almost anything – and often at the same time, such as steam cooking and air frying. Its USP is its 'Speedi Meals' setting, which allows you to cook rice or pasta and vegetables on the bottom while air frying above. It genuinely means you can cook an entire meal in 15 minutes flat and its 6QT/ 5.7 litre capacity means that's a meal for an entire family. People use the phrase game-changer too often – but in this case it's true.
Still, as it's 1,760W, you'll find that it's not as cheap to cook certain foods that take a bit longer, like baked potatoes, as it is in a more compact air fryer. It's much more economical to use for quick cooking. Plus, you'll want to discourage kids from touching it as its heavy lid does not lock in place in its open setting.
Read our full
Ninja Speedi review
4. Chefree AFW20 Air Fryer – Best budget dual-drawer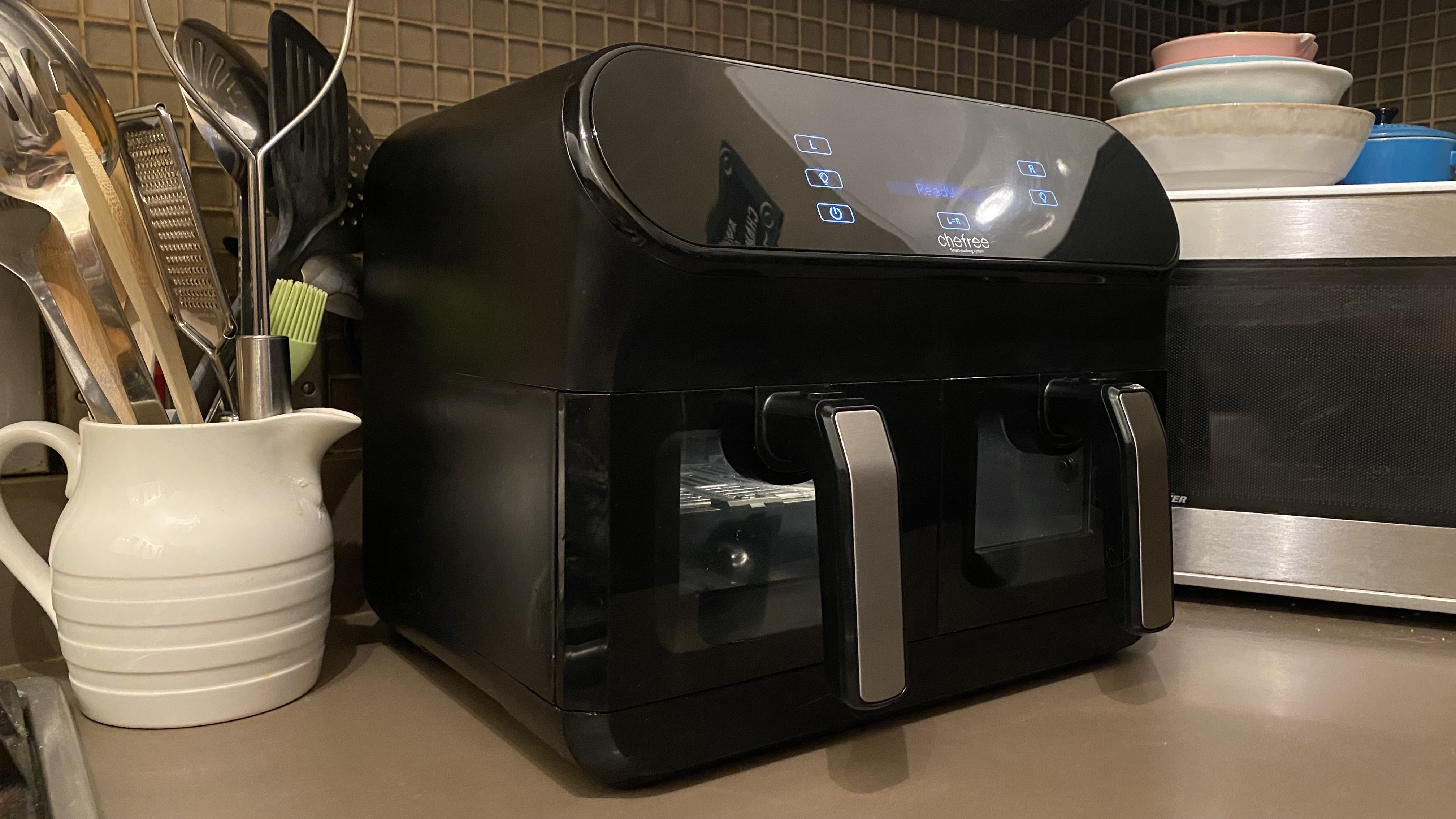 Pros
Sync finish
Viewing windows & light-up baskets
Well priced
Cons
Takes up a big chunk of space
Relatively high energy use
Chefree's two-drawer air fryer isn't as widely available as Ninja's products, but if you can get one, we doubt you'll be disappointed. For a start, it's much less expensive than the Ninja equivalent and it has all the same functionality – except for Ninja's meat probe.
It is a sizeable appliance, so you'll need plenty of space for it. But the cooking capacity makes it worthwhile. It has two, 4-litre drawers that can be used separately, matched or synced so they finish cooking at the same time. Unlike large, single-drawer air fryers, you can cook two separate dishes at once, using different cooking methods and times, or just use a single drawer for smaller volumes and save energy. We found it reliable and effective.
If you're new to air fryer cooking, it comes with a cooking chart that'll give you cooking timings and temperatures for everything from butternut squash, to bacon, to salmon fillets, to prawn tempura. There are eight pre-set cooking options: air fry, roast, air crisp, broil, bake, dehydrate, reheat and grill.
It has a touchscreen display and is extremely easy to use. There's another nice hardware feature: there are glass panels built into the drawers and you can illuminate them from the touchscreen to see how the cooking is coming along without opening a drawer.
Read our full
Chefree AFW20 Air Fryer review
5. Dreo Air Fryer – Best compact air fryer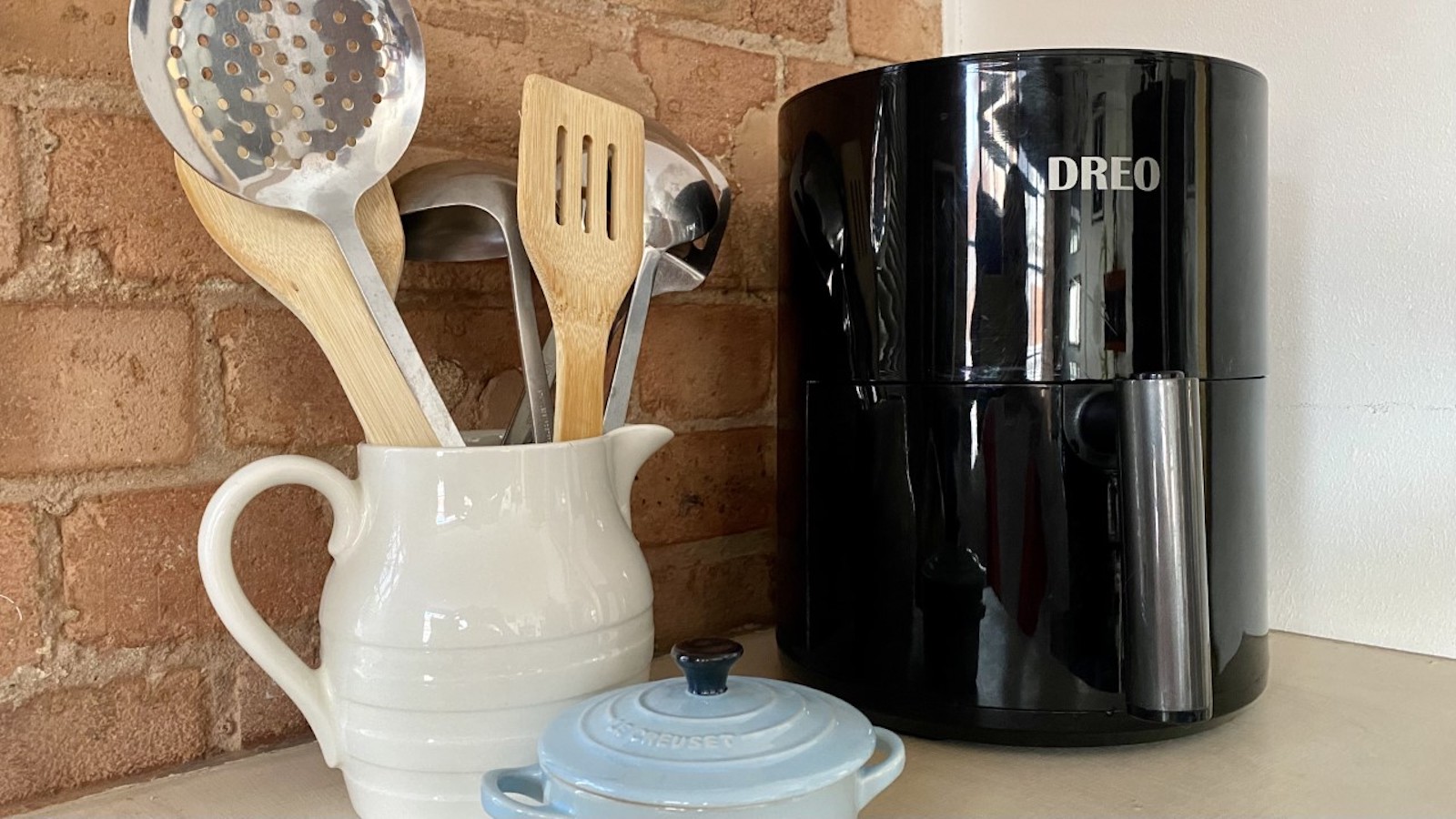 Pros
Touchscreen
Pared-back design
Easy to use and cookbook included
Cons
No keep warm setting
Medium capacity: not for large families
This compact air fryer has a 4 quart/ 3.8 litre capacity, making it ideal for couples, singles and smaller families. It's simply designed and shiny, with LED touchscreen controls on top. It has eight cooking presets (fries, steak, chicken, fish, bread, vegetables, plus it can dehydrate and reheat). Or you can adjust the cooking time and temperature yourself. There's also a pre-heat function.
The air fryer switches off when it's finished, so there's no chance of overcooking, but there's no keep warm function.
It's a 1500 watt appliance, so it's not very power hungry. It would be a good option for people new to air frying as not only is it solidly made and easy to use, but it comes with a 50-recipe cookbook that'll give you plenty of ideas beyond beige frozen food.
Read our full
Dreo Air Fryer review
6. Instant Pot Duo Crisp with Ultimate Lid – Most cooking options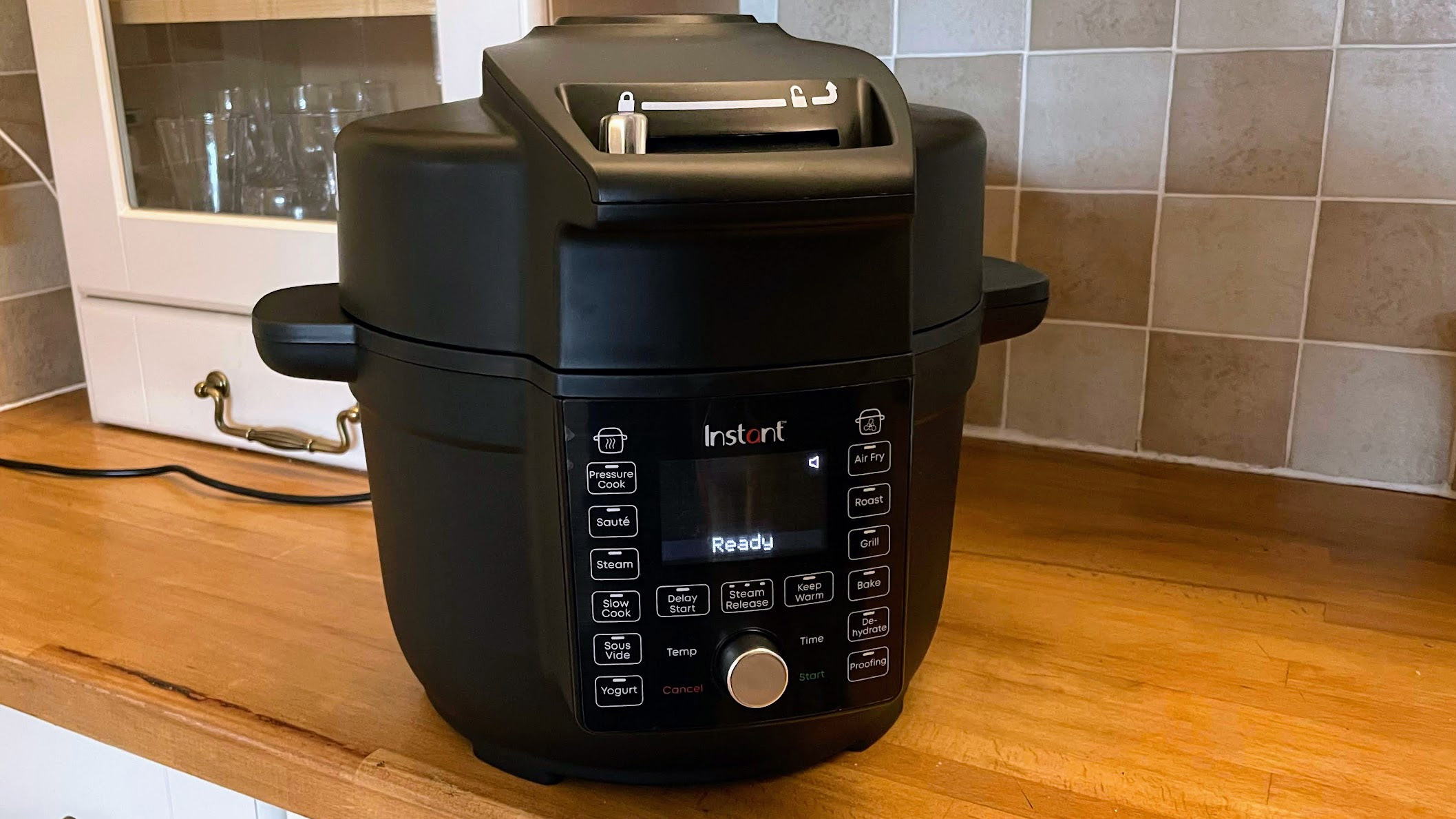 Pros
Space saving compared to a multi-lid cooker
Wet & dry cooking functions
Quick cooking
Cons
Too tall to open underneath kitchen cabinets
Expensive if you don't use all the functions
In our testing, a part snapped off
The Duo Crisp with Ultimate Lid is a serious multi cooker, with 13 functions: pressure cooking, air frying, slow cooking, steaming, sautéing, warming, roasting, mini oven, grilling, dehydrating, yoghurt making, sous vide and bread proofing. There are handy pre-sets for these, plus a keep warm function. One of the points in this appliance's favour is that there's a single lid you use for every function, so there's much less to store. You will, however, have to remove the pressure plate for some uses.
It's capacious too, with an air fryer basket that can take four medium-size chicken breasts and a couple of thighs and sits inside a 6.2 litre (6.5 quart) stainless steel cooking pot. It's also a 1500W appliance, which isn't too power-hungry, so you get a lot of cooking power for its energy usage.
There's only one issue to note. During our testing, a part snapped off and an online search showed that we weren't the only ones to experience this. Instant were able to replace the part but we'd suggest handling the pressure plate with care if you buy.
Read our full
Instant Pot Duo Crisp with Ultimate Lid review
7. Ninja Foodi Smart XL/ Max Health Grill & Air Fryer – Best for grilling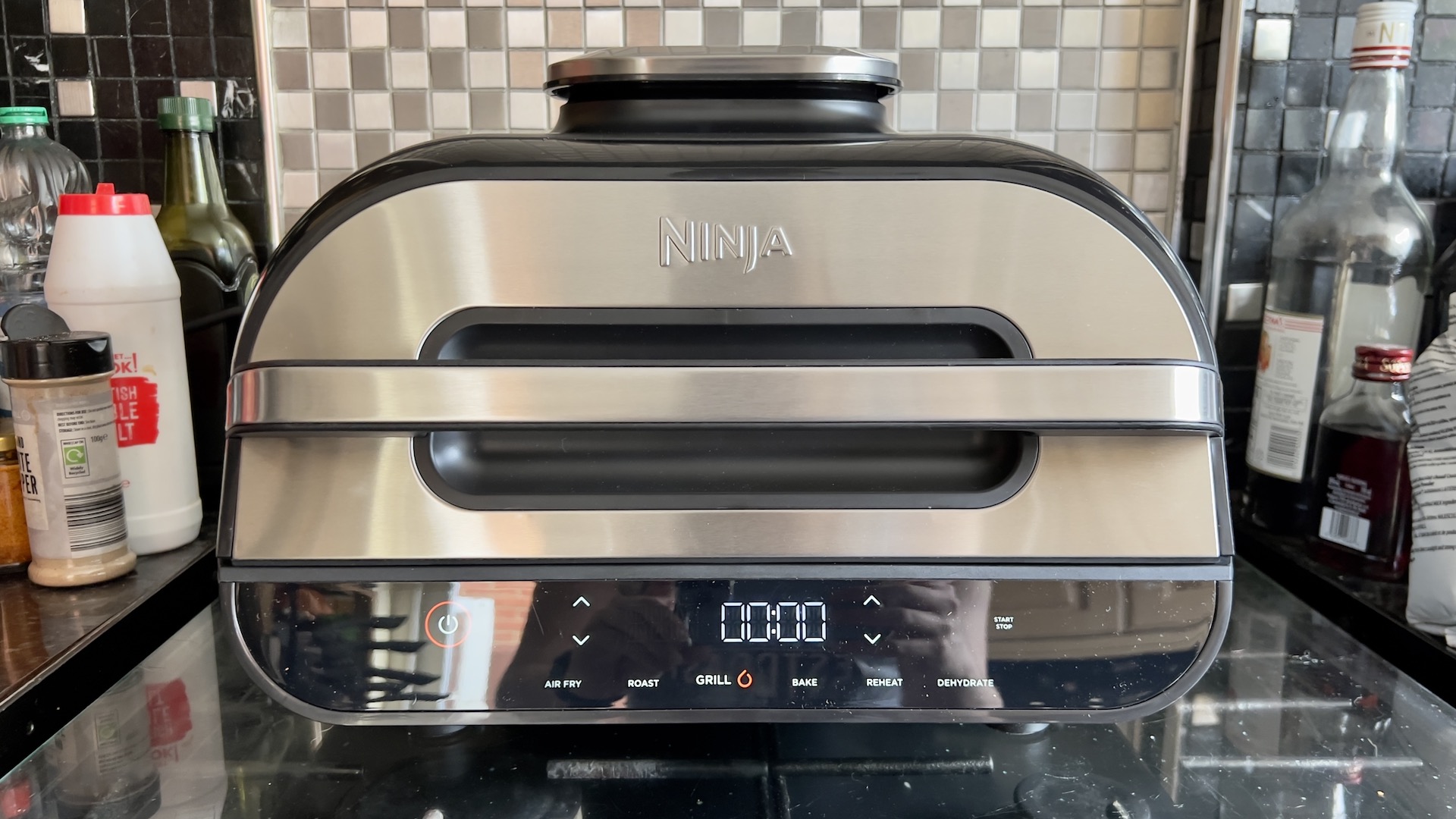 Pros
6 cooking functions in one
Large grill plate
Wide temperature range for air frying
Smart Cooking System & Digital Probe
Cons
Very bulky, takes up a lot of room
3.8L capacity is small compared to some air fryers
Expensive and hard to come by
This Ninja Foodi grill has a slightly different name depending on where you are in the world but it's the same great appliance. It has six cooking functions (air frying, grilling, baking, roasting, dehydrating, reheating) and it does each one brilliantly – hence the premium price tag. But what makes it stand out is the "Smart Cook" system which, when used with the included digital probe, will help you cook steaks to perfection.
Bear in mind that this is a really bulky appliance with a comparatively small internal capacity (4 quarts/ 3.8 litres) and at 2460 watts, it is more expensive to run than many of its rivals.
Also, Ninja products tend to sell out quickly, so if you want it and you see it in stock, grab one while you can.
Read our full
Ninja Foodi Max Health Grill & Air Fryer (AG551UK) review
8. Proscenic T21 smart air fryer – Best smart air fryer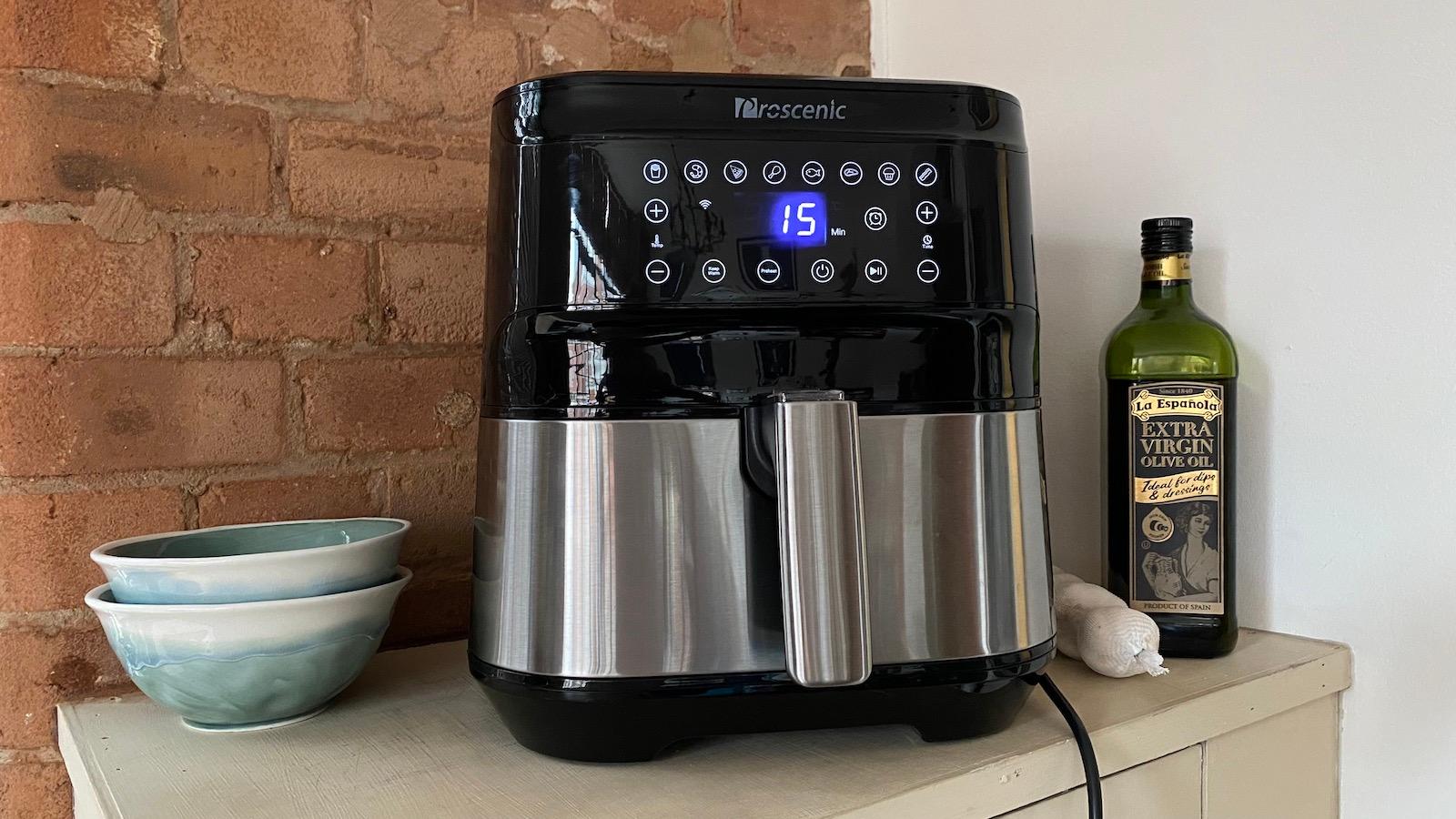 Pros
Capacity
Ease of use
One-button programmes
Connected recipe feature
Cons
Takes up a chunk of space
Other smart functionality is of limited use
The smart features aren't the only reason to opt for the Proscenic T21 air fryer. It has a large, 5.5 litre capacity, it's solidly built and it's extremely easy to use. There's a selection of pre-set cooking programmes – including fries, shrimp, bacon, chicken and cake – that you can choose from the touchscreen. You can also opt to set the time and temperature yourself.
But the smart features are well organised and a definite plus. The app contains over 100 recipes and if you select one, it'll show you the ingredients you need, take you through the prep stages and automatically set the right cooking time and temperature for your food.
If you get held up while cooking, you can pause the cooking programme in the app. You'll also get an alert to your phone when your food is done.
Read our full
Proscenic T21 smart air fryer review
9. Breville Halo Air Fryer Rotisserie – Best combination air fryer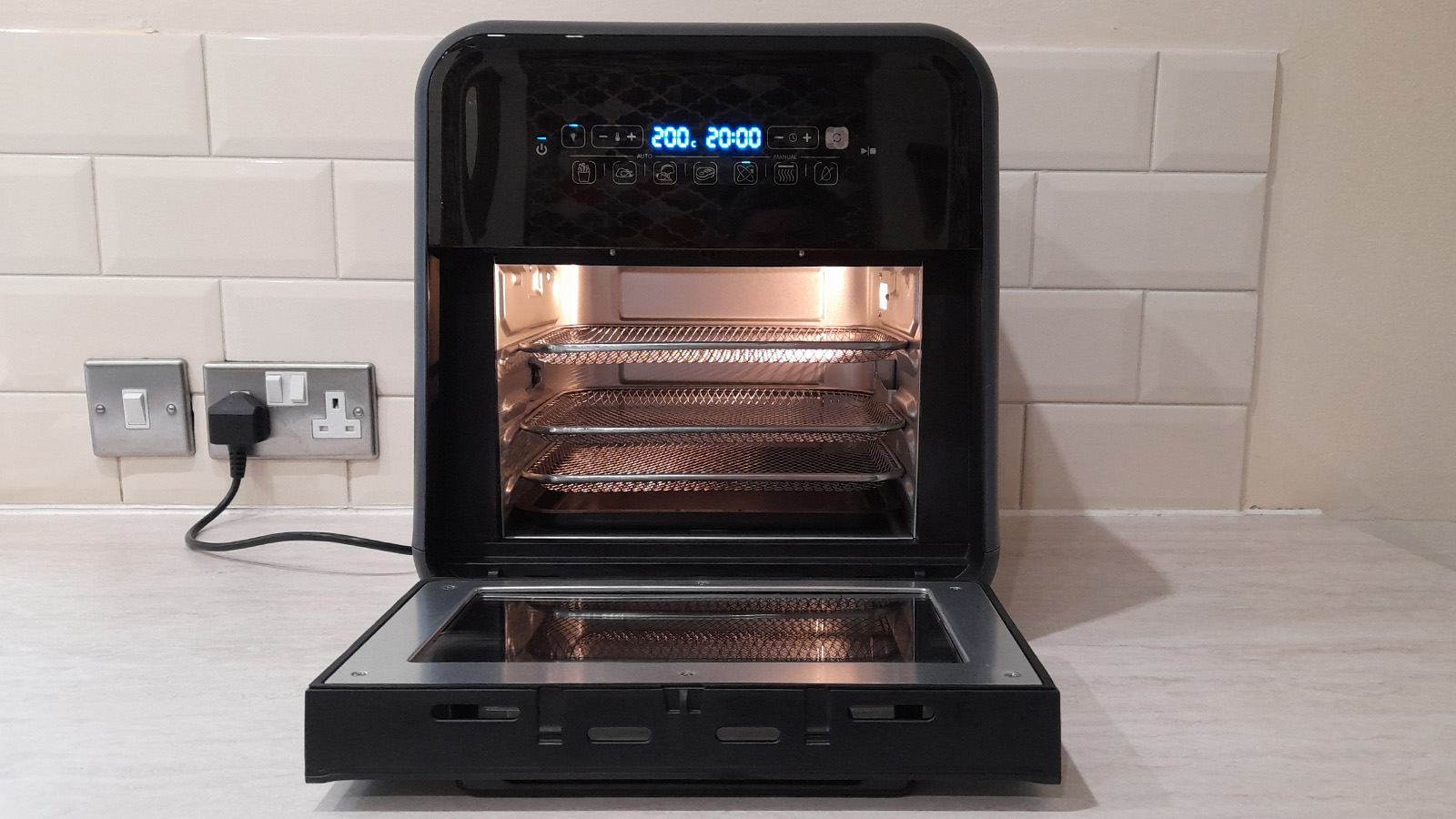 Pros
Rotisserie spit and basket
3 cooking surfaces
Easy to use
Cons
Max 1.3kg rotisserie weight
Used accessories may require a pre-wash soak
Changing oven light might be tricky
The Breville Halo Air Fryer Rotisserie Oven is designed less like an air fryer and more like a countertop toaster oven. Instead of the drawer you'd expect to see in an air fryer, this appliance comes with a mesh drum, for cooking food such as chips, as well as a rotisserie spit. It also has a huge, 10 litre capacity.
One of the reasons to opt for this and not a traditional air fryer is its versatility: it can do everything that an air fryer can, and then some. The rotisserie spit is good for a whole, 1.3kg chicken and the drum can hold 750g of chips.
It has touchscreen controls, and you can opt for one of the pre-set cooking programmes (chips, chicken, vegetables, and steak) or one of the manual options (air fry, bake and dehydrate).  
Another handy feature is that it'll switch itself off after cooking, so your food won't be burnt to a crisp if you get distracted during the cooking process.
Read our full
Breville Halo Air Fryer Rotisserie Oven review
10. Swan Retro Air Fryer – Best budget air fryer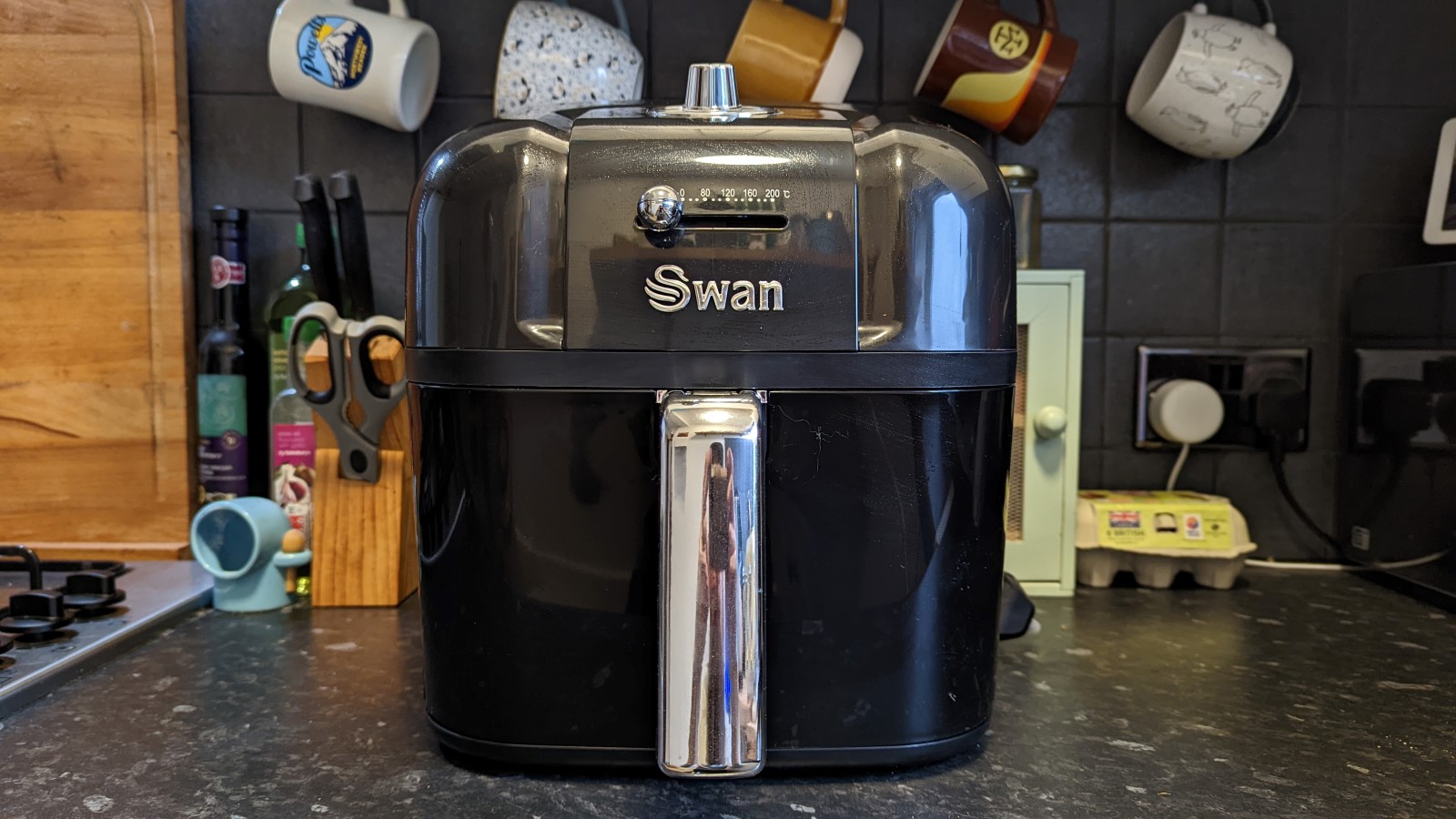 Pros
Retro styling in many colours
Easy to use
Consistent results
Cons
Loud fans
Basket wobbly in drawer
Forget digital controls, pre sets and smart features. This Swan air fryer is a simple, straightforward appliance. It's controlled by a manual temperature slider and a time dial, which gives a satisfying ding at the end of the programme as it switches itself off.
It has a large, 6 litre capacity, which makes it a good option for families. But what sets the Swan air fryer apart from rivals is its retro design. If you want something with a bit more character than your standard kitchen appliance, its chrome-effect trim, old-fashioned dial and curved exterior make it an attractive option.
Our only reservation is its slightly wobbly drawer, which can catch when you're sliding it back in.
Read our full
Swan Retro Air Fryer (SD10510) review
11. Xiaomi Mi Smart Air Fryer – Best compact smart air fryer
Pros
Attractive design
Easy to use
Recipes included
Cons
Not very robust build
Smart features limited
Small capacity
This Xiaomi air fryer has a really attractive, minimalist design that would look good in most kitchens. Still, it doesn't have the most robust build (the drawer can get stuck when you're putting it back in). And, as it's on the small side (3.5 litres), it's really only suitable for a household of 1-2 people.
The sole control beyond an On/Off switch is an innovative dial which houses a digital screen. There's a top level menu of food options, including the expected fries, chicken wings and fish, but also steak and cake. There are eight pre set programmes in all. You can also set the time and temperature yourself, using the dial – or perform any of these actions via the app.
Because clearly, one of the key reasons to buy this model is its app control. Download the Xiaomi Home app and you can create custom recipes, monitor your cooking and pause or end the cooking programme remotely. It'll also alert you when your food is done or needs to be turned over. There's also a database of recipes you can try, with automatic cooking programmes and step-by-step instructions.
Read our full
Xiaomi Mi Smart Air Fryer review
FAQ
1.
What can an air fryer do?
An air fryer is basically a mini convection oven. That means that it cooks in the same way that your oven does when you select the fan-assist setting, by circulating hot air around the cooking area and over your food. This means you can make anything in an air fryer that you can in an oven – as long as the space allows. You can roast meat and potatoes and even bake cakes, as well reheating and cooking food from frozen.
But as it's a much smaller cooking area, food cooks much more quickly and gets crispier as well.
Depending on the design of the air fryer, the main cooking method can be supplemented by others. You can get air fryers that also grill or have multi-cooker functions such as making soups, stews or rice. You can also get air fryers that double as a slow cooker. The Ninja Speedi – very unusually – can air fry and steam at the same time.
2.
What size air fryer should I get?
Air fryers are quite large appliances – from around the size of a small bread maker to the size of a microwave, if you get a two-drawer appliance. To get the most from one, you'll need to find a dedicated spot for it on your kitchen counter. So, the first thing to check is the external dimensions.
But really, the internal dimensions are more important. The cooking space inside an air fryer ranges from around 2 to 6 quarts or 1.5 to 6+ litres. At the lower end, you'll be able to cook fries for one to two people, two burgers, or two servings of chicken. At the higher end, you can fit in a main course for four people.
Then there are dual-zone air fryers, with a 10 quart/ 10 litre capacity. These are divided into two drawers you can use separately. But they have excellent additional features that make cooking a breeze. You can just cook with one drawer for smaller meals or sides, match the programme in both drawers, or use two different cooking programmes at the same time. Look out for an air fryer with a sync function, which will ensure that both programmes finish at the same time, so you can just walk in when it's ready and dish up.
If you're a single person household and generally just cook for yourself, you can go for a smaller appliance but in general, we'd advise that if you have the space for it, go larger. It'll give you more cooking options and it'll be faster and give better results with more space.
Bear in mind though that larger air fryers will likely have a higher wattage, and will likely cost more to run. If you're looking to save money on your electricity bills, a smaller, simpler appliance is best – although almost all fryers will be much more economical to use than an oven.
3.
Is a smart air fryer worth it?
Smart features on cooking appliances are limited by safety. Some appliance makers may suggest that you can fill your air fryer before going out and schedule cooking, or set it to start cooking remotely, via an app, so that you can come home to hot food. We wouldn't advise this. First off, it's never a good idea to leave food at room temperature for a long time before cooking, or to use cooking appliances when you're not home.
That being said, there are some genuinely handy smart features that you may use. If you get stuck doing something while your food is cooking, you can pause or stop the programme via the app.
There may also be a database of recipes you can use for inspiration. Browse recipes in the app, pick up the ingredients on the way home and start the programme when you get in: the app will guide you through the steps of cooking and automatically set the time and temperature.
You can even monitor the cooking progress from your phone, while you relax on the sofa – and you'll get an alert when your food is done.