Dyson's brand new robot vacuum, the 360 Vis Nav, goes on sale in the UK today. We took a look at it, and talked to one of the Dyson floorcare engineers who helped to design its software.
Here's everything you need to know.
What is the 360 Vis Nav?
The 360 Vis Nav is Dyson's brand-new robot vacuum. It's squared-off, with a different hardware design from Dyson's last robot vacuum release, the tall, cake-shaped 360 Heurist.
It's a low profile robot vacuum, at 99mm, and it navigates using the 360 Eye camera (which was carried over from the Heurist) and upgraded time of flight sensors.
According to Dyson Floorcare Engineer Antony Waldock, its 65AW suction power "makes it the most powerful robot vacuum cleaner on the market".
When will the 360 Vis Nav be available to buy?
In the UK, the 360 Vis Nav is available to buy from today from Dyson online and from Dyson Demo Stores.
As yet, no US release date has been announced, but you can sign up on Dyson's US website to be the first to know about a release date.
What will the 360 Vis Nav cost?
In the UK, the Dyson 360 Vis Nav will have an RRP of £1,399.99. This puts it in the top tier of robot vacuums – price-wise, at least. What's interesting is the feature set you'll get for that. Rivals at this price point tend to offer self-emptying robot vacuums with a mopping function. Quite often, they'll automatically wash and dry their mops as well.
But buy the 360 Vis Nav and you'll get a simple, straightforward and – according to Dyson – effective robot vacuum. The value is all in its performance.
Dyson has not yet released the price point for the 360 Vis Nav in the US. We'll be updating this article as soon as more information is available but you can sign up with Dyson to be the first to know.
What features does the 360 Vis Nav have?
Although we haven't yet had a chance to take the 360 Vis Nav home and review it fully, we have had a hands-on session where we got to see it in action and ask a Dyson floorcare engineer questions about the way it works.
Cleaning power
First off, Dyson's big claim about the 360 Vis Nav is that, at 65AW, it has six times the suction of rivals – although it doesn't specify which rivals those are. And while robot vacuum manufacturers usually measure their suction in Pa (Pascals – a unit of pressure) Dyson doesn't, so it's hard to compare.
Dyson engineer Antony Waldock says that this is because "pressure is nothing without airflow. What we're interested in how far we can get that air up and dirt from the carpet into the bin."
The Vis Nav 360 has a hybrid roller that works to give best pick-up across both hard floors and carpets. Its motorised brush bar is designed to agitate the carpet so that it can pull dirt from deep in the fibres and has three elements designed to pick up different types of dirt: fluffy nylon for large debris on hard floors, anti-static carbon filaments for fine dust pick-up, and stiff nylon bristles for cleaning carpets.
Emma Rowley / Foundry
Outside, there's a new look for the 360 Vis Nav. It has a much lower profile at 99mm, so it's more likely to be able to clean under your sofa and bed. Plus there's its D-shaped design, which should give it an edge when it comes to cleaning right up to the walls of a room. It has more in common with Neato robot vacuums than Dyson's last offering, the 360 Heurist.
The key innovation here is the side duct, an aperture through which some of its suction power is directed, so it cleans right up to the wall. It's Dyson's answer to a spinning sweeper and the brand thinks it's much more effective.
We tested the Vis Nav in auto mode with a mix of debris, including lentils and flour. It cleaned in a spiral cleaning pattern and – thanks to its piezo sensor – went into Boost mode whenever it detected more dirt. Overall, the machine cleaned effectively but there was still an escapee lentil or two left along the edge of the testing area.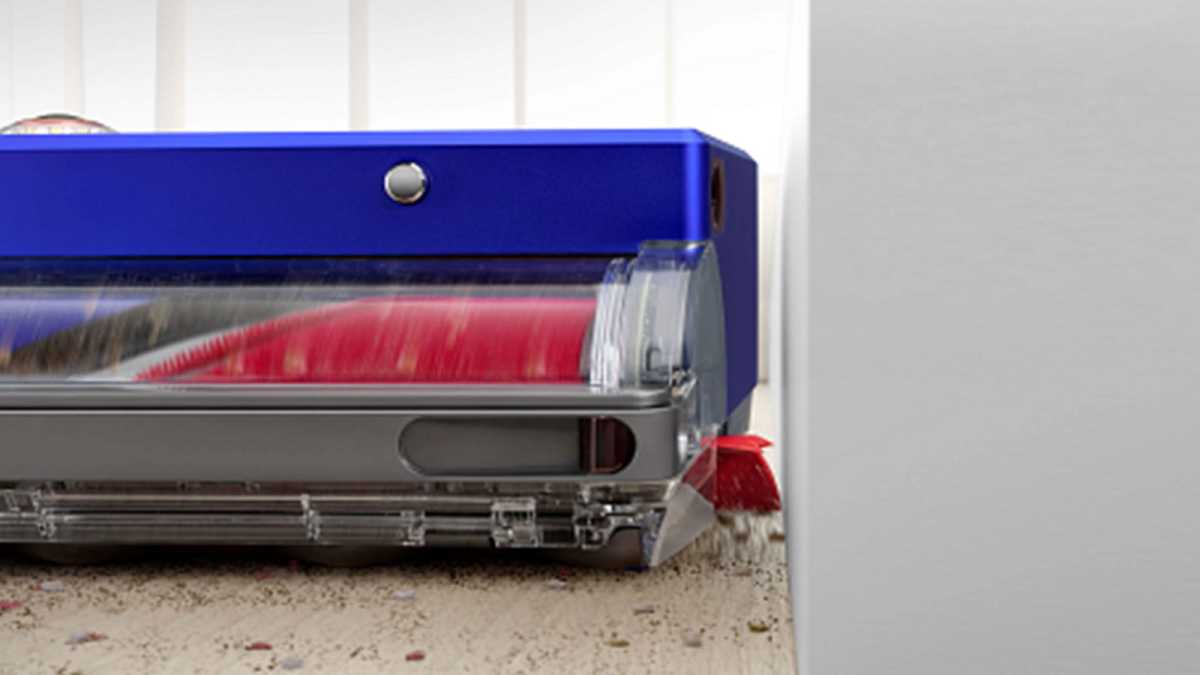 Dyson
The 360 Vis Nav has a maximum runtime of 50 minutes – but its time depends on the mode you're using, so you won't necessarily get a full 50 minutes. However, if you've mapped your home, it'll resume at the point it left off after charging.
It has four cleaning modes: Quick mode (a fast clean through the busiest area of a room); Quiet mode; Boost mode (for very dirty areas where you need to agitate the carpet – this mode takes time and uses a lot of power); and Auto.
Dyson suggests that you'll ordinarily use the robot vacuum in Quiet or Auto mode. Auto mode engages the onboard piezo sensor to measure the size and volume of dust particles and will change its power level in response to the amount of dust and dirt it encounters.
You'll also find a piezo sensor on the Dyson cordless cleaners, the V15 Detect and the Gen5detect.
In the case of the 360 Vis Nav, it goes one step further and the information is used to create a dust map of your home, which you can see in the MyDyson app.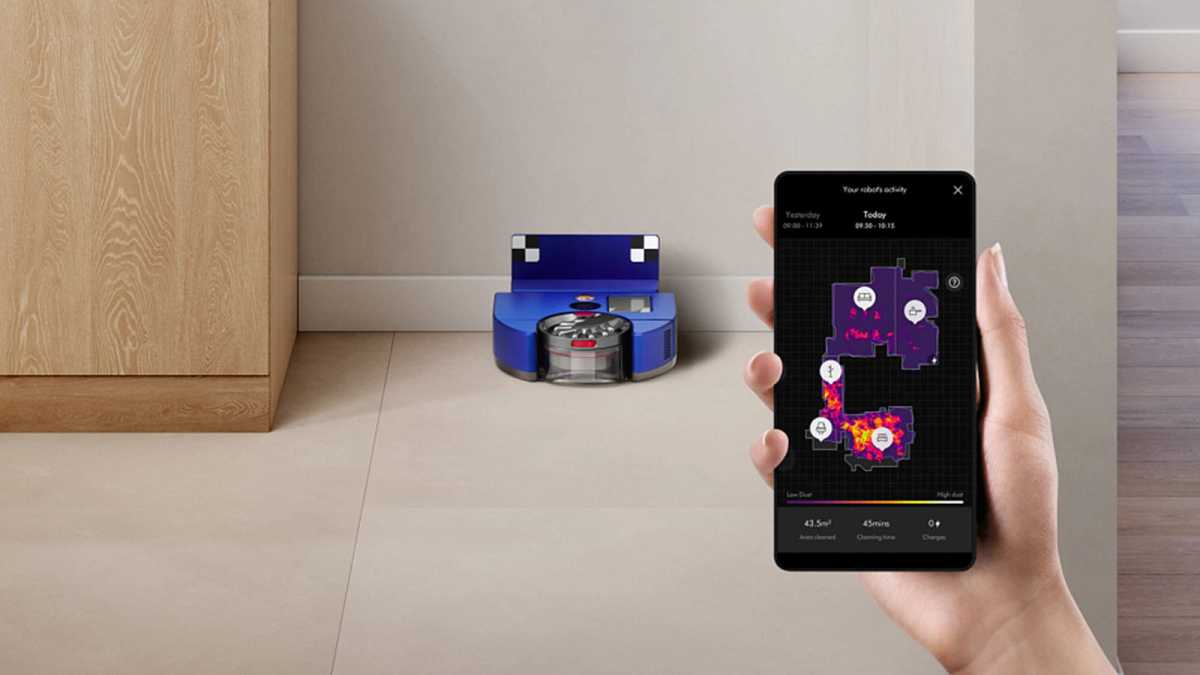 Dyson
Navigation and battery life
The 360 in the robot's name refers to its wide field of vision, which comes from a fish-eye camera lens embedded in the machine. It has a total of 26 sensors to help it to avoid obstacles and orient itself in a room.
These include upgraded time of flight sensors to detect nearby objects – but unlike some rivals on the market, it does not identify specific objects, such as shoes or books. And it'll still struggle with every robot vacuum's nemesis: cables. "If it's a very small wire on a very wide carpet, it wouldn't see it", Antony Waldock said.
However, it does have one very clever anti-obstacle feature. If it senses that an object, like a wire or cable, is becoming wrapped around the brush bar, it will stop and unwrap it.
Dustbin and filtration
The 360 Vis Nav contains Dyson's cyclone system to separate large and fine debris, albeit a redesigned, "squashed" version.
This is followed by a HEPA filtration system that you can take out and wash by hand – but not in the dishwasher. The robot is sealed, with whole machine HEPA filtration to trap 99.99% of particles as small as 0.1 microns, making it a good option for hay fever and allergy sufferers.
During the test, it also left very little but clean air behind it – instead of that distinctive vacuum cleaner smell.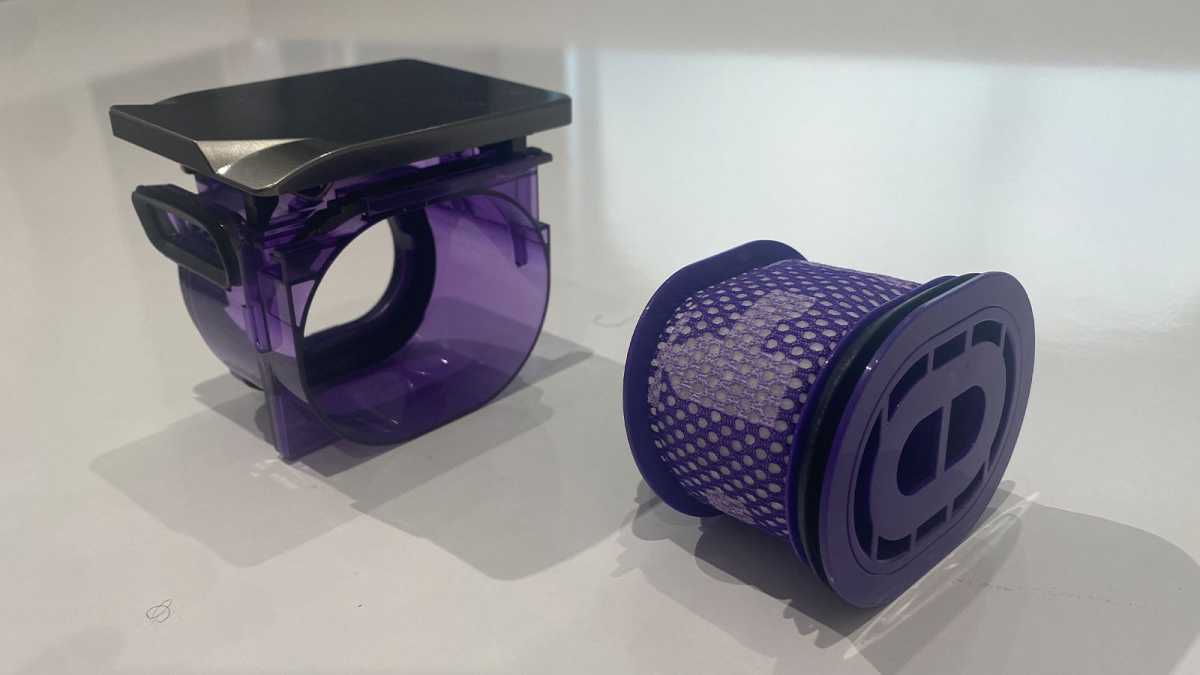 Emma Rowley / Foundry
It also has a fairly spacious and easy to remove dustbin, with a round shape that should make hair removal a more straightforward business. Still, as with all robot vacuum cleaner bins: some digging around may still be required.
Emma Rowley / Foundry
Smart features
The 360 Vis Nav uses the MyDyson app, which is simply and well designed. Its maps are fairly basic – it doesn't add furniture or give you the option to, but you'll see "holes" where furniture sits. You can, however, mark "keep away" zones and add thresholds to separate rooms and target cleaning there.
There's also integration with Alexa and Google Home, so you can use voice commands, even for targeted cleaning. So you can say: Send the Dyson to clean the kitchen – and it will. The app will also guide you through any troubleshooting issues.
It can hold up to ten maps, which is a huge number. Dyson suggests that you should have one for each floor.
And the very good news: new software features are in development.
Early verdict
We can't give a verdict on the 360 Vis Nav until we've tested it, of course. And we'll be doing that soon.
What we can say is that Dyson is hanging everything on the 360 Vis Nav's cleaning performance. The brand sees this primarily as a hands-free vacuum cleaner. As floorcare engineer Antony Waldock saiid: "It's not just a gadget, it's not just something that bumbles around your house. It's got to clean effectively."
But our reservation is with its phenomenally high price point. You can get good robot vacuum cleaning performance and a host of features that take on much of the extra work around robot vacuum maintenance – like emptying the onboard bin – for much less.
You can find plenty of great options in our round-up of the best robot vacuums we've tested.