If wandering endless, cavernous exhibition halls in the German capital to see the latest new consumer technology is your thing, then you will have your eyes trained on IFA 2023.
The long-running technology show is back, helping tech companies big and small show off their newest products to media and the public, whose enthusiasm remains with organisers expecting big crowds.
The event space is also practically sold out, with 27 halls jam-packed with the very latest gadgets.
Our journalists have been scouting the giant Messe Berlin event space this week to check out the newest consoles, watches, phones, glasses, lights, vacuums, and overpriced pretzel stands.
While the latter won't be winning any awards, the other stuff deserves some recognition. Every year we endeavour to hand pick the best new tech you should be paying attention to, from the affordable items you might have on your Christmas list to the aspirational cutting-edge technologies that hint at what the personal tech of the next decade might look like.
Here's what won our Best of IFA 2023 awards.
Lenovo Legion Go
Hannah Cowton / Foundry
If you've been looking for a Nintendo Switch-style console that can also play more powerful games, then the Lenovo Legion Go may be the answer.  
This console's detachable joy-cons can be used both handheld and hooked up to your TV via a third-party USB-C to HDMI dongle… but that's not all! Alongside side it are the new Lenovo Legion Glasses, which can be used to project graphics via AR. This means you can get the big-screen experience anywhere in your home.  
Smart glasses aside, the Go is also a beast of a console. It has an 8.8in QHD+ display, an AMD Ryzen Z1 Extreme processor with AMD RNDATM Graphics and 16GB RAM, so you can play games both offline and via the Cloud. All of this will set you back $699/£699, plus an extra $329/£399 for the glasses. 
This isn't exactly cheap, but then again this is potentially the future of gaming.  
TCL 40 Nxtpaper
TCL
It's not E Ink, but it's close. TCL has taken the matt-finish, minimal eye strain, no-blue-light display technology from tablets such as the Nxtpaper 11 and whacked it on two new budget smartphones.
The first phones with TCL's paper-like screen tech, the TCL 40 Nxtpaper and 40 Nxtpaper 5G are unbelievably cheap at £179 and £219 respectively. Oddly, the 4G version actually looks far better in person and on paper than the 5G model, which has an older-looking drab design and lower-resolution, smaller display.
The 40 Nxtpaper has a 6.78in FHD+ display that feels like paper and can be drawn or written on with an optional T-Pen accessory. It comes in a blue or white finish and has triple rear cameras.
Granted, those cameras aren't likely to be much good at those prices. But this might be the closest way to have a phone that's as pleasant to read e-books on as an E Ink eReader thanks to the lack of blue light. Colour us interested.
LG StandbyME Go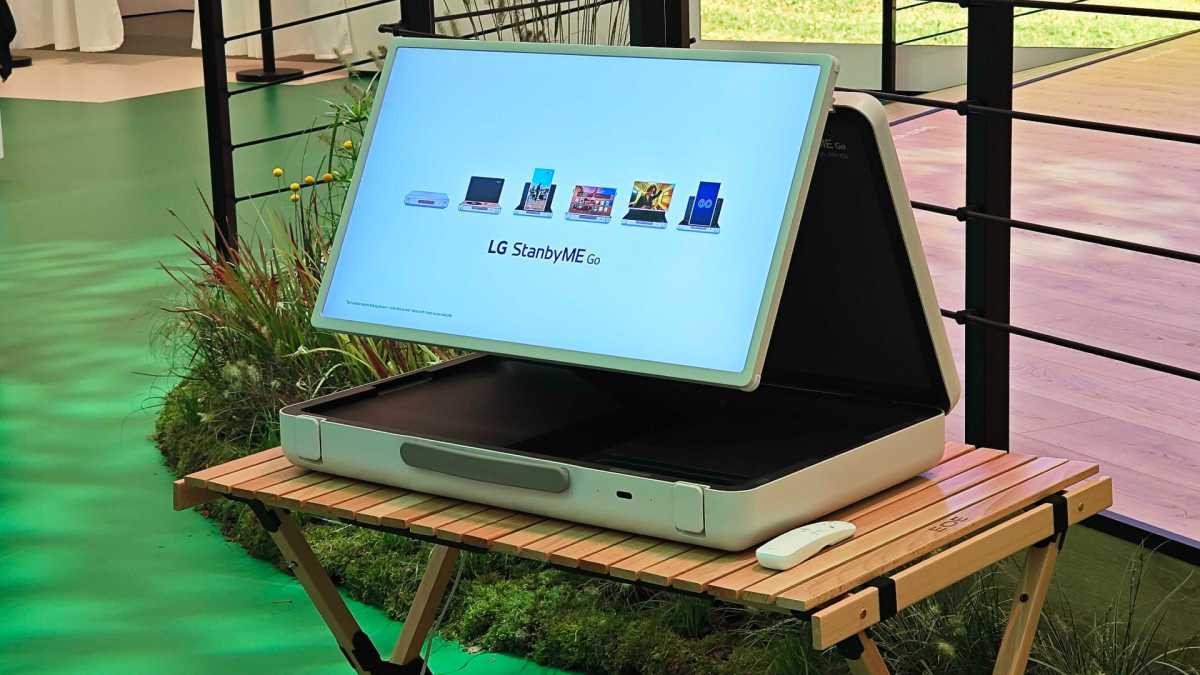 Hannah Cowton / Foundry
The LG StandbyME Go was drawing lots of attention on the IFA show floor, and for good reason. This 27in FHD LCD model cleverly folds down into a portable suitcase and is wireless.  
That's because the case also houses a battery. Ok, it lasts only three hours, but that's enough to watch most films. Plus, the clever hinge mechanism means that you can place this TV wherever you like, be it in your van, tent or back garden. It can be swivelled into portrait mode as well, which is useful if you like to watch TikTok videos on a bigger screen than your smartphone.  
LG hasn't skimped on the tech, either. Its a touchscreen, and has built-in 20W speakers, Dolby Vision and Dolby Atmos. On top of that, there's support for AirPlay, screen mirroring and voice recognition. WebOS also has tons of entertainment apps to choose from.
The $999 (around £790) price isn't cheap, but this TV is certainly opening possibilities for holidaymakers, tailgaters and anyone that needs a portable telly that isn't a projector.
Sony Xperia 5 V
Sony
Even though Sony's phone release schedule is like a broken record these days, there's still a lot to like about the Xperia 5 V. The company has settled in a release cycle of one flagship Xperia 1 phone followed later by the smaller 5-series version.
This year, the Xperia 5 V ('five mark five') only has two rear camera lenses, opting to lose the telephoto lens. It results in a simpler design, and a phone that costs less than the Xperia 5 IV from 2022.
There's still an impressive amount of imaging tech here though, with the same high-end Exmor-T for mobile imagine sensor as the 1 V, as well as tons of specialist photo and video apps for cinematic video capture, editing, and playback.
Most impressively is how little the Xperia leaves out of the spec sheet. There's a 3.5mm headphone jack, wired and wireless Hi-Res audio support, wireless charging, expandable storage, and super strong Gorilla Glass Victus 2 on the front and back.
The Xperia 5 V may have lost a camera lens but it doesn't seem to have lost its kitchen-sink approach to smartphone specs. It might have somewhat niche appeal, but we love it.
Withings ScanWatch 2
Withings
Withings has been around for some years quietly making lovely analogue watches that can pass as formal wear but secretly harbour smart features.
The new ScanWatch 2 continues the trend with one of the new models a premium looking metal circular watch complete with leather strap and dark clockface – except there's also a small circular readout on the top half that can cycle through key health information.
New for this year is 24/7 body temperature tracking. Withings says the watch can collate data and see how long you spend in each "temperature zone", from which it can estimate recovery time after workouts. This sounds similar to what the Whoop 4.0 band does, and like that tracker, the ScanWatch 2 could also help you identify if you are getting ill.
As well as this new feature the watch packs in GPS for run tracking, and it can track all your core fitness metrics, including sleep. It also has ECG and atrial fibrillation detection in supported regions.
It's yet another device that's far from the cheapest of its kind. At $349.95 it's roughly the same as an Apple Watch or Samsung Galaxy Watch. But for anyone that values aesthetics over function then it's surely well worth it.
Honor Magic V2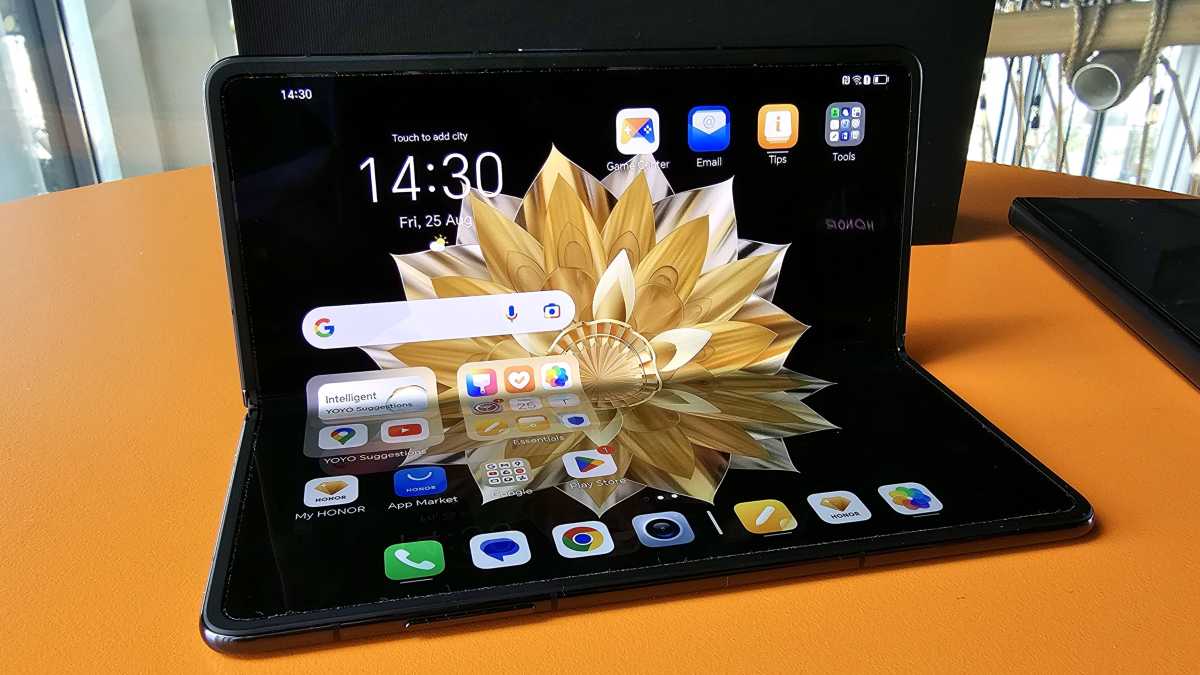 Anyron Copeman / Foundry
The Magic V2 has been official in China since July, but it was introduced to a European audience at IFA.
Honor's third folding phone sets new standards for phone-tablet hybrids. At 9.9mm thick (when closed) and weighing only 231g, it's both the thinnest and lightest book-style foldable phone you can buy. These figures are even comparable to many regular smartphones.
Elsewhere, a 6.43in cover screen stretches right to the edges of the front panel, then opens to reveal a 7.93in internal display that has a barely noticeable crease. Both screens are 120Hz and OLED.
Qualcomm's flagship Snapdragon 8 Gen 2 chipset is under the hood, alongside a 5000mAh battery with support for 66W wired charging (but no wireless).
There are five cameras in total, with three rear sensors (50Mp main, 50Mp ultrawide, 20Mp telephoto) joined by a 16Mp selfie camera above each display.
We still don't know when the Magic V2 will be released in Europe, or how much it'll cost, but that doesn't stop it being a seriously impressive device and a worthy inclusion in our Best of IFA roundup.
Haier X Series 11 washing machine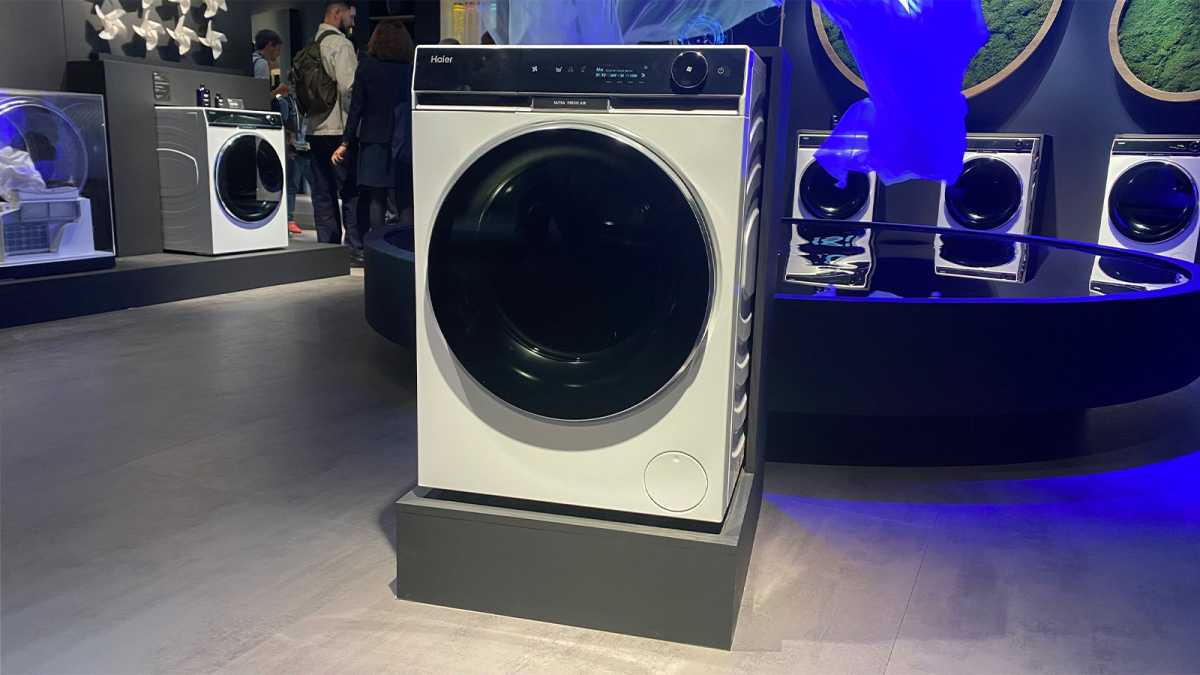 Emma Rowley / Foundry
You might not think that a washing machine is something to get particularly excited about but hear us out on this one. Haier's X Series 11 was an IFA standout because it solves a hugely common problem. How many times have you done a load of washing, forgotten about it, and wound up with a bunch of mouldy clothes you have to re-wash immediately?
The X Series 11 has been designed to cut you some slack if you're out later than expected, busy, or just forgetful. Thanks to a continuous air inflow into the drum, which Haier calls its Ultra Fresh Air technology, it can keep clothes fresh and bacteria-free for up to 12 hours after the end of a washing cycle – with the door closed.
It's also energy efficient, with a better-than-A rating, plus a quiet performance. And this all earns it a coveted spot in our Best of IFA list.
Philips Hue Secure
Philips Hue
It's a classic movie trope: mid-heist, one of the crew picks up the wrong item, triggering an alarm and setting all the lights in the building flashing.
Philips Hue's new Secure range will allow Hue users to bring the same kind of light-based security to their homes. The products include indoor/outdoor cameras and contact sensors that work seamlessly with existing Philips Hue bulbs in your home to create a highly visible, whole-home security system to warn anyone in the house and deter intruders. There's also an outdoor floodlight camera that can bathe unwelcome visitors in coloured light when triggered.
We love the idea but the products are expensive – and there's a subscription fee involved. You can find out more about the Secure specs, prices and availability.
Withings ScanWatch Light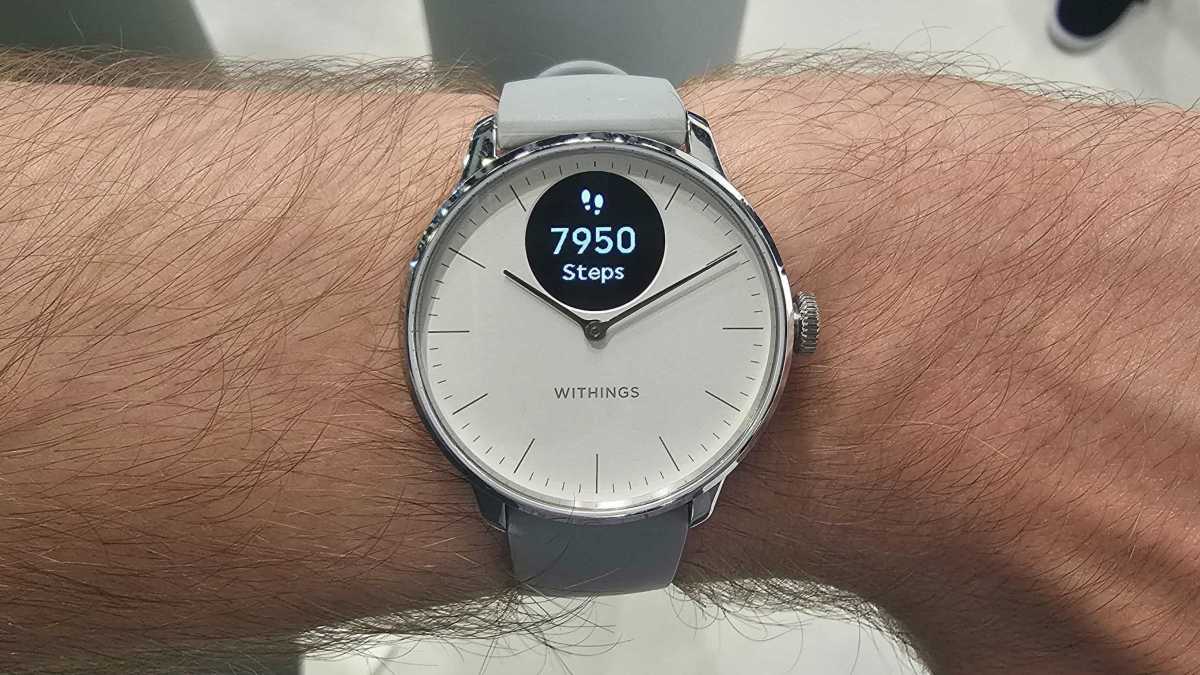 Anyron Copeman / Foundry
Withings' second appearance in this awards list highlights just how good the latest ScanWatches are.
The brand-new ScanWatch Light misses out on some of the ScanWatch 2's premium features, namely 24/7 temperature tracking, ECGs, irregular heart rhythm notifications and blood oxygen monitoring.
But that's reflected in the price – a more affordable $249.95/£229.95 – and it's well-suited to people looking for a general overview of their health from their wrist.
The 37mm ScanWatch Light can still monitor heart rate (including heart rate variability), track your sleep and be used for cycle tracking. It's also capable of automatically detecting more than 40 workouts and receiving phone notifications on the 0.63in display.
But arguably the most impressive thing about the ScanWatch Light is its battery life. Withings claims up to 30 days on a single charge, which would blow almost every smartwatch out of the water.
Pre-orders are live now on the Withings website, ahead of a release at some point in September.
LG Universal UP kit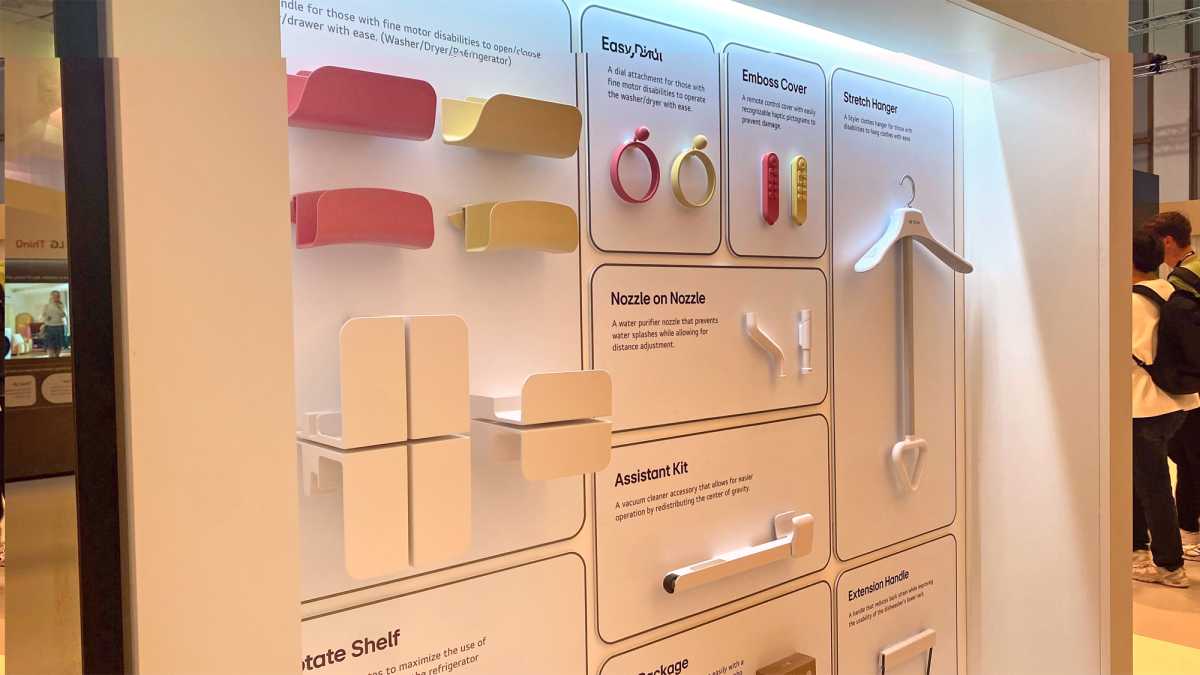 Emma Rowley / Foundry
We got a chance to take a look at LG's Universal UP kit while at IFA. It's a series of accessibility adaptors designed to make it easier – and in some cases, just to make it possible at all – for people with disabilities to use their home appliances. The accessories are, in the main, designed to be used with LG appliances, including the 'Stretch Hanger', which will allow someone in a wheelchair to hang up clothes to be steamed in their LG Styler.
Still, there are a couple of devices, like a rotating shelf for the fridge, that could have more universal use.
The kit also includes 'Easy Handle' attachments for a washer, dryer and fridge that come in high-contrast red and yellow to make it easier for people with sight impairments to use and 'Easy Dial' add-ons that make it possible for people with fine motor disabilities to use their washer and dryer.  
It is great to see a big brand highlighting products like this. Rival companies –  take note.