At a glance
Expert's Rating
Pros
Good performance
Textured, sculpted surface provides a good grip
5-year warranty
Cons
Pricey
Surface tends to grab dust and detritus
No IP rating
Our Verdict
Once the price drops a bit, this high-quality, luxurious-feeling, good-performing, external 20Gbps USB SSD will no doubt be one of our favorites.
Price When Reviewed
From £176.04
Best Prices Today: Samsung T9
£176.04
The latest in a series of excellent portable SSDs that started around eight years ago with the T1, Samsung's T9 is the first to bring SuperSpeed USB 20Gbps performance to the table.
If you're blessed with such a port (nee USB 3.2 2×2), it will nearly double the sustained throughput of the older T7. (Only odd numbers are used in Samsung's numbering for the series.)
Alas, compared to other 20Gbps drives, the T9 is merely a middle-of-the-pack performer. But it also provides the most luxe tactile experience of the pack with its textured surface and sculpted lines.
Further reading: See our roundup of the best portable hard drives and SSDs to learn about competing products.
Design & Features
The Samsung T9 is a 20Gbps USB SSD that uses NVMe internals, and sports a USB Type C port for connectivity. Samsung provides both Type-A to Type-C and Type-C to Type-C cables.
The SSD measures 3.46-inches long by 2.36-inches wide, and 0.55-inches thick. It weighs in at a mere 4.3 ounces. The internals are definitely NVMe-based as SATA could never surpass 550MBps, let alone achieve the nearly 2GBps that the T9 is capable of.
Samsung was mum about the controller and actual drive inside, but if I had to guess, I'd go 970 Evo Plus or an update on that given the price and performance, which you can read about below.
A cross-platform utility is provided by the company to turn password security on and off. The utility is required to access the drive when password protection is enabled.
While not the fastest external USB SSD out there, the T9 is no slouch, and we really like its 48GB transfer times.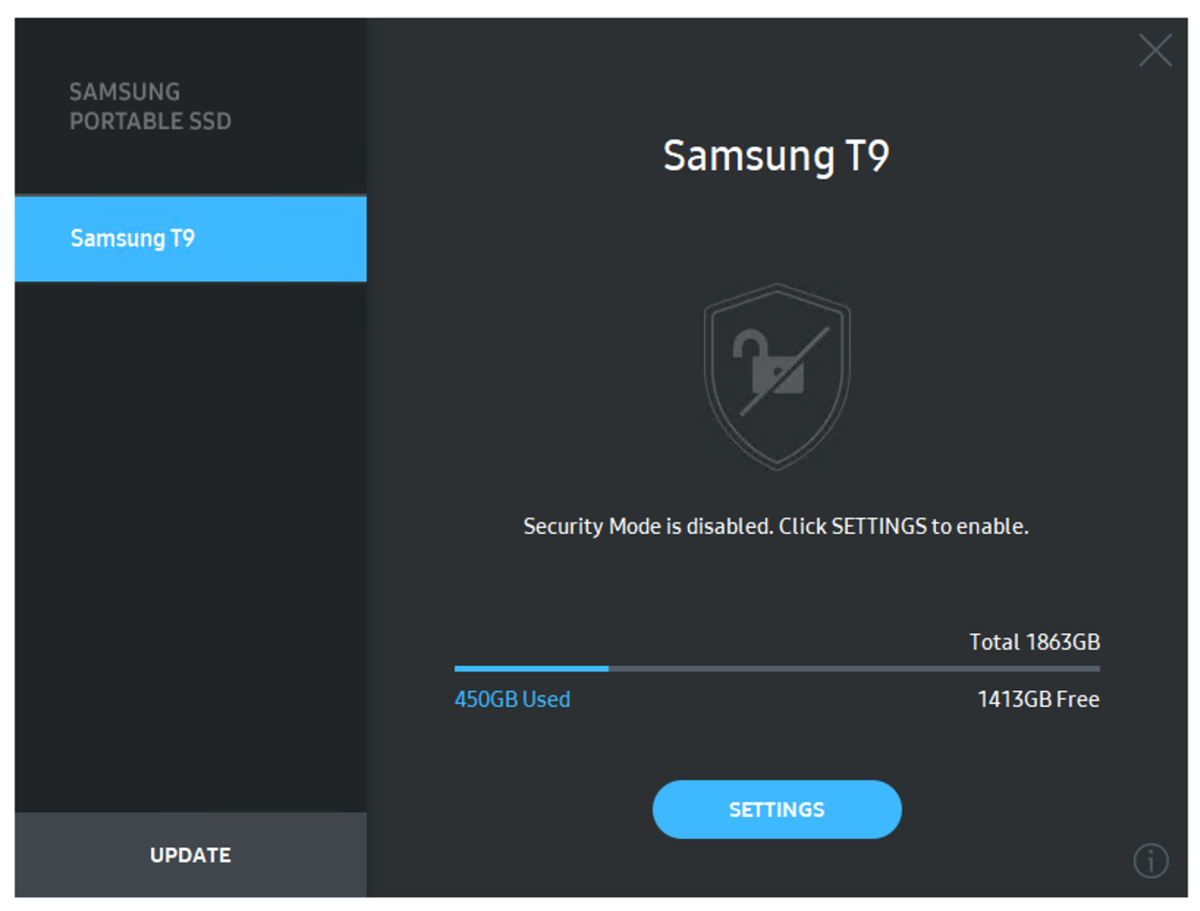 Samsung's SSD utility provides info on the drive status as well as the ability to enable or disable password protection.
As for the T9's textured, sculpted countenance (see the lead photo), it makes the drive feel very nice and provides a sure grip both in the hand and while rested on a smooth surface. The down side to the texturing, however, is that the drive collects dust, lint, and other schmutz at a near record pace. Tidying it up for the photos was a bit of a chore.
It's drop tested to three meters but carries no IP rating for dust and waterproofing.
The T9 is warrantied for five years, though no TBW ratings (terabytes that may be written) were provided. In our experience, given reasonable usage, vendors will honor the warranty time period regardless.
Performance
The T9 is a performance leap beyond the 10Gbps Samsung T7 Touch and T7 Shield we've reviewed. But it's not close to the fastest 20Gbps SSD we've tested. That would be the mighty Crucial X10 Pro.
As you can see below, the 2TB T9 we tested turned in good, if not stellar CrystalDiskMark 8 scores. Sequential performance was a bit up and down, but quite good overall.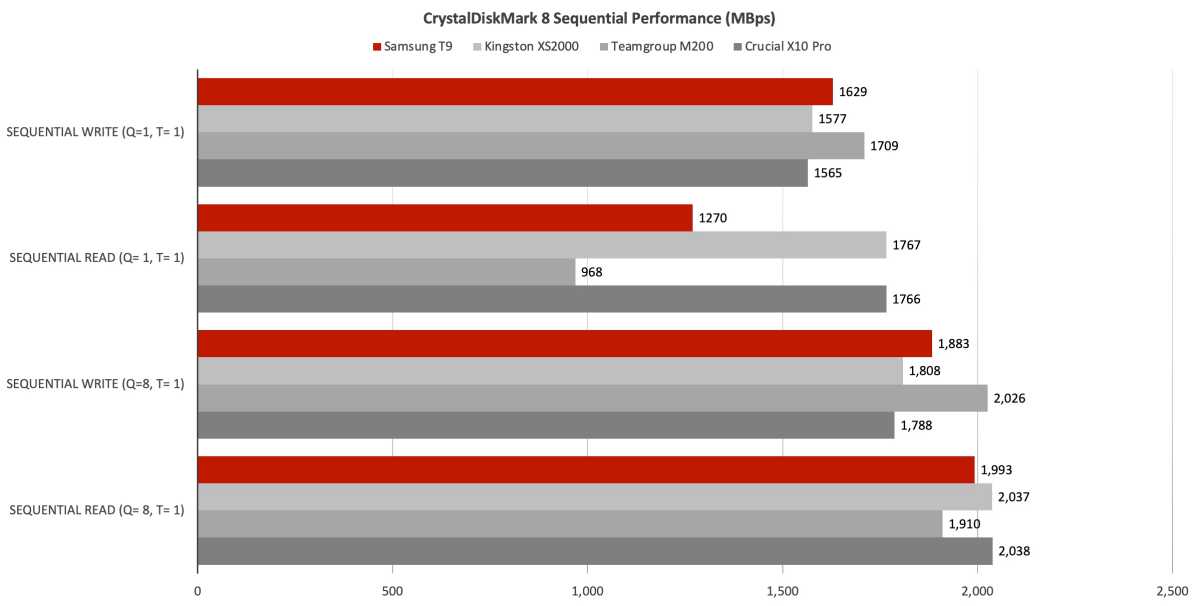 The T9 was up and down in these tests, but good overall. Longer bars are better.
The T9 was again a mixed bag with CrystalDiskMark 8 4K performance. It was aces at the 32-queue read, but the single-queue read and 32-queue write were noticeably lacking in oomph.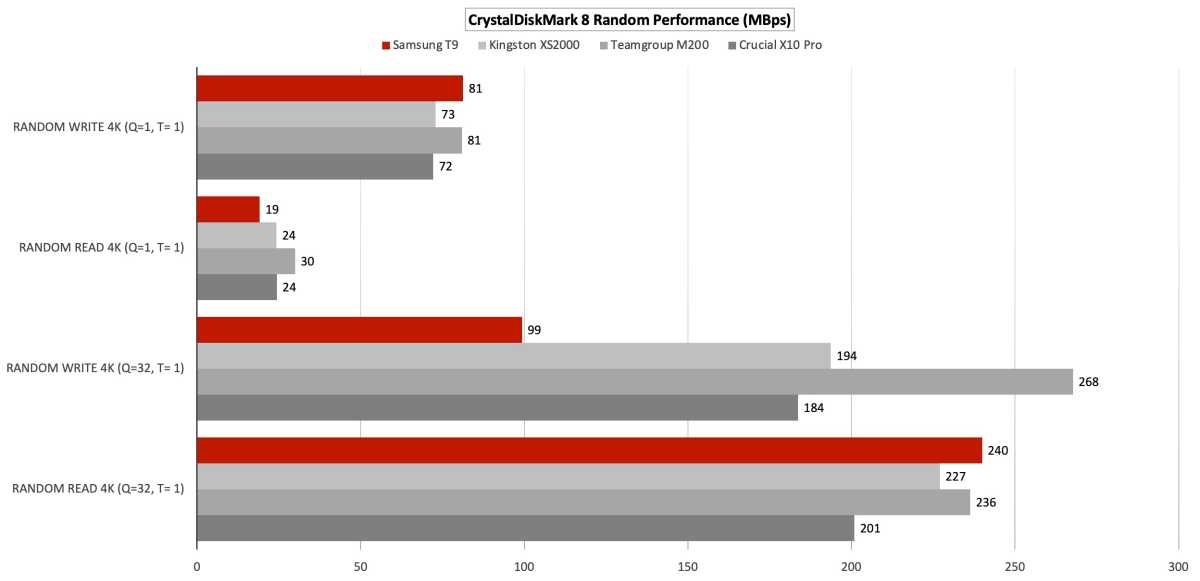 Again, the T9 was fast in two 4K tests and off the pace in two others. Longer bars are better.
Where the T9 dominated over the Kingston XS2000 and Teamgroup M200 was in our 48GB transfers. Shaving almost 100 seconds off those drives' times in the aggregate.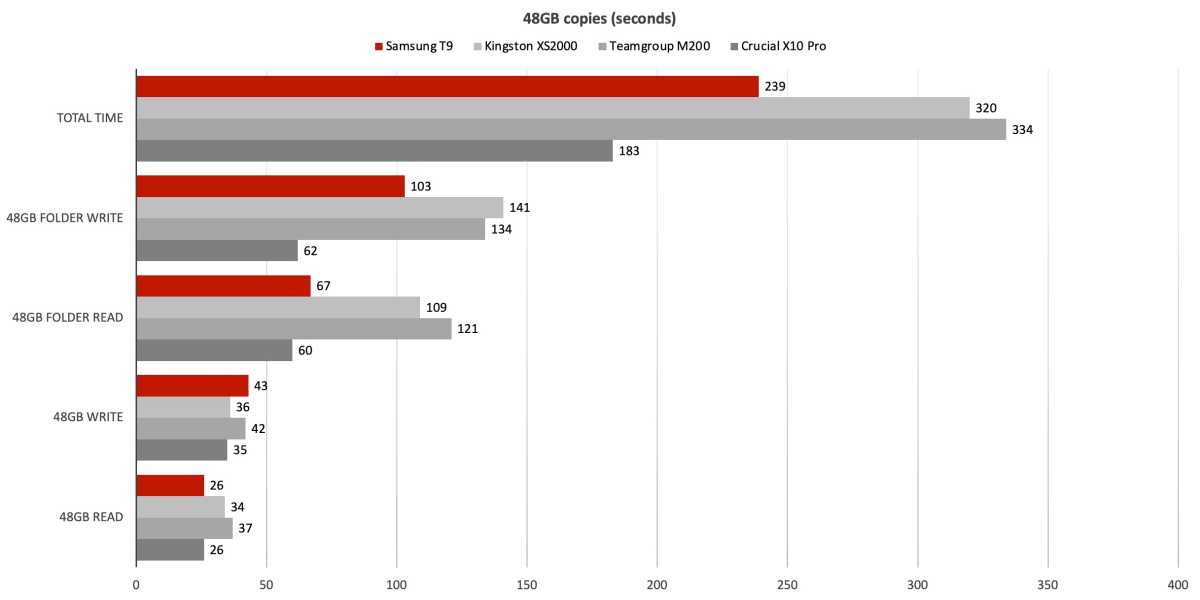 When it came to real-world 48GB transfers, the T9 was only slower than the Crucial X10 Pro. Shorter bars are better
The T9 took third place among 20Gbps drives in the 450GB write. Its time of 8 minutes and 23 seconds wasn't great, but it wasn't as tragic as the Kingston XS2000's performance. The T9 turned in a decent enough score reflecting an overall write rate of around 900MBps.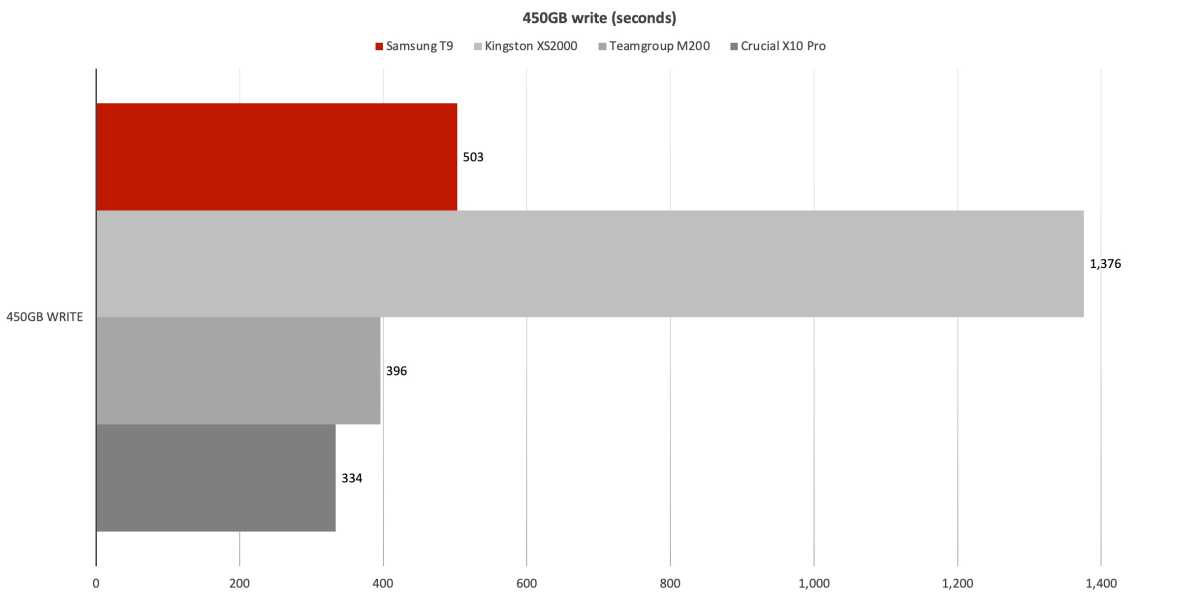 This isn't a fantastic 450GB write time, but we've seen much worse, as with the Kingston XS2000, which absolutely tanks in this test. Shorter bars are better.
While not the fastest external USB SSD out there, the T9 is no slouch, and we really like its 48GB transfer times.
Once secondary cache was exhausted, the T9 still maintained a decent transfer pace for our 450GB write of nearly 900MBps.
Samsung touts the T9's low power usage and thermal output. While the drive was warm after our testing, it was in no way uncomfortable to touch — another plus for the silicon sleeve.
Price
The T9 will be available in 1TB, 2TB, and 4TB capacities for $140/£176, $240/£269, and $440/£481, respectively, at the time of this writing. You can buy it from Amazon.
Those are the MSRP's provided by the company. You may see different prices online. Note that some unscrupulous online sellers will try to charge considerably more when drives are brand new and in demand.
The retail box for the 2TB T9 that we tested.
Should you buy the Samsung T9?
We appreciate Samsung's history of delivering fast, reliable external USB SSDs. We've come to regard these drives as something of a standard. However, at the time of this writing, Crucial's 4TB X10 Pro is only $290, making the T9 seem overpriced.
This may change rapidly. Regardless, if you opt for the T9, it will get the job done, and in luxe fashion.
How we test
Drive tests currently utilize Windows 11 (22H2) 64-bit running on an X790 (PCIe 5.0) motherboard/i5-12400 CPU combo with two Kingston Fury 32GB DDR5 modules (64GB of memory total). Intel integrated graphics are used. The 48GB transfer tests utilize an ImDisk RAM disk taking up 58GB of the 64GB total memory. The 450GB file is transferred from a Samsung 990 Pro 2TB, which also contains the operating system. For external drives, the motherboard's dedicated Thunderbolt 4 and 20Gbps USB ports on the rear panel are used.
Each test is performed on a newly formatted and TRIM'd drive so the results are optimal. Note that as any drive fills up, performance will decrease due to less NAND for secondary caching, and other factors.
The performance numbers shown apply only to the drive we were shipped as well as the capacity tested. SSD performance can vary by capacity due to more or fewer chips to read/write across and the amount of NAND available for secondary caching (writing TLC/QLC as SLC). Vendors also occasionally swap components.
If you ever notice a large discrepancy between the performance you experience and that which we report (systems being roughly equal), by all means—let us know.