Oppo's latest foldable has launched in China, but with the promise that it will be sold "globally". That's in quote marks because it's not clear whether it means the Find N3 Flip will be available in the US as well as the UK, Europe and other regions.
In any case, since the phone is no longer just rumours, here's all there is to know about the flip phone that's got its sights set on the Samsung Galaxy Z Flip 5.
When is the Oppo Find N3 Flip release date? 
It's possible to pre-order the phone right now on Oppo's Chinese website. Unfortunately we don't have any release date for other regions at the moment, but Oppo usually announces new devices towards the end of the year in its home market, then releases them the following year internationally. The previous version, the Oppo Find N2 Flip, was introduced in China towards the end of 2022, then received a global release in February 2023.
This means you should expect a launch in the west in early 2024.
Again, despite the global release, it seems unlikely that the new Flip will be available in the US, but we hope we're wrong.
How much does the Oppo Find N3 Flip cost?
The phone is available in two storage capacities: 256GB and 512GB. The smaller costs 6799 yuan (around £740 / US$930), with the 512GB coming in at 7599 yuan (around £830 / $1040).
So while Oppo has yet to announce international pricing, these converted prices are roughly in line with what the Oppo Find N2 Flip cost at £849/€1,199 (around $1,079). It's one of the most affordable foldable phones – not cheap, but it does undercut Samsung's flip phone.
What new features are in the Oppo Find N3 Flip?
One thing the rumour mill got right was the triple camera arrangement, adding a telephoto lens to the standard and ultrawide that the N2 Flip already had – a setup that's still used by Samsung's Z Flip 5. Resolution isn't everything, but the N3 Flip roundly beats Samsung there, too, with a 50-megapixel main sensor, 48-megapixel ultrawide and 32-megapixel telephoto.
And even though it's not really needed, there's also a 32-megapixel selfie camera.
Impossible to miss is the prominent Hasselblad branding, making this yet another Chinese phone to team up with the renowned photography brand.
Screen-wise, there's a 3.26-inch outer display, and a 6.8-inch foldable inner one – a flexible AMOLED panel that runs at up to 120Hz. Essentially no change from the N2 Flip. The difference is software: you'll be able to interact with certain apps, such Spotify, WhatsApp, X (formerly Twitter), Google Maps and Calendar.
Oppo
Both models have 12GB of RAM and a 4300mAh battery. Fast wired charging up to 44W is supported, just like the N2 Flip.
Processing grunt comes from a Mediatek Dimensity 9200 – an upgrade on the 9000+ found in the N2 Flip. There's also IPX4 water resistance: not as good as the Galaxy Flip 5's IPX8, but at least it's some protection.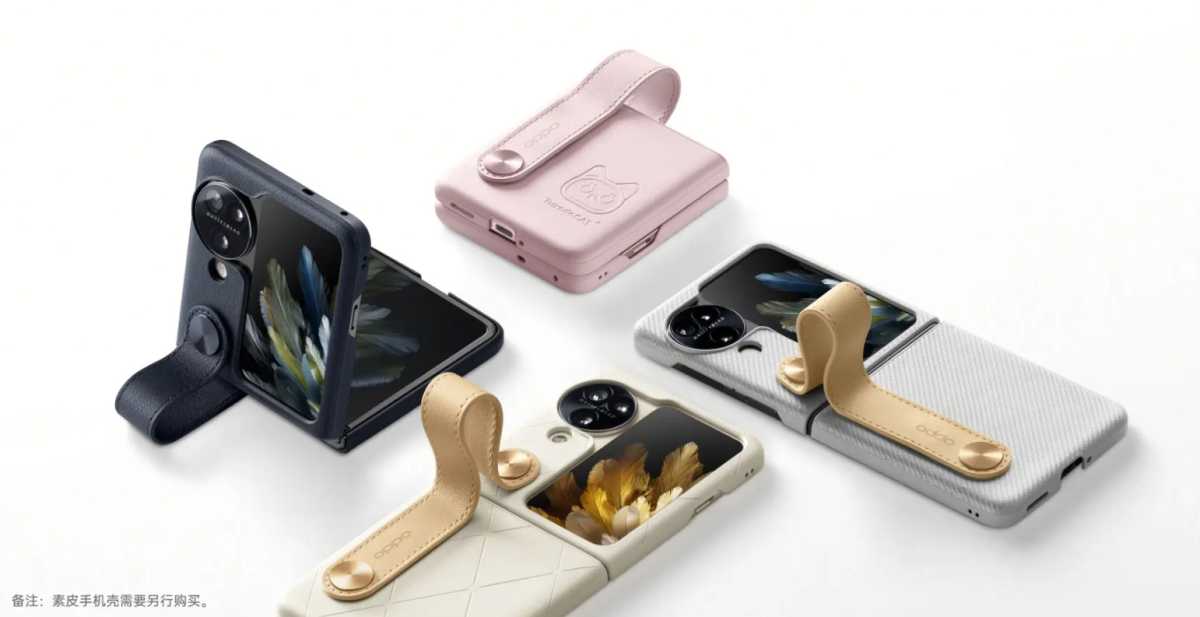 Oppo
Oppo is also selling a "hand loop" leather case for around £25 / $30 that looks to be a decent accessory for buyers wanting to keep their phone in pristine condition. 
If you're looking to upgrade your phone right now and don't want to wait for the N3 Flip to launch outside China, take a look at our roundups of the best Android phones and best phones coming in 2023 to see the alternatives on offer.