Nextbase officially announced the iQ at CES 2022. It's a new range of dash cams that do more than simply recording when you're driving and parked up.
That's because it's also a security camera for your car. And no security device would be much use if it couldn't notify you of critical events. So one of the iQ's key features is internet connectivity, but it has a bunch of other features as well.
It isn't the only dash cam to have a built-in SIM – Blackvue's DVR750 and Thinkware's T700 LTE already have them – but the iQ does more and offers higher resolution video.
How much does the Nextbase iQ cost?
There are three models:
1K – 1080p resolution – £349
2K – 1440p resolution – £399
4K – 2160p (UHD) resolution – £449
All three have two cameras, one facing the road in front, and one facing the cabin. The cabin camera on the 4K model records at 1440p, not 4K. A 1440p rear camera will be available in the near future for £149, and this mounts in your rear window for a clear view of what's happening behind.
While there's a free Solo tier, most people will want to subscribe to Nextbase Protect or Protect Plus to get the most out of the iQ (see below). These cost £6.99 / £9.99 per month respectively, or £69.99 / £99.99 per year.
In the US, subscription costs are higher. Protect costs $9.99 per month or $99.99 annually, while Protect Plus is $19.99 per month or $199.99 per year.
When is the Nextbase iQ release date?
Developing the IQ took longer than expected: the company had originally said it would go on sale before the end of 2022, then pushed it back to spring 2023.
The iQ was finally released on 30 October 2023.
You can buy an iQ immediately from Nextbase, or from Halfords in the UK.
Nextbase
What are the Nextbase iQ's features?
At launch the iQ has the following features, but Nextbase has always said this is just the beginning and it plans to add new features regularly in the future.
Smart Sense Parking: Using a combination of radar and g-force sensors, you get notifications (with images and video) when someone is acting suspiciously around your vehicle
Driving/Security Mode: The iQ automatically switches between driving and parking modes, connecting to either your car's OBD II port, or using the included hard-wire kit.
Witness Mode. Activated using your voice, this records any incident and uploads the recording to the cloud and shares it with an emergency contact or designated third party in real-time.
Live View:  Just like a home security camera, you can watch the live camera feeds at any time via the Nextbase iQ app.
Event notifications: Sent in real-time for events you'll care about such as when someone reverses into your car in the car park or when an intruder attempts to enter your vehicle. Fast wake-up means you won't miss anything important.
Remote Alarm: Via the app you can set off the iQ's built-in alarm to deter intruders.
Emergency SOS: Alerts the emergency services with your location and other critical details following a serious accident.
Future features, which are already well into their development, include:
Guardian Mode: Sends a notification when your vehicle exceeds a set speed or location, useful for parents wanting to keep tabs on young drivers.
Push to Talk: This lets you to speak to anyone in the vehicle, whether your kids or an intruder.
Roadwatch AI: Tracks the speeds and trajectories of other vehicles around you, as well as pedestrians, cyclists and e-scooters, providing warnings to the driver and evidence that can help prove who was at fault in the event of a collision.
Another feature on the horizon is Driver Aware. Also known as DMS, this will monitor the driver using infrared sensors and provide alters to combat distracted and/or drowsy driving.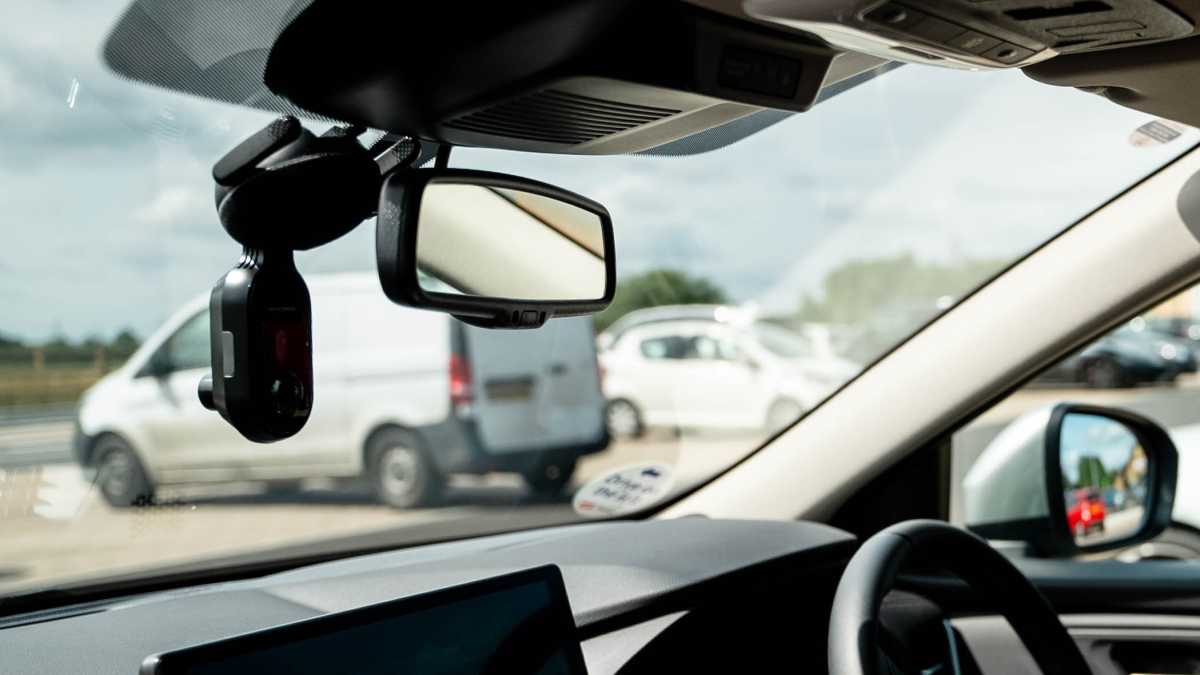 Nextbase
Nextbase iQ subscriptions
As mentioned, there are three options. Solo is free, but doesn't allow you to connect to the iQ remotely to see live or recorded video. Here's how they compare. Any marked with an asterisk means those features are coming soon:
Solo – Free
Nextbase iQ app
Voice control
Real-time text notifications
Protect – £6.99 per month or £69.99 annually
Nextbase iQ app
Voice Control
Real-time image notifications
Live View (60 minutes)
Smart Sense Parking
Witness mode
*RoadWatch AI
*Guardian Mode
Remote Alarm
Cloud Storage – 30 days
Protect Plus – £9.99 per month or £99.99 annually
Nextbase iQ app
Voice Control
Real-time image notifications
Live View (120 minutes)
Live View Look Back
Smart Sense Parking
Witness mode
*RoadWatch AI
*Guardian Mode
Remote Alarm
Cloud Storage – 180 days
*Multiple User Accounts
Emergency SOS
Automated incident back-up
We're reviewing the iQ and will have a full review soon. If you need recommendations of more affordable models, here are the best dash cams to buy.