The iPhone 13 is, arguably, the last great "regular" iPhone model. It introduced only a few select changes from the iPhone 12, but these new features improved its usability tremendously. It's a great all-rounder, and for two years now the regular iPhone models have not lived up to the 13's glory.
However, two years after its release, your Phone 13 might be showing signs of age. Be it a declining battery or slower performance (or maybe just the desire to get something newer), you might be starting to wonder whether swapping your 13 for the shiny, new iPhone 15 is a good idea.
In this article, we'll dive deep into the differences between the iPhone 13 and the iPhone 15. We'll be looking at differences in specs, camera technology, design and features and trying to determine whether it's time to upgrade, or if you're better off waiting another year.
iPhone 13 vs iPhone 15: Design
Looking at the design of the two phones side-by-side, you'd be hard-pressed to find any differences – at least from the back. Both follow the same design principles – flat screen, flat sides (although iPhone 15 does have a little bit of a curve there, making it easier to hold) with a camera bump that holds two lenses in diagonal formation.
Of course, there are differences in colour options. The iPhone 13 comes in blue, pink, black, white, green and red. The iPhone 15 can be bought in blue, pink, yellow, green and black.
Dominik Tomaszewski / Foundry
But don't decide yet – there are still differences to be discovered. The first, and probably most obvious one, is the notch (or lack thereof). The iPhone 13 was the first regular iPhone with a smaller notch, so the cutout is not as noticeable as in the iPhone 12 for example.
However, the iPhone 15 ditched the notch altogether and adopted the Dynamic Island instead – it's a solution straight from last year's iPhone 14 Pro and Pro Max. It means a bit less distraction, as well as some cool new interactive functionality, so it's quite a change.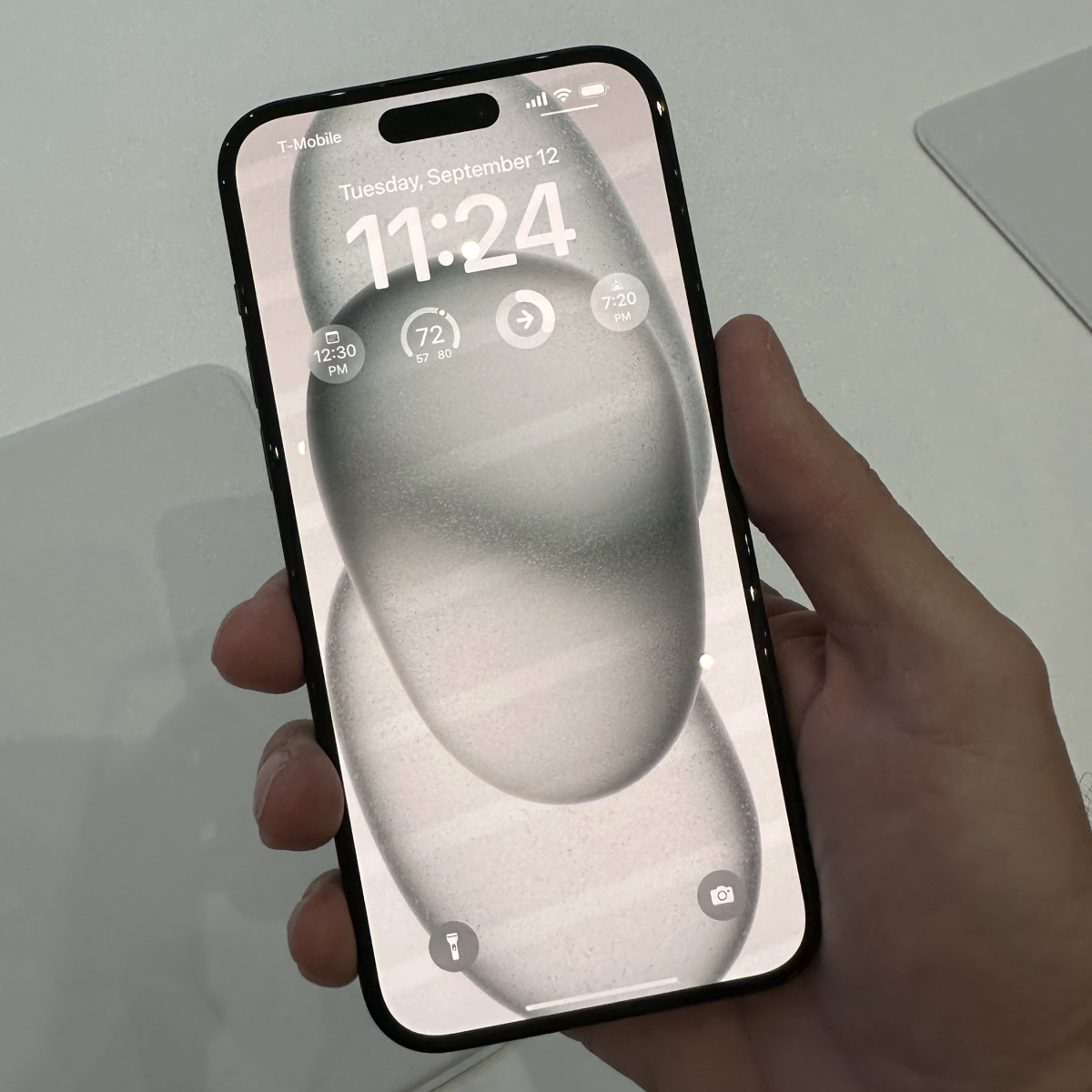 Petter Ahrnstedt
The other important thing, which is both a feature and a design change, is the inclusion of USB-C (at last!). The iPhone 15 is the first model from Apple to be equipped with the new, universal connector, allowing you to charge it with the same cable that you might use for other smart home tech or your Android device. The iPhone 13, on the other hand, is still stuck with the ancient Lightning connector.
What hasn't changed is the screen of the two phones. The iPhone 13 and 15 both sport a 6.1″ OLED panel with a measly 60Hz refresh rate. However, the iPhone 15 is quite a lot brighter – its max brightness reaches 2000 nits, compared to 1200 nits from the iPhone 13.
iPhone 13 vs iPhone 15: Performance
Talking performance differences between iPhone 13 and iPhone 15 could be quite surprising, although not in the way you might imagine. Even though these two phones are two years apart – that is, two generations – their processors are only one generation apart.
This is because, with the iPhone 14, Apple decided to keep the regular iPhones a year behind its Pro line. This means that the iPhone 14 got the same SoC as the iPhone 13 Pro, and the iPhone 15 got the SoC from the iPhone 14 Pro.
So, the iPhone 13 is equipped with an A15 Bionic, while the iPhone 15 comes with an A16 Bionic. This means that the difference in speed between the two won't be as noticeable as you might hope – at least in the CPU department. GPU-intensive tasks should feel much better and offer around a 20-25% increase in performance.
It's also important to remember that the iPhone 15, being two years newer, will be getting software updates for much longer. The iPhone 13 came out with iOS 15, and with the release of the new iPhones should get upgraded to iOS 17. That means it'll still be supported, but probably only has 3-4 years of updates left. The iPhone 15, on the other hand, should get updates for around 5 years. However, as these two are only one SoC generation apart, the difference in support might not be as drastic.
iPhone 13 vs iPhone 15: Cameras
The iPhone camera is something you could write essays about – it's undoubtedly one of the best in the business, especially for shooting videos. Both the iPhone 13 and iPhone 15 are no different.
The iPhone 13 came out with two 12MP lenses on its back – a wide and ultrawide lens. The main shooter was an improvement over its predecessors, boasting a bigger sensor and much improved low-light capabilities.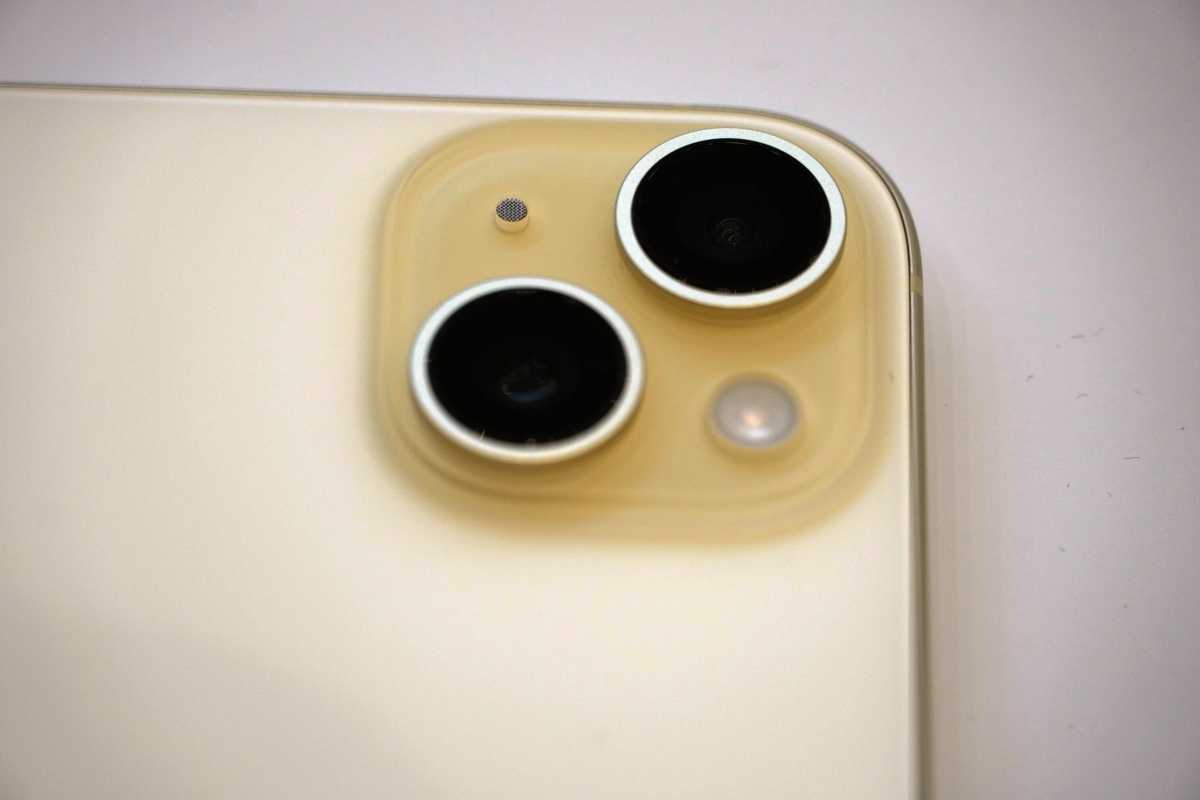 Yellow iPhone 15 showing camera lenses.
Jason Snell
Fast-forward two years and Apple has once again focused mostly on improving the main sensor of its regular iPhone 15 range. Now, for the first time in years, you're getting not only new features but also a significant bump in resolution. The 12MP main shooter from the iPhone 13 is replaced by a new 48MP sensor on the iPhone 15.
This change is quite significant, as it allows the new iPhone to excel at two things. First, its zoom capabilities are much improved, as Apple uses sensor-cropping when you press the 2x zoom button, which (in theory) should allow you to shoot a 24MP photo without losing detail. Second, the new sensor is much more detailed overall, and takes even better pictures in low-light conditions.
iPhone 13 vs iPhone 15: Battery life
One of the most important changes that came with the iPhone 13 was its generational battery life improvement. It means that using these iPhones is a much better experience, as they instantly became champions of battery endurance, thanks to the new cells and an extremely efficient chipset.
The same is true for the iPhone 15, as it is once again equipped with a big battery, paired with an efficient SoC. This means that both of these phones should allow you to easily last a day without charging – even more than a day if you're using your device conservatively.
The iPhone 13 officially offers 19 hours of video playback, while iPhone 15 adds one more hour to that number, totalling 20 hours. Of course, your iPhone 13 might be a bit behind that, as years of use make batteries degrade, but it should still provide plenty of juice for years to come. There's not a lot of difference in this department between the old and the new.
iPhone 13 vs iPhone 15: Features
We've already mentioned the two headline features of the iPhone 15: the Dynamic Island, which replaced the notch, and the inclusion of USB-C instead of the Lightning port. But there are a few more improvements you should know about.
Apple was very proud of its satellite connectivity options on the new iPhone 15. These allow you to send an emergency SOS via satellite, even if you're outside your network range. What's more, the iPhone 15 also comes with Crash Detection and Roadside Assistance via satellite.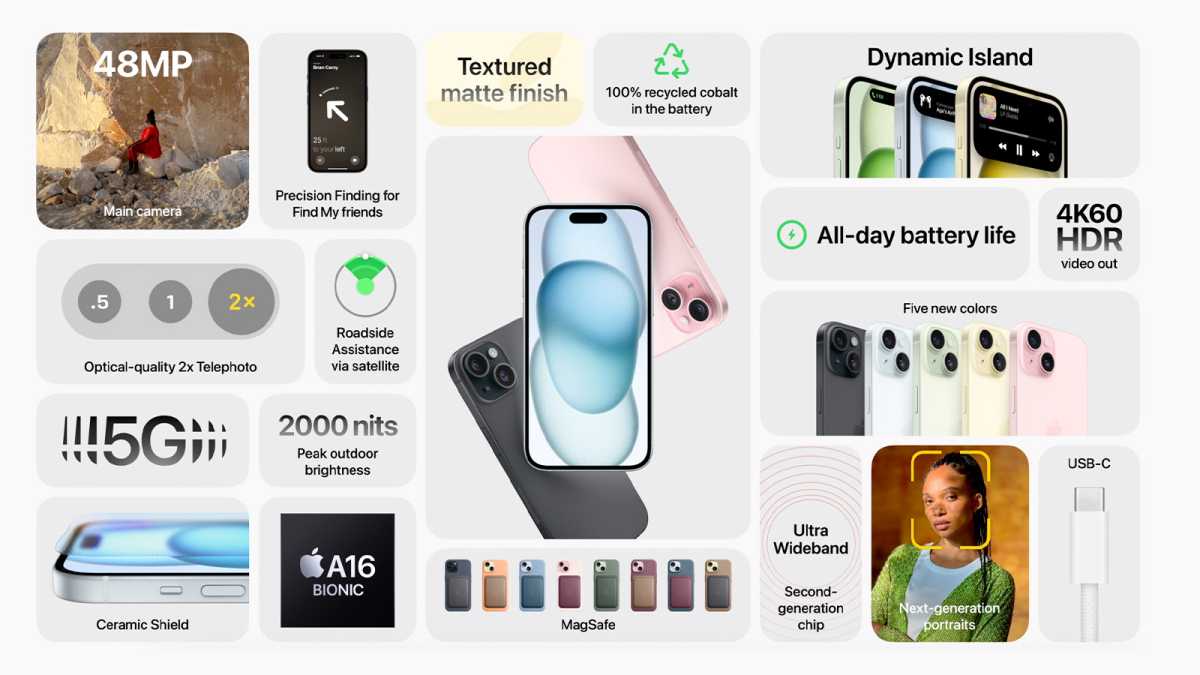 Apple
The other thing to consider is camera software improvements. Here, the new portrait mode is probably the most significant. It allows you to alter your portraits after taking them, but it's also much better at recognising your subjects – not only humans but pets and items as well.
The last thing is connectivity. iPhone 15 improves on the Bluetooth spec, bringing Bluetooth 5.3 to the table, compared to Bluetooth 5.0 in the older model. there is also a new 5G modem, which should further extend the battery life of the new version.
iPhone 13 vs iPhone 15: Stay or go?
For years, a two-year upgrade cycle for phones was the best middle ground between getting new features and getting the best price for them. Lately, however, this appears to be slowly changing.
The iPhone 15 indeed does bring some improvements over the iPhone 13 – mainly in the camera department. However, are they really enough to upgrade your phone? We think that the iPhone 13 still has quite a lot of life left in it, and keeping it for another year is probably your best decision now.
Apple
If you do decide that your phone is due for an upgrade, you'll be getting some nice creature comforts – better cameras, better performance and a fresh-looking Dynamic Island, as well as the convenience of USB-C. Once you've made up your mind, you can check out all the ways to pre-order the iPhone 15.