The iPhone 12 was quite a leap in Apple's smartphone portfolio. It introduced various features that the iPhone lineup still hangs on to today. It was also the generation to come back to squared-off, flat edges, which are still present in the newly-released iPhone 15 range.
It's been three years already since the premiere of iPhone 12, and if you bought one at launch it could be getting a little tired now. Whether you're thinking of upgrading because of battery life issues, slower performance, or simply out of the need for something new and shiny, the new iPhone 15 surely is one of the devices on your radar.
However, is it really worth spending all that money on the newest iPhone 15? There's a lot of talk about Apple slowing down innovation, especially among lower-tier smartphones. How much has changed compared to the iPhone 12? Would buying an iPhone 15 be a waste of money?
And that's why you're here, because we've taken the hard work out of comparing the iPhone 12 to the iPhone 15. We'll check out their specs, performance and features and explain whether you should upgrade, or maybe hold off for another year.
iPhone 12 vs iPhone 15: Design
Let's start with the design. The iPhone 12 was the first (for a long time) to return flat sides. The same core concept remains with the iPhone 15, but there have been some tweaks along the way.
First things first, the most noticeable change is the screen. The iPhone 12 still has a notch, which is now a thing of the past in Apple smartphones. The iPhone 15 has finally ditched the notch and introduced Dynamic Island – previously only on the iPhone 14 Pro models – to the regular iPhone tier.
You will also notice a difference in the display quality, if not size. Both phones have a 6.1″ OLED display with a 60Hz refresh rate, but the iPhone 15 gets much brighter, now reaching 2000 nits peak brightness, compared to the iPhone 12's 1200 nits.
Yellow iPhone 15 (with Dynamic Island, as seen on the phone to the right)
Jason Snell
There are of course a few more differences. Even though the camera bump contains the same number of lenses (two), the iPhone 15's bump is bigger and a different shape. We'll get to cameras shortly but on the back of the iPhone, you'll also notice matte glass, which looks and feels quite different to the glossy glass on the iPhone 12. Not a reason to upgrade, of course.
Dominik Tomaszewski / Foundry
Another change that's important both design-wise, as well as feature-wise is the switch to USB-C. The Lightning port is finally dead, so switching to iPhone 15 also means finally ditching a proprietary connector. Unfortunately, though, it does not mean modern data transfer speeds. The iPhone 15 is limited to USB 2.0 speeds, which is exactly the same as the old Lightning connector.
Most people don't use a cable to transfer data to or from their iPhone and rely on it for charging, so this isn't really a problem.
iPhone 12 vs iPhone 15: Performance
A three-year gap should mean quite a leap in performance, but there's a key detail that makes this jump a smaller one than you might think.
The problem is that between these two phones, Apple has decided that regular iPhones should have a generation-old chip. Therefore, while the iPhone 12 is equipped with an A14 Bionic, the iPhone 15 has an A16 inside: only two generations apart.
Foundry
This is still a substantial difference between the two. iPhone 15 is still significantly faster than its venerable predecessor, especially when it comes to GPU performance. This makes it better for handling the latest apps and games, as well as future operating system updates.
On that note, it's also important to remember that the iPhone 15, being three years newer, will be getting software updates for much longer. iPhone 12 came out with iOS 14, and with the release of the new iPhones should get upgraded to iOS 17. That means it'll still be supported, but probably has only 2-3 years of updates left. iPhone 15, on the other hand, should get updates for around 5 years.
iPhone 12 vs iPhone 15: Cameras
Each year, camera systems are one of the most talked about features of new phones, and not only iPhones. When it was released, the iPhone 12 was one of the photography powerhouses, but camera technology has been advancing rapidly these last few years.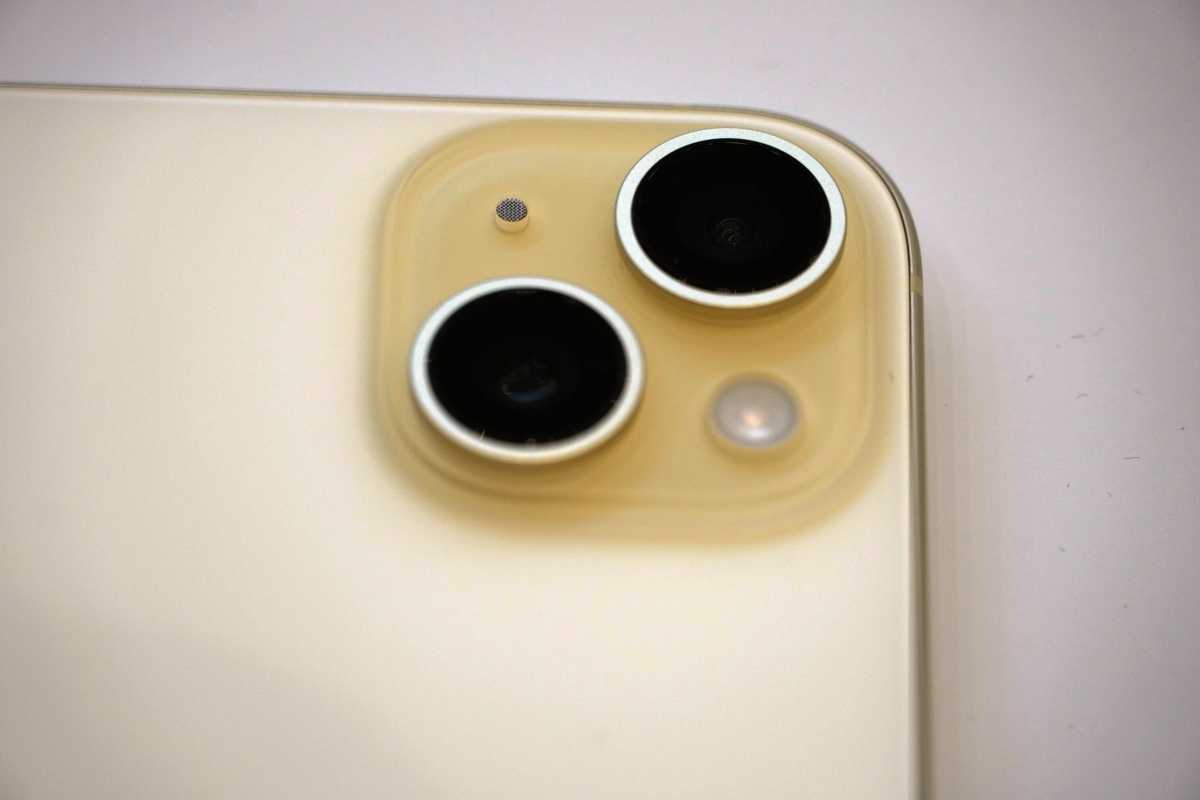 Yellow iPhone 15.
Jason Snell
The iPhone 12 is equipped with two cameras, a main 12-megapixel sensor and a 12-megapixel ultrawide. These are still great shooters and will do you just fine on a daily basis. However, the iPhone 15 takes it up a notch. It inherited the main camera from the iPhone 14 Pro line, so it now has a 48-megapixel main shooter, which is supported by a 12-megapixel ultrawide.
The main camera is miles better than what iPhone 12 has to offer. Paired with the new software trickery that Apple employs, photos during the day and at night will be brighter, and sharper and provide you with much more detail. The 48-megapixel sensor in the new model also means that you can rely much more on digital zoom, and even 2x zoom photos should be extremely sharp and have plentiful detail.
iPhone 12 vs iPhone 15: Battery life
One of the few shortcomings of the iPhone 12 family was its battery life. It might not have been tragic, but it certainly was nothing to write home about. However, with the iPhone 13 things were looking much better, and the iPhone 15 promises up to 20 hours of video playback. That's a combination of a bigger battery and a much more power-efficient processor.
Dominik Tomaszewski / Foundry
However, there is one aspect that Apple is still trailing behind the competition: battery charging. Both iPhone 12 and iPhone 15 support only 20W charging speeds and 15W wireless charging via a MagSafe connection. That means there's no improvement here, despite three years to do something about it.
iPhone 12 vs iPhone 15: Features
We've already mentioned three key features that the iPhone 15 improves on – its screen (with Dynamic Island), main camera and USB-C. However, there are a few more areas where the new phone will be a significant upgrade.
First, the iPhone 15 has much better connectivity options. it introduces Wi-Fi 6E and Bluetooth 5.3, compared to Wi-Fi 6 and Bluetooth 5.0 in the iPhone 12. What's more, it also has a newer 5G chip, which is not only more power-efficient but also ensures better connection and range.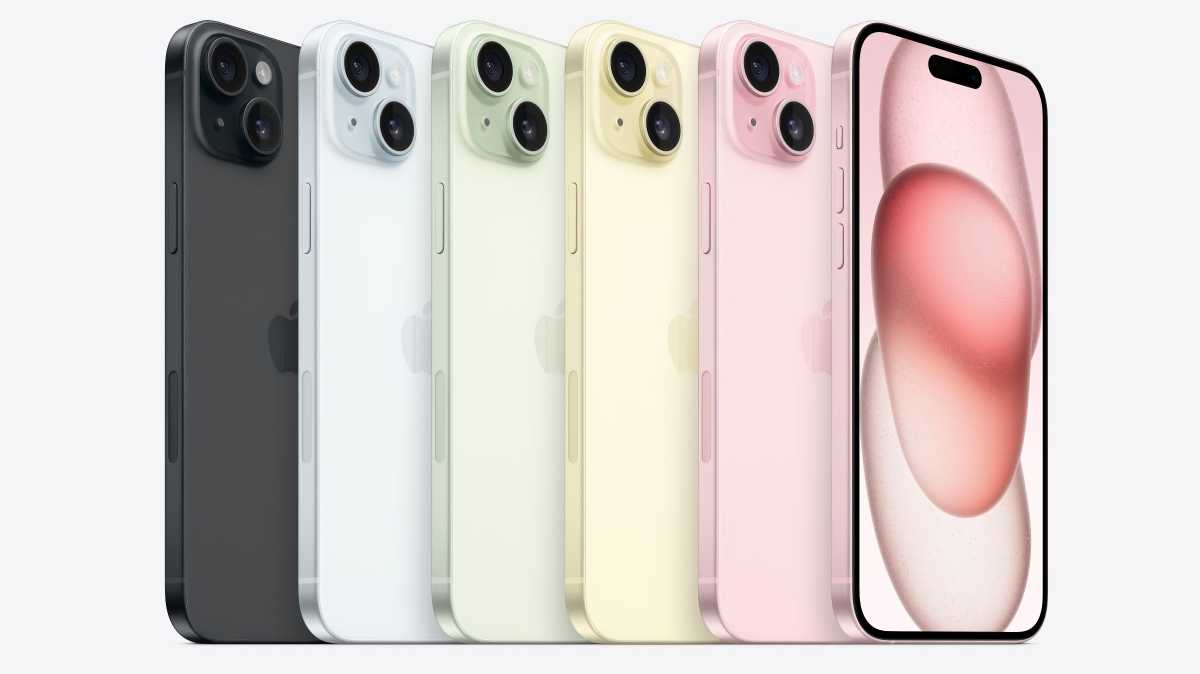 Apple
Another crucial upgrade is that the iPhone 15 offers much more storage with its base model. The iPhone 12 was the last phone from Apple (apart from the SE range) to start with 64GB of storage, while the iPhone 15 in the cheapest configuration has 128GB. With its higher-res photos, it's a welcome change that makes sure you don't immediately run out of space on your phone.
But the iPhone 15 also has a few more camera aces up its sleeve. Probably the most noticeable is the next-generation portrait feature. It's a way of taking portrait photos that can be adjusted after the fact, without the need to turn on Portrait mode beforehand, so you can choose your subject and affect what's in focus and what's not.
iPhone 12 vs iPhone 15: which is the better phone?
The iPhone 12 is still a great phone. But if you've had yours for three years and are contemplating an upgrade, the new iPhone 15 does include significant benefits: a better camera, more powerful CPU, better connectivity and much longer battery life. There are also some creature comforts – USB-C port, Dynamic Island, and longer software support.
However, all this does not mean that you have to upgrade right now. if you are still completely fine with your trusty iPhone 12, there is nothing revolutionary or ground-breaking in the newest iPhone 15 that makes it a must-have. You can do almost everything on the iPhone 12 that you can on the iPhone 15.
Watch Apple's launch event for the iPhone 15 and you'd think it was utterly revolutionary. But in reality, and as I said at the start, the pace of innovation is slowing down. The iPhone 15 has inherited features from the iPhone 14 and – in terms of value for money – gives you more than the iPhone 12 did three years ago.
If you don't own either phone and are trying to choose, the most obvious difference is price, especially if you're willing to buy a refurbished phone: an iPhone 12 costs around £300 / $350, compared to the iPhone 15's £799 / $799. (Just don't forget that the base model has double the storage of the iPhone 12.)
Ultimately, if money were no object, the iPhone 15 wins hands down: of course it does. It's a no-brainer. And if do you own an iPhone 12 which is developing any faults – or you're struggling to get through a day without the battery running out – then it's easy to recommend upgrading to Apple's latest model.
And if you do decide to buy the iPhone 15, be sure to check out our article where we round up all the places where you can buy an iPhone 15. And to be slightly controversial, why not take a look at one of the best Android phones instead?