Cables out of control, making your home ugly and your desk uncomfortably cluttered? Here are our inexpensive tips to tidy up your charger clutter and organize cable chaos, as we review neat solutions and the best cable and dongle cases and bags.
In the supposed Age of Wireless our desks, TVs, living rooms and whole houses remain a viper's nest of trailing, tangled, tense cables. Nowhere are these wires more massed than where you heap your device chargers for phone, tablet, camera, power banks, and other wall chargers. There's probably a knotty pair of old earbuds in there, too.
In our house, this is a drawer in the kitchen once reserved for handy items such as corkscrews (yes, things to take out actual real corks) and foil cutters, non-standard cutlery and cocktail sticks. What days they were.
Now when said drawer is opened it's like the scene in Raiders of the Lost Ark when Indy is thrown down into the Well Of Souls, writhing with snakes. Fighting through the knotty cables to the corkscrew requires a rolled up sleeve and several minutes of fighting through USB, Lightning, Micro USB, Mini USB, and proprietary charging cables. Sometimes I even come across a FireWire 400 cable, which is then hastily pushed to the back of the drawer again.
Manufacturers hardly help. Fitbit, for example, has a different charging cable for nearly every one of its activity trackers. And all of them are non-standard and proprietary.
Most new devices today have moved to USB-C as a standard connection, although Apple keeps its Lightning for iPhone connections. Older devices use the non-reversible USB-A connection, and some even stick with the horribly fiddly micro-USB.
All this means we have too many cables hanging around, sometimes literally trying to trip us up.
So how do you tame this pit of charger cables?
Fewer cables, less clutter
First, reduce the numbers. Throw out any chargers or cables no longer attributed to anything useful in the house. That BlackBerry charger, for instance.
Then ask yourself if you really need seven microUSB cables? Two Lightning should be enough for most iPhone houses, and a couple of USB-A and USB-C if you need both. Consign the others to landfill or better still find somewhere or someone to recycle them. Many of us can't bear to throw all this tech stuff away and so in it goes to that bag of cables in the eaves of the loft that you dig through every five years when a neighbour pops around wondering if you have a power brick that would fit her old DVD player.
Now invest in some charger cables that feature more than one charging end. This could halve the number of cables to tame.
Anker
Buy a 2-in-1 or 3-in-1 cable solution for charging and syncing data to smartphones and tablets. These can be equipped with different types of USB and Apple Lightning connectors—great for Android or other Micro USB and Apple Lightning devices such as the iPhone and iPad. Anker's Powerline II 3-in-1 Cable features an old-school USB-A connection at one end and a choice of microUSB, USB-C and Lightning connectors on the other—available in either white or black.
Go wireless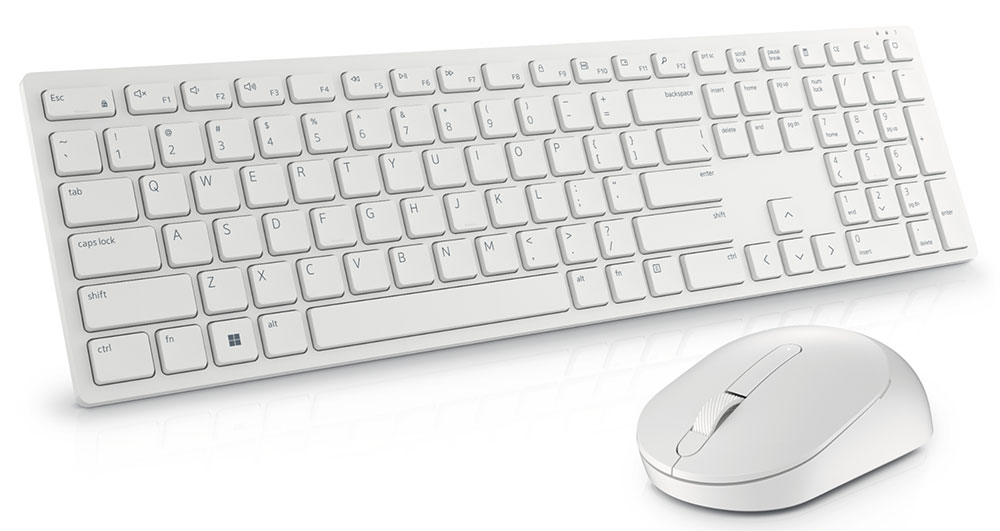 Dell
Free up desk space from cable clutter with a wireless keyboard and wireless mouse, although these require charging so you'll need those cables listed above, but they can be kept hidden away until you need them. Using them will also free up USB ports on your computer or dock, which can be used for other devices—hidden from view, we hope.
Charge multiple devices with one cable
Multi-device wireless chargers can reduce cable usage.
Twelve South
Wireless charging can reduce cable clutter with a multi-device charger that requires just one cable to the wall socket. Pictured above, the Twelve South HiRise 3 can wirelessly charge a MagSafe iPhone, Airpods and Apple Watch all at the same time, and with just one cable. See more of the same in Macworld's Best MagSafe Chargers roundup.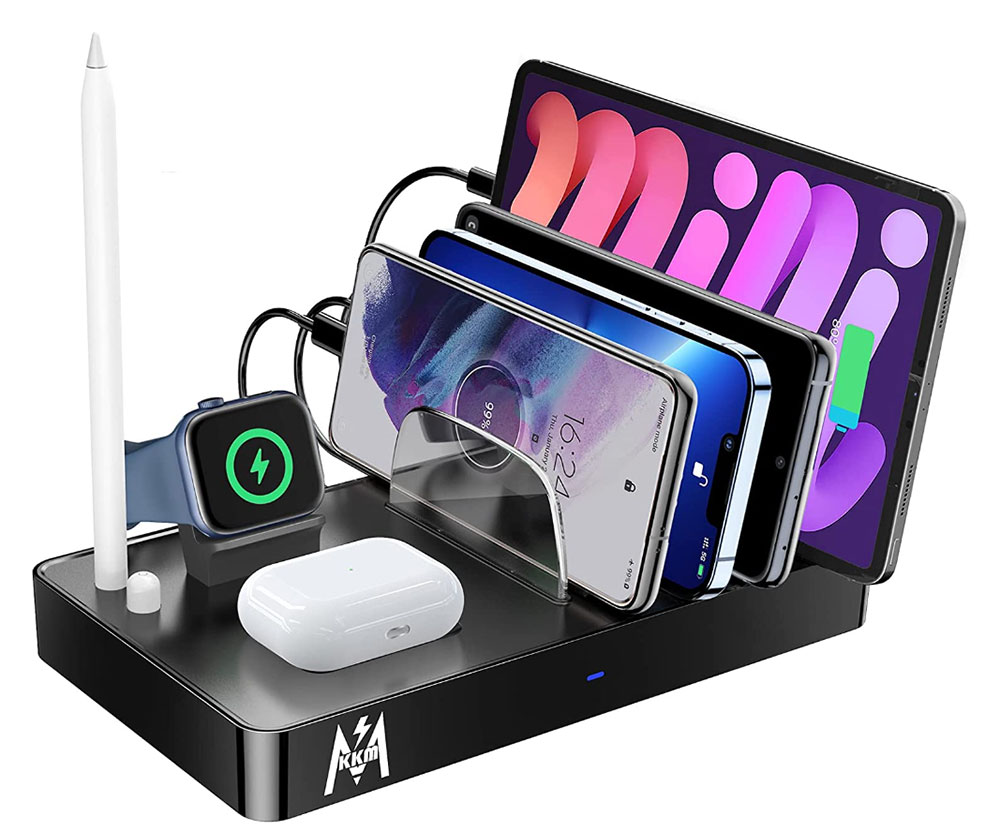 KVM
If you can consolidate all your gadget charging in one place, consider a charging station that can handle multiple devices, such as this 7-in-1 Charging Station from KKM.

Amazon
Use shorter cables
Long cables are useful when you need the reach, but they are just a nuisance when they are snaking over your desk or tabletop.
Using cables of a length that is the closest fit to your needs will radically help calm cable clutter.
In our feature choosing the best short cables, you'll find the shortest USB, Lightning, HDMI, Ethernet and other cables we can find.
Color code or label your cables
Sometimes it's difficult to remember which cable on your desk is attached to which device or which port in your computer or TV. If you can buy cables in different colors, this can help you quickly identify which cable does what.
Of course, you need to remember which color does what, so a more identifiable solution is to attached a label to each cable, stating exactly what their purpose is: TV power, phone charger, and so on. I also sometimes write the device name ("TV", "Printer" etc) onto the top of the plug to save me working back from the plug to the powered device.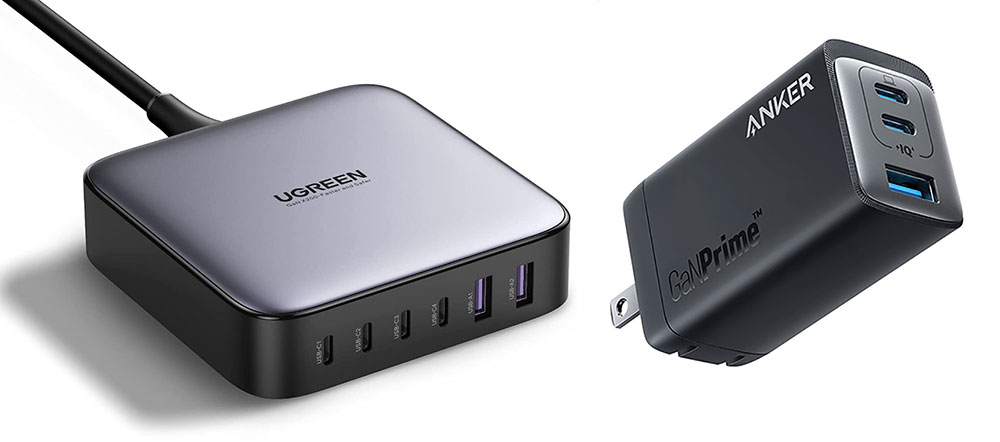 UGReen and Anker
Lose the plugs, too
Unless you're charging straight from a computer you'll need a wall charger for all those cables.
It makes sense to buy a charger with more than one USB port. Some of our favorite chargers are from UGreen and Anker, which both offer multiport desktop and wall chargers to save you from having to plug too many things into your wall.
A wall charger plugs straight into the wall socket, as the name suggests. A desktop charger features a cable to the wall socket, giving you more flexibility for positioning. So you can charge a bunch of devices but have just one cable to the wall.
These are also great for taking away on your travels, rather than carrying multiple chargers.
Look for the right USB port. USB-A is the older version, but many devices now require a reversible USB-C port for their cables.
Ugreen
The neat Power Strip DigiNest Cube power extender from Ugreen (from Amazon US / Amazon UK) features not just two USB-A and two USB-C ports but three AC power sockets. It's neater than a long power strip extension, and takes up just one wall plug. At 65W it's powerful enough to charge a mid-sized laptop, plus phones and tablets.
Read our roundups of the best USB phone chargers and best iPhone chargers.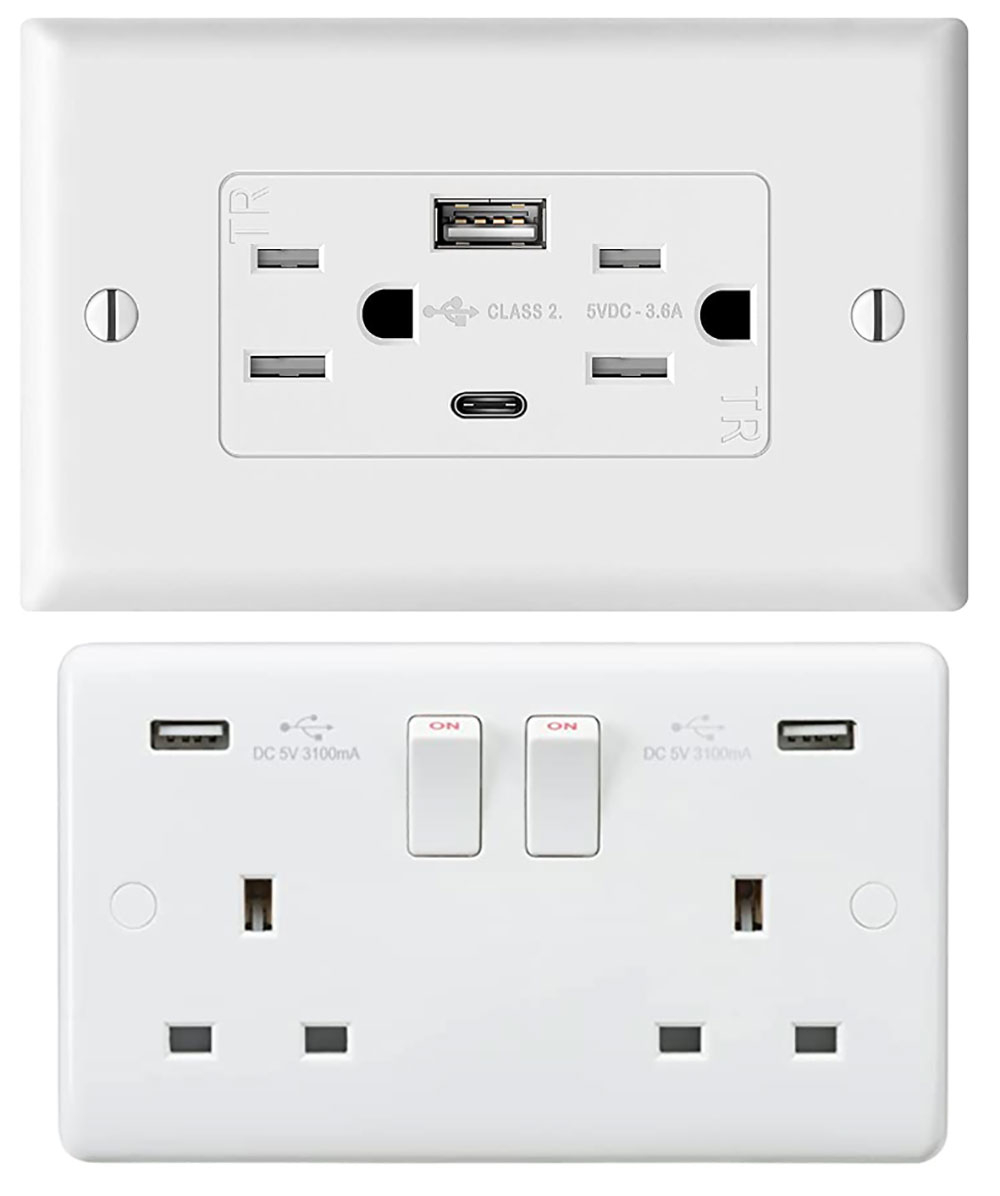 Amazon
Another option is to change your power socket wall plates (above) to include not just the two standard plug sockets but USB slots too. Reputable merchants such as Walmart (US), Home Depot (US) or Screwfix (UK) sell them for around $20/£20.
Most of tehse still feature USB-A ports so look around for ones with USB-C if that's what you're after.
Pack cables away
Now you've cut back on the number and length of your wild charger cables, you need to tame and cage them. We tested a bunch of cable tidy organisers, and here are our favorites.
Joseph Joseph
Consider an under-shelf storage drawer that clips under a cupboard shelf. This can store all your cables and chargers away from sight but still keep everything close at hand. The neatest we've found is from fancy kitchen accessory maker Joseph Joseph, which sells one for under $20/£20—also available from Amazon.
Tech bags and cases
Pack your chargers and cables into a neat bag or case—perfect for traveling but also convenient around the home and office.
It's likely that your laptop, for instance, doesn't just require a charging cable but a dongle or USB hub, and your phone needs to travel with a power bank for top-up charging on the move.
Troubadour
The Rolls Royce of tech-gear bags is premium bag specialist Troubadour—maker of top-class backpacks, briefcases and duffle bags. They're not cheap, but they are luxury.
It has three high-class tech cases, starting with the $80/£70 Buddy Case, which is great for packing your tech essentials either for tidiness at home or the office or for travel. Each can fit easily in a backpack or suitcase, and are lightweight and compact but can still hold a lot of tech. The Buddy Case (6.5-x-5.5-x-2.4 inches) opens flat for easy access, and features a fast-access exterior pocket with magnetic closure. Elastic pockets keep everything organised, and there's even space for a pen pocket down. Its 1.5-liter capacity should be enough to hold a laptop/phone charger, earbuds, cable and power bank.
If you need to carry more gear: multiple cables, adapters, chargers and mouse, for example, then Troubadour's $95/£85 Caboodle Tech Case (9-x-6-x-3.5 inches) offers twice the capacity (3l), as well as a zipped exterior pocket, internal dividers and two-way elasticated pockets.
Slightly larger and featuring even more interior pockets, the $105/£95 Rig Case (10-x-5.5-x-4 inches) has a 3.3l capacity, and opens via a double zipper with hidden magnets, with a zipped exterior pocket, central divider with pockets and even more elastic pockets on the sides.
All three are made from waterproof vegan leather and recycled nylon with a waterproof lining.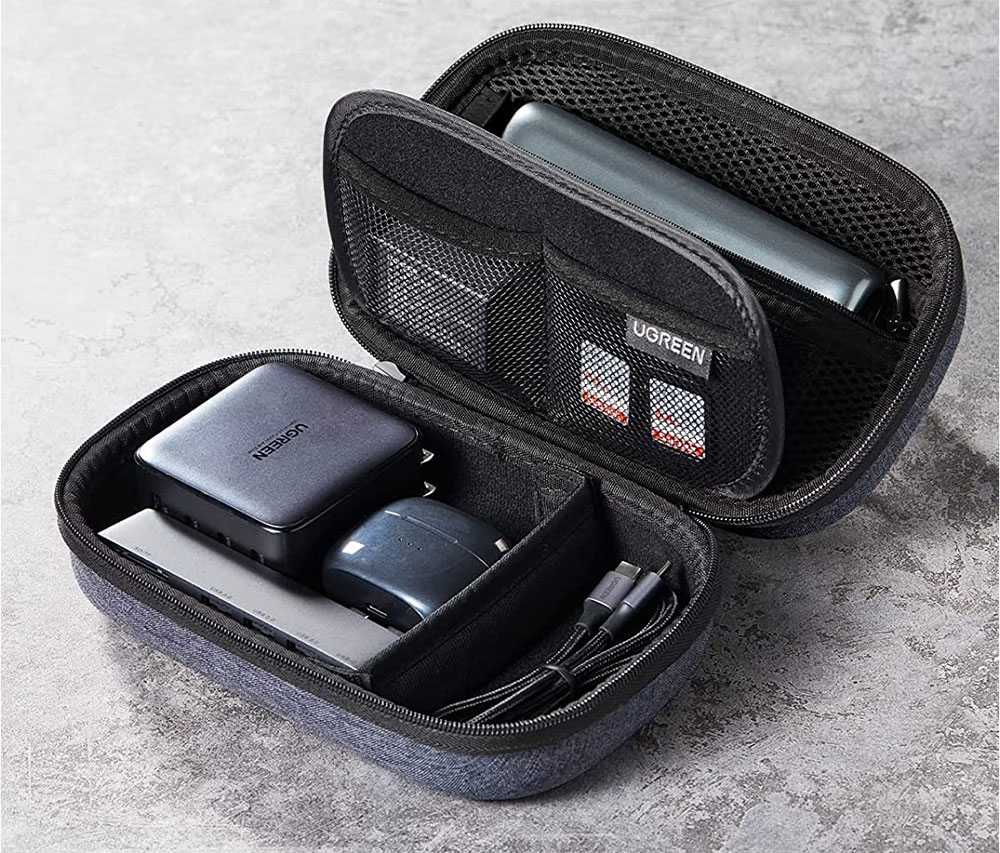 A deep lower compartment in the UGreen Travel Case will store bulkier items such as chargers.
UGreen
UGreen makes some of our favorite tech accessories, and also a quality compact hard case to fit a bunch of them in. The water-resistant UGreen Travel Case measures 8-x-5.1-x-2.8 inches and features a double-layer design, with a deeper lower layer for cahrgers and cables and a zipper mesh pocket for smaller items such as memory cards. A soft velvet inner lining means your gadgets shouldn't get scratched if you pack them properly. Double zippers allow the case to be opened easily, and a portable carrying handle cleverly folds back out of the way when not being used. It costs $23 or £17 from Amazon.
Ugreen also sells a slimmer travel case, measuring 9.6-x-6.9-x-2 inches, which can carry a tablet and numerous cables and small accessories; $23 or £22.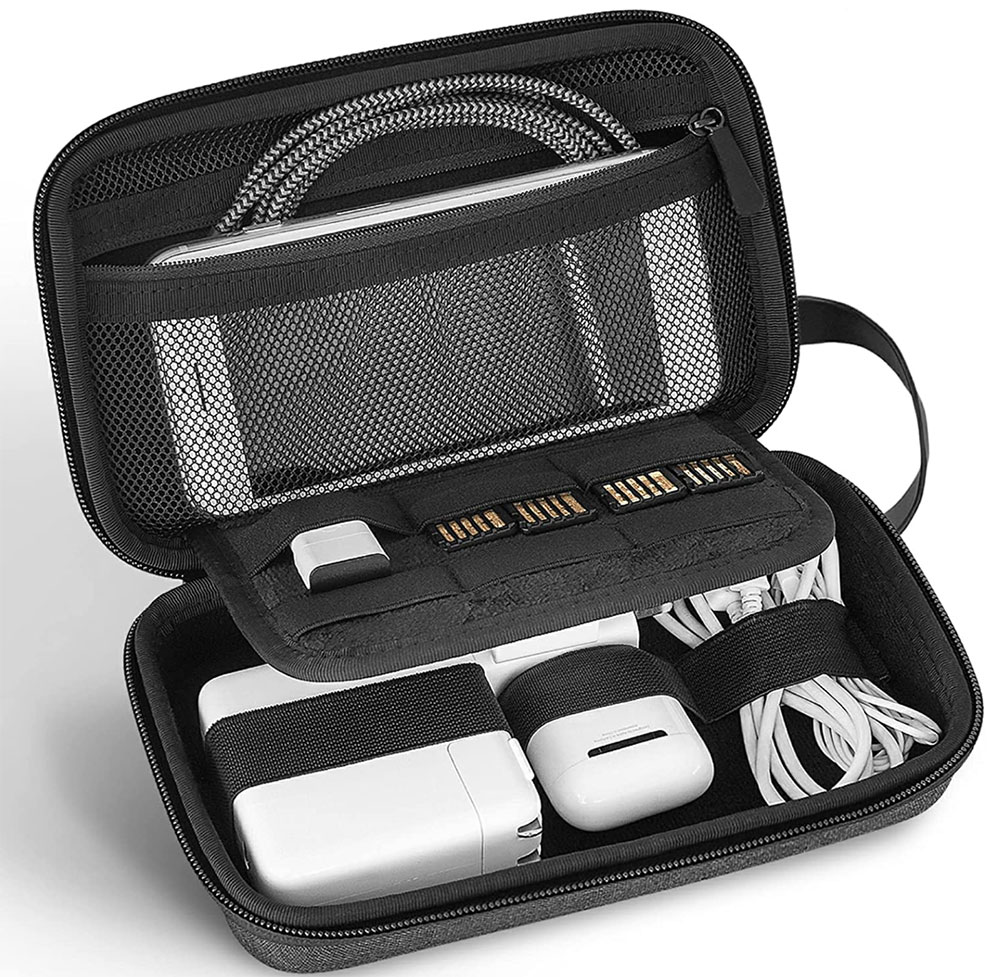 JETech
At the cheaper end of the market, Amazon has plenty of options for cable organizer bags, such as JETech's Electronics Accessories Organizer Hard Carrying Case, which costs just $15 or £10. The durable hard case should protect your electronic accessories against water, and knocks and drops while travelling. Double metal zippers, mesh pocket, slots, velvet shock-absorbing pad and anti-skid elastic straps ensure that your tech goodies stay in place. It's not as spacious as the Troubadour cases but there's enough room to store your phone, cables, slim power bank and memory cards.
Shop all cable organizer bags and cases at Amazon.
The Evri Travel Pouch (above) is designed to organize and store your electronic accessories while you're on the move. It features nine storage pockets, water-resistant zips and ballistic nylon material, an exterior zippered compartment, removable mesh pockets and carry handle. It's not just for cables but all the bulky power bricks, banks and adapters required these days just to leave your house without everything not working after a few hours. It costs $35 or £31.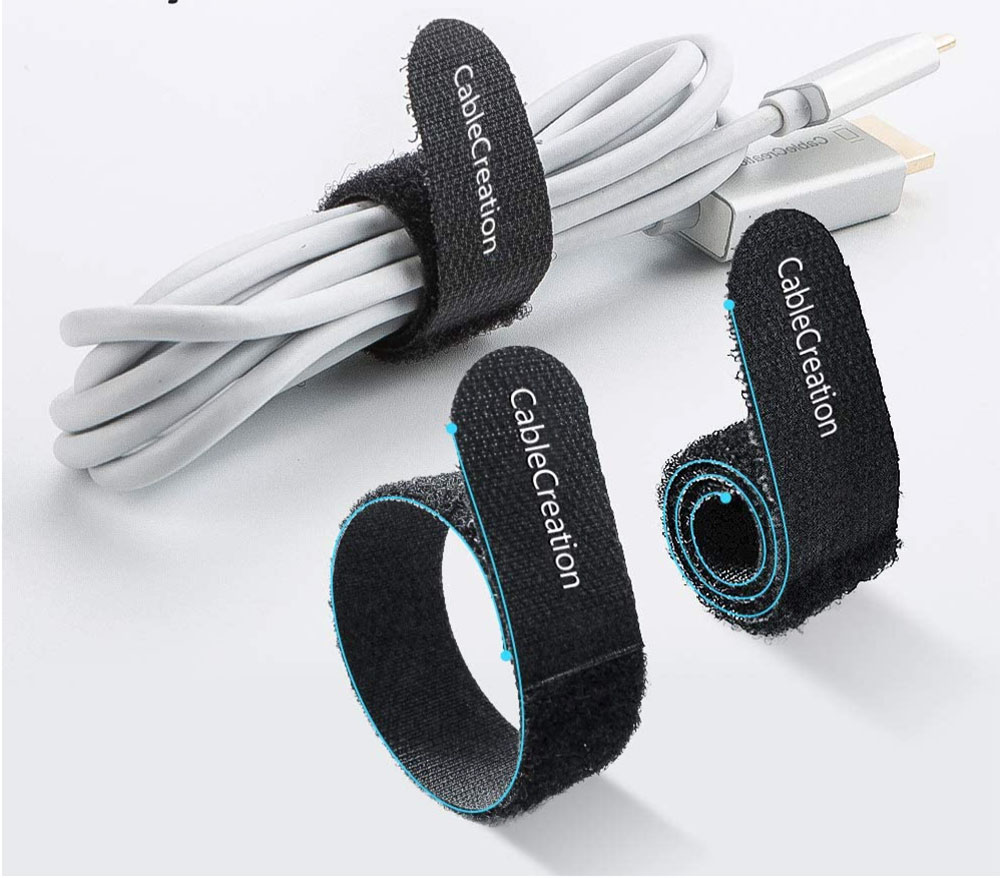 Keep longer cables constrained
CableCreation
Cable ties and tidies
Staggling cables create messy desks and trip hazards on floors. And long cables are the worst for this.
They need to be controlled, organized and hidden from sight where possible.
A cable tidy will do the trick, such as these reusable velcro ties from CableCreation, $10/£10 at Amazon.
Cable ties are great when you have plenty grouped together, such as behind your TV set. They can also bunch up cables that are too long and stray into view.
For long-term cable grouping, you can use one of the plastic cable ties that you see kidnappers using to tie up hostages' hands in TV cop shows.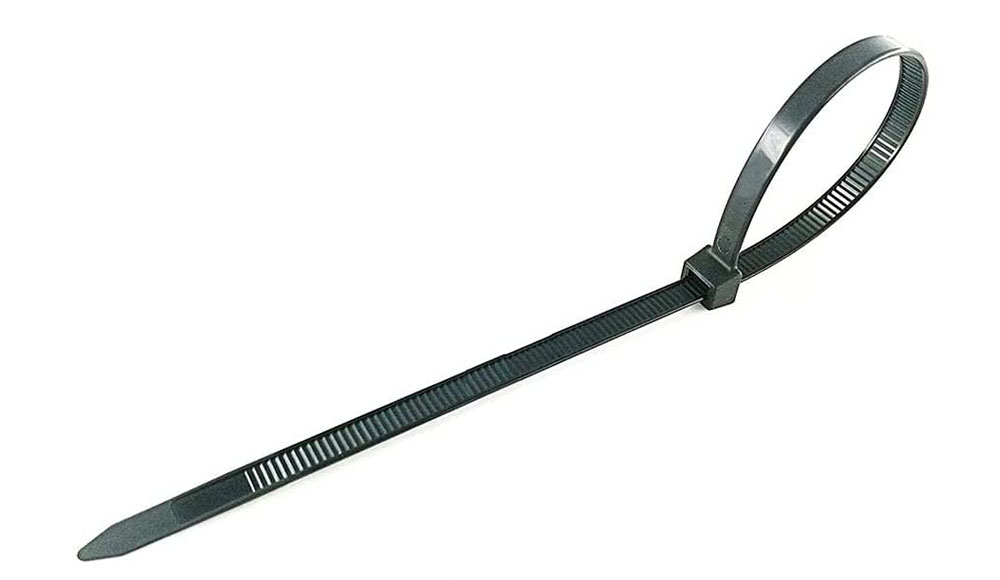 Amazon
Amazon US and Amazon UK have cable ties in all lengths and colors. Even if you only need a few around the house, you usually have to buy them by the hundred, which means more clutter somewhere else, but they are super cheap so just share them with friend and family—the perfect neighborly gift.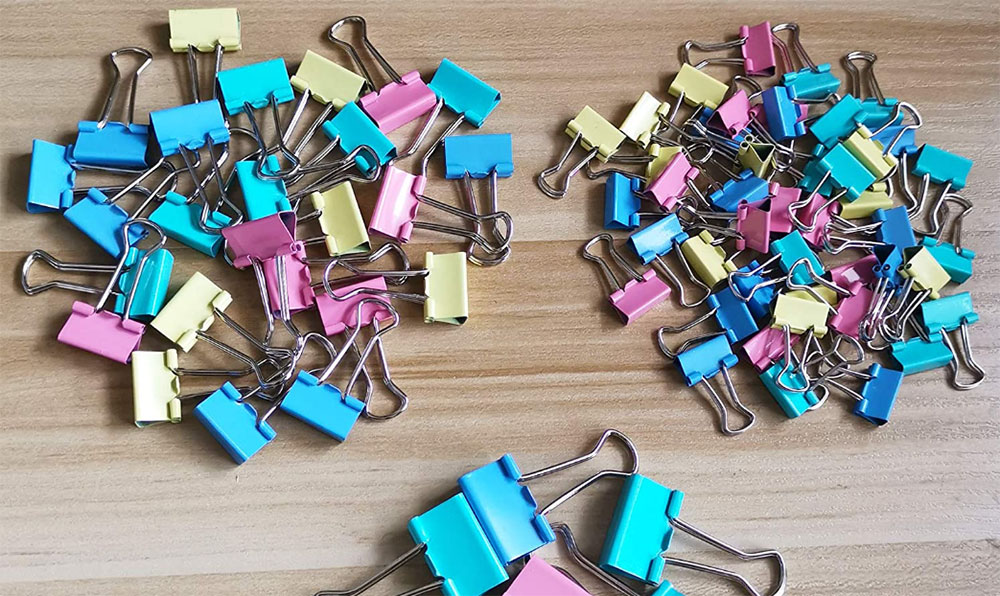 Amazon
Even a simple binder clip can reduce a long cable into something more manageable, and can come in different colors for easier identification, and in different sizes depending on the thickness and length of the cable you are trying to constrain.
When cables are less hidden, some cable tubing is often a neater solution—such as this one from D-Line. Cable tubes can be cut to the required length. A slit along the tube makes it easy to add or remove cables.
Amazon
Cable boxes
If your devices are connected to a power extender, consider a cable box, which should be a tidier solution than a bunch of dusty, different color plugs on display. These can be bought in a variety of colors and materials, and you could consider painting it in the same color as the wall it will sit beside.
Amazon
A cable box will also keep dust and other debris from messing up your plugs. Too much dirt can end up being a potential fire hazard around electrical equipment.
Again Amazon US and Amazon UK have plenty of options, as does the Container Store.