At a glance
Expert's Rating
Pros
Strong GPS and heart rate accuracy
Useful Body Battery daily insights
Vibrant AMOLED screen
Decent smartwatch features
Cons
Slightly thick bezel around screen
Lacks useful Training Readiness feature 
Our Verdict
The Garmin Vivoactive 5 offers good sports, smartwatch and general wellbeing features for less than picking up a Garmin Venu 2 or the newer Venu 3.
Price When Reviewed
£259.99
Best Prices Today: Garmin Vivoactive 5
£259.99
The Garmin Vivoactive 5 arrives as the successor to the Vivoactive 4, which launched back in 2019.
Garmin is updating its first smartwatch-style sports watch most notably with an AMOLED screen. There are new smarts too with a sleep coach telling you how much sleep you need, and it now offers built-in workouts for wheelchair users.
It's offering those features for less than Garmin's new Venu 3, which has emerged as Garmin's answer to the Apple Watch and Samsung Galaxy Watch.
So, was Garmin right to bring back the Vivoactive 5 and is it one of the best sporty smartwatches to pick up?
Design & Build
Weighs 36g
One case size only
New AMOLED display
The Vivoactive 5 is available in just the single 42mm case size, which is a change from the two case size options you could pick up the Vivoactive 4 in.
you're now getting a considerable bump in colour and overall getting a punchier screen that makes the latest Vivoactive feel a bit more like a smartwatch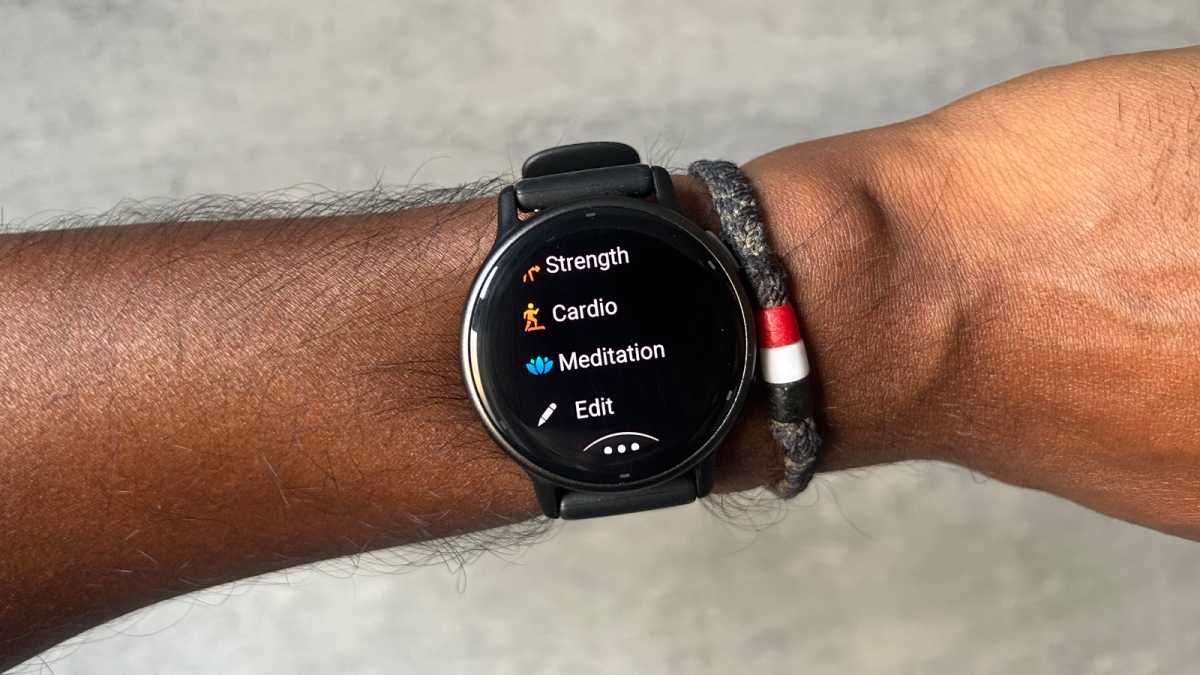 Mike Sawh
It's still a polymer case, which is pretty much the norm for most Garmin watches, with an aluminium bezel now in place of the steel one used on its predecessor. Garmin offers it in four different colours so you can pick it up in a brighter or more low-key bezel and case combo look. It looks quite similar to the Google Pixel Watch 2.
That's matched up with a 20mm quick release band, which does mean you change that band via a simple pin mechanism. It's a pretty standard sports watch band that has been comfortable to wear during the day, in bed and during exercise.
Up front, Garmin has switched from a transflective display to a 1.2in, 390 x 390 pixel resolution AMOLED one. So you're now getting a considerable bump in colour and overall getting a punchier screen that makes the latest Vivoactive feel a bit more like a smartwatch. It's not the best AMOLED Garmin offers on one of its watches, but it's bright and vibrant enough to deliver good visibility on the whole and you do have the option to keep it on 24/7.
One thing I don't absolutely love here is that there's a pretty sizeable black bezel that sits around that touchscreen, which takes some of the gloss off what is overall a pretty streamlined look and not a massively memorable look.
Mike Sawh
Along with the touchscreen, Garmin includes two physical buttons, while around the back you'll find the charging port, which remains the same as pretty much every new Garmin watch. That sits alongside an upgraded optical heart rate sensor, though this isn't the latest version of Garmin's optical heart rate sensor technology.
Waterproofing remains the same as the last Vivoactive at 5ATM, so you do have something you can submerge in water up to 50 metres depth and is fit for pool and open water swimming.
Health & Fitness Tracking
Improved GPS and heart rate sensors
HRV Status added from other new Garmin watches
New Sleep Coach
The Vivoactive 5 is a multisports watch at heart, so it's capable of tracking runs, swims, cycling and also has golf as one of its core sport profiles. There are also tracking profiles for indoor workouts like the Elliptical and Garmin has notably added workouts for wheelchair users with hand cycling added as a new profile.
the Vivoactive 5 has been a solid performer across the board
Mike Sawh
This is also a watch that will count your daily steps, push you to move more and monitors your sleep time. Garmin is introducing a new sleep coach feature to offer advice on making improvements to the quality of your sleep time.
Garmin also includes a pulse ox blood oxygen saturation sensor, but loses the barometric altimeter from the Vivoactive 4. So you can't measure elevation like stairs climbed during the day which is a shame.
I'll start with that core sports tracking first and I'm happy to report that in typical Garmin fashion, it's pretty solid overall. Garmin has upgraded to a multi GNSS setup for tracking outdoor workouts, so not the impressive multiband mode we've seen crop up on other new Garmin watches.
I've been using it for runs against the dual-band mode on the Apple Watch Ultra 2 and the multiband mode on the Garmin Forerunner 965 and the accuracy has been very good. Metrics like distance tracked, average pace and even calories burned tended to match up or be in the same ballpark as those other watches.
Garmin has also upgraded the optical heart rate sensor and performance here has been good here too. I've been using it up against a heart rate monitor chest strap and it held up well for steady-paced workouts with some faltering at high intensities. That's pretty much the norm for optical sensors, though you can add external heart rate sensors for a hit of more accurate heart rate data.
I've also used it for pool swims, indoor rowing, treadmill runs and HIIT workouts and the Vivoactive 5 has been a solid performer across the board. The data has been good, the screen is big enough and bright enough to soak up data and it's offering that typical great Garmin tracking experience.
When you switch over to fitness and sleep tracking mode, it's more of the same as well. The Vivoactive 5 keeps tracking of daily steps and adjusts target step counts depending on your ability to hit that daily step goal. It tracks intensity minutes, stress, respiration and heart rate, while Garmin has evolved its Body Battery energy monitor to offer more regular insights and updates during the day.
I've been using it alongside a Fitbit Charge 6 and step counts have been nicely in line. It's a similar story for continuous heart rate monitoring too, which is one of Garmin's strengths.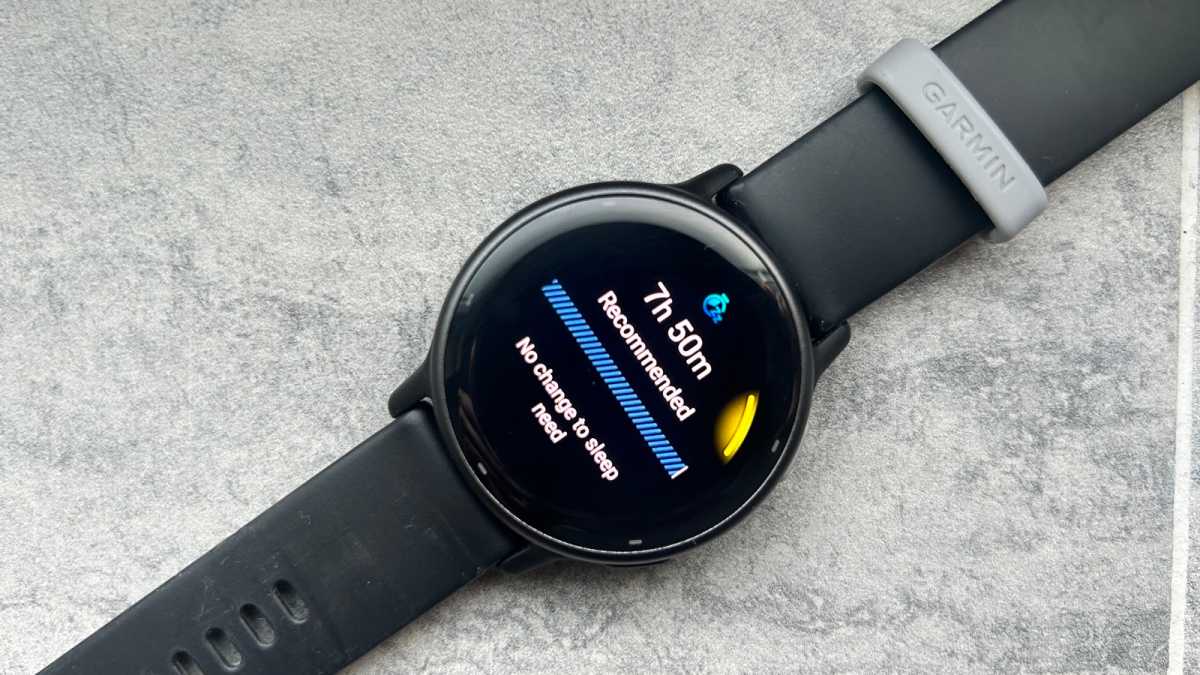 Mike Sawh
For sleep tracking, Garmin captures core stats like the time you fell asleep and when you woke up, breaks down sleep stages and generates a sleep score. Garmin is now also adding in more sleep metrics, like changes in Body Battery and captures heart rate variability measurements to fuel Garmin's HRV Status insight.
That core sleep tracking has its good and bad days. I've been using it against the Fitbit Charge 6 and the Oura Ring Gen 3 and Garmin does still seem to have that familiar quirk of capturing an extra hour of sleep time or taking a bit longer to detect when I've fallen asleep. There were days where data was well in line with Fitbit and Garmin's sleep data as well, so it is capable of doing a good job but it's a mixed bag.
Garmin's new Sleep Coach creates a recommended sleep time based on sleep history and activity history. So I'd slept more than the recommended 7 hour and 50 minutes on one night and it suggested I needed 20 minutes less sleep. After a tough workout day, it suggests going back up to that 7 hours 50 minutes. It doesn't feel like a revolutionary feature, but does add a more actionable aspect to Garmin's generally okay sleep tracking.
There are training and analysis features here too, though not to the extent you'll find on Garmin's Forerunner series watches. You can build workouts, including intervals for running, which can be synced over to the watch. It'll suggest an ideal recovery time after workouts and Garmin has included its HRV Status metric, though lacks its more useful and simpler HRV-powered Training Readiness metric.
A new workout benefit insight included after a workout offers some pretty basic insight on the value of that workout, which is something I generally forgot about or ignored.
Smartwatch Features
Built-in music player
View photos in messages 
Connect IQ Store access
The Garmin Vivoactive 5 seeks to be a smartwatch as well as a sports watch. It does work with iOS and Android devices, with some newer smarts only available when paired to Android smartphones.
If you want the best smartwatch experience on a sports watch, Garmin stands out above the competition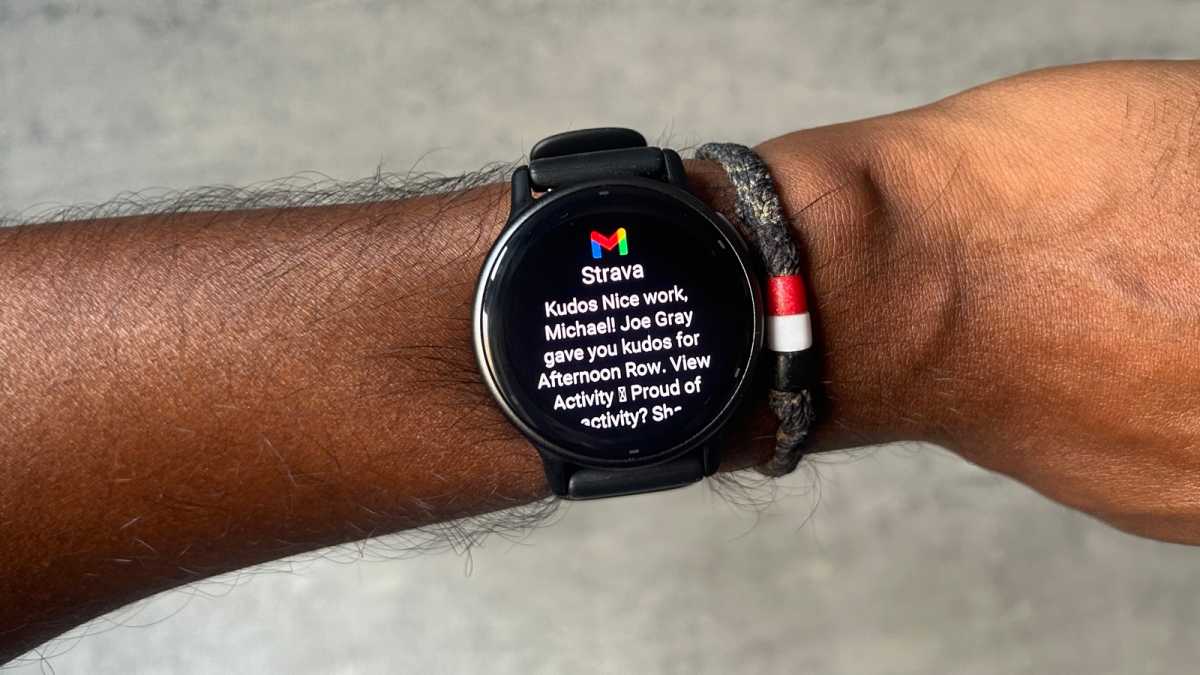 Mike Sawh
You can view notifications with Android users now able to see images sent through messages. That's along with the ability to respond to messages with the onboard virtual keyboard. Garmin includes its handy Morning Report summaries and there's 4GB of storage some of which is reserved for the onboard music player. You can plug the Vivoactive 5 into a computer to transfer over your own audio or you can sync some over directly on the watch from streaming music services like Spotify, Deezer and services like Runcasts.
Garmin Pay makes the cut as well to enable contactless payments, though supported banks are smaller in number compared to rival smartwatch payment services. You do have access to Garmin's Connect IQ Store to download apps, watch faces, data fields and widgets, while it's good to see Garmin's safety features make the cut too. You will need your phone paired to make use of them, however.
If you want the best smartwatch experience on a sports watch, Garmin stands out above the competition. Is it as slick as an Apple Watch or a Samsung Galaxy Watch? No. If you care mostly about notifications and music features, Garmin does a good job on those fronts.
Battery Life & Charging
Up to 11 days in smartwatch mode
5 days with screen in always-on mode
Up to 21 hours GPS battery life
Despite adding in that AMOLED display, Garmin suggests you should still get an impressive battery from the Vivoactive 5 in between charges. 
It's touting up to 11 days in smartwatch mode, which drops to 5 days when you have that AMOLED screen set to always-on. There's a more restrictive battery saver mode that also pushes it to 21 days. I would say that getting that 11 days in smartwatch mode entirely depends on how regularly you're using features like GPS.
Based on my testing, it's been just under a week with regular GPS use along with continuous health and wellness monitoring features in use and enabling the notification support. If you keep that screen on, it's going to be a 3-4 days. But that's more than the 24-hours touted for something like the Pixel Watch 2.
Mike Sawh
Garmin says you should get up to 17 hours in the top GPS accuracy mode, which increases to 21 hours in the standard GPS mode and drops to 8 hours with music streaming. That seems about right based on my testing. A 30-minute outdoor run saw the battery drop by less than 5%, and that was without the screen set to always-on.
Whether you go all in with features available or scale things back, this is still a watch that's going to go longer than smartwatches like the Apple Watch and Samsung Galaxy Watch, but maybe not as far as the Huawei Watch GT 4.
Price & Availability
The Garmin Vivoactive comes in priced at $299.99/£259.99, putting it firmly in the mid-range price category in Garmin's extensive watch collection. That's significantly cheaper than the AMOLED-packing Garmin Venu 3, which costs $449/£449. It also sits just below the price of the older Venu 2.
You can buy it from Garmin as well as the likes of Amazon, Currys, Argos and Very.
In the US, it's on sale at Garmin, Amazon and BestBuy.
Outside of Garmin's own range, it's clearly competing with the likes of the Polar Ignite 3 ($329.95/£289) and the Apple Watch SE ($249/£219), two colour screen-packing smartwatches that also offer strong sports, fitness and health tracking features.
For more alternatives check our best smartwatch chart.
Verdict
The Vivoactive 5 sees Garmin add yet another solid AMOLED multisports watch that performs as a good smartwatch to its ranks. It also means it has another watch to sit at yet another different price point.
When you look at what it's up against, it offers arguably a better software and smartwatch experience than the closest-priced Polar sporty smartwatch and has richer native sports tracking than something like the Apple Watch SE. Apple offers a more comprehensive smartwatch ecosystem and feels like a better watch to track your health, if you own an iPhone.
Looking at it from a Garmin perspective, it's also offering a lot of what the Venu does for less money too. You miss out on a different bezel, extra case size, an altimeter and the extra voice-based features. If you can live without those things, you can get a cheaper sporty smartwatch from Garmin that still delivers the goods where it matters.
Specs
1.2in 390 x 390p AMOLED display
Gorilla Glass 3
Polymer casing
4GB RAM
5 ATM water rating
20mm quick release straps
42.2 x 42.2 x 11.1mm
36g