There are countless new TVs on the market to choose from, coming in a huge range of sizes and panel types. Even choosing between OLED and LCD is enough without thinking about technologies such as 4K, HDR, HDMI, Hz and more. We've got you covered with our-in depth smart TV buying guide where we review and rank the best TVs.
There are various things to consider, especially when you can spend under $300/£300 or over $2,000/£2,000 on TVs that, on the whole, look like they offer the same thing. We've got a mix of prices here but you can check our dedicated chart of the best budget TVs if you haven't got much to spend.
Do you need OLED screen? What is Mini-LED? Should you go with Philips to enjoy Ambilight? Should you buy a TV with Roku or Fire TV software built-in? All questions you'll need to consider before hitting buy.
'Best' is subjective as it depends on what is most important to you, so we've reviewed and ranked a range of different TVs covering budget and premium prices and various features from various manufacturers including Sony, Sony, Samsung, LG, Philips and Hisense.
Find the best Samsung TV for you and read our guides to LG TVs and Sony TVs too.
Remember that we can only test one size (typically 55in if we can) but specs can vary slightly between models. Note that 2021 TVs are still good and discounts might mean you can pick up a bargain so check our live prices from the top retailers.
Also, check out the latest TV Deals to find the best discounts available right now.
Best 4K Smart TVs 2023
1. LG G3 OLED (2023) – Best Overall
Pros
Stunning HDR picture performance 
Four 120Hz HDMI inputs 
Svelte One Wall design
Upgraded webOS
Cons
Expensive 
No HDR10+ 
No stand supplied
LG has done it again with yet another brilliant OLED TV which is, in many ways, the one to beat in 2023.
It now has LG's first MLA (Micro Lens Array) OLED panel offering up sublime picture quality. You'll be dazzled by highly dynamic images, with beautiful levels of detail and a colour vibrancy that warms the soul.
This is partly down to LG's most powerful picture processor yet and doesn't scrimp on the gaming side of things either with 4K 120Hz support on all HDMI ports as well as a Game mode, low latency and more.
The latest version of webOS is much improved with a more user friendly interface and the G3 has a svelte One Wall design to boot. It's hard to find fault but the TV is aimed at wall-mounting so those wanting a stand will have to purchase it in addition.
2. LG C2 OLED (2022) – Best Value OLED
Pros
Bright Evo panel
Powerful processor
Gaming prowess
Comprehensive streaming apps
Cons
Some image presets disappoint
No HDR10+
Expensive at larger sizes
LG's updated C series OLED for 2022 is a sublime option for many TV buyers for many different reasons.
It comes in a huge range of sizes and although the larger options get expensive, most won't need to go that big. Everything 55in and above comes with new Brightness Boosting tech powered by the latest Alpha 9 Gen 5 processor.
The result is a dazzling experience and webOS has just about every streaming service under the sun that's super easy to use with the new Magic Remote. With 120Hz support via HDMI 2.1 alongside a Game Optimizer, makes it great for next-gen consoles, too.
There's little to dislike as it's easy to avoid the bad presets so the lack of HDR10+ for Prime Video is the main caveat.
Note: We will have an LG C3 review very soon.
Read our full
LG C2 OLED (2022) review
3. Samsung QN85C (2023) – Best Mini-LED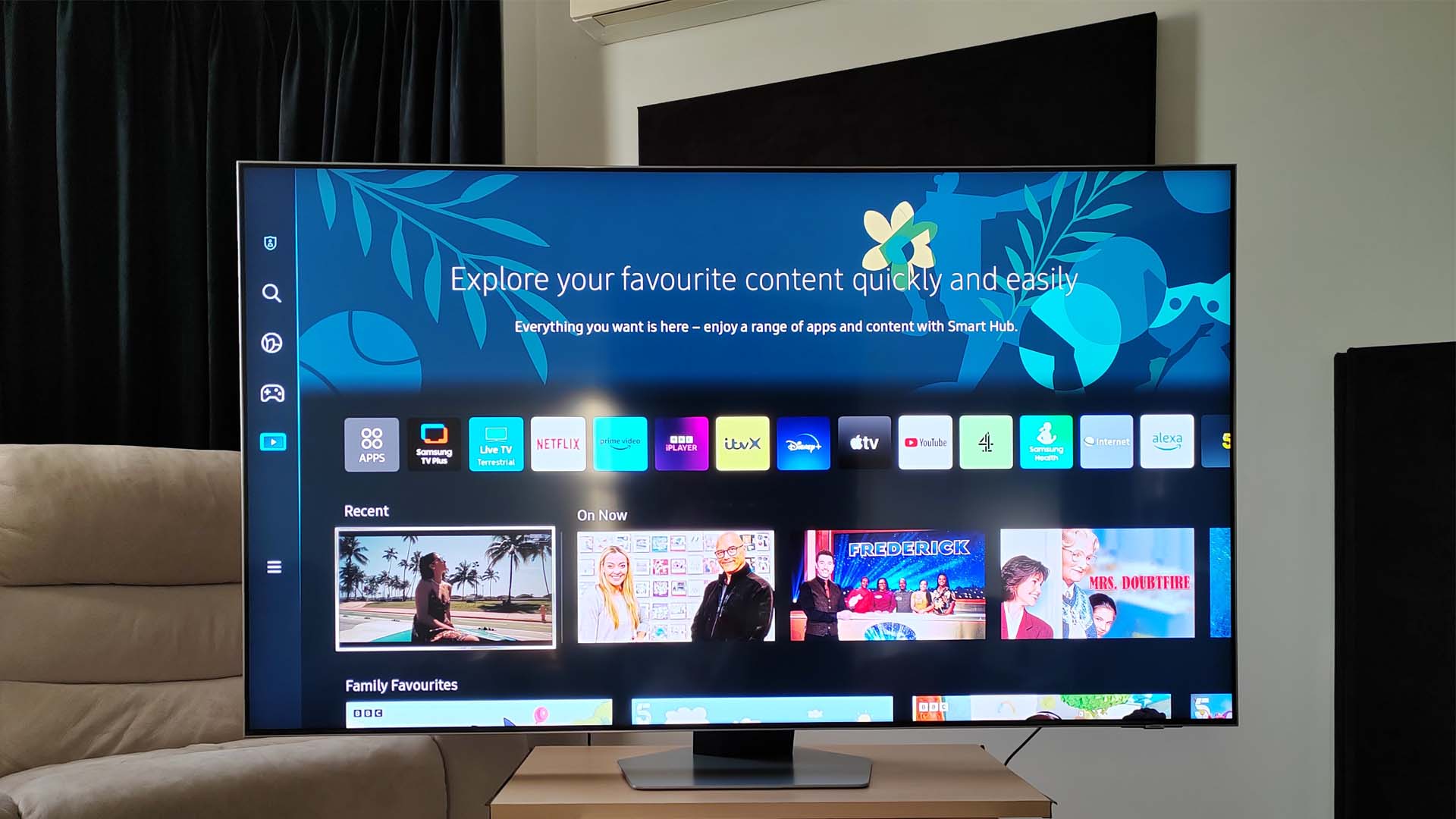 Pros
Impressive image quality 
Tizen smart TV platform 
120Hz refresh rate
Cons
No Dolby Vision 
AI Audio sounds harsh
With its impressive Quantum Mini LED panel, the QN85C proves you don't need to buy an OLED to get impressive black levels. It's a high-performance 4K smart TV, with an enviable feature specification.
There's real depth here and remarkable peak HDR brightness, while the Neural Quantum Processor 4K is multi-talented and handles images with ease.
Furthermore, the TV lends itself well to next-gen gaming thanks to a 120Hz refresh rate which is supported on all four HDMI ports. Low latenct and a dedicated Game Hub mean gamers are well catered for.
There's little to dislike here if you can afford one, really just the lack of the Dolby Vision HDR standard and the AI Audio mode is best avoided. Still, it's an excellent all-rounder that will satisfy the vast majority of buyers.
Read our full
Samsung QN85C (2023) review
4. Samsung The Frame (2022) – Best Lifestyle
Pros
Unique art frame design
Matt QLED screen
Tizen smart platform
Solar powered remote
Cons
No Dolby Vision support 
Large One Connect box
The Frame is a unique TV proposition, which in its latest iteration is better than ever. The adoption of the matte screen is entirely appropriate and really adds to the arty vibe that The Frame engenders. When it comes to interior design, The Frame has obvious appeal before you even factor interchangeable bezels.
Overall picture performance warrants a thumbs up, with the caveat that black level depth is limited and the screen is prone to backlight blooming. The screen's audio chops are surprisingly decent which is a leap from last year.
The provision of the One Connect box simplifies wall hanging, reducing cable spaghetti down to a single strand, but you will need to accommodate the unit somewhere nearby, and it's quite a large piece of kit. A specialist proposition, then, but one that comes highly recommended.
5. Sony Bravia XR A95K (2022) – Best QD-OLED
Pros
QD-OLED panel 
Stylish design with Dual Stand 
Cognitive Processor XR
Cons
Expensive 
Only two 120Hz inputs
Limited HDR support 
Those just as concerned about design as they are about picture quality will love the A95K from Sony with its stunningly minimalist and thin aesthetic.
Its innovative Dual Stand means you can have the pedestal at the front or the back of the TV. Either way, it's a eye-catching design and a talking point too.
As would expect, picture quality is top notch and this QD-OLED offers bags of colour vibrancy and punchy contrast. Add in the Google TV OS built-in and you've got yourself an excellent home cinema screen, although it doesn't support Dolby Vision IQ or HDR10+
The A95K does support 120Hz gaming but the lack of a gaming mode means rivals are better in this area if you're more than a casual gamer. The biggest barrier here is the price, when sold at full RRP anyway.
Read our full
Sony Bravia XR A95K review
6. Sky Glass – Sky TV Without the Dish
Pros
All-in-one system
Dolby Vision
Amazing Dolby Atmos sound system
No dish
Cons
No local storage for recordings
No Game modes or 120Hz
No headphone support
Sky's first own-brand TV is an interesting proposition, offering customers Sky TV without a satellite dish for the first time ever.
The TV itself is stylish, offering a choice of colours and sizes and uses a decent 4K QLED panel. You won't need a soundbar either as the Glass has a built-in Dolby Atmos sound system complete with up-firing drivers.
Buying it on a contract might be a boon for some but with no 120Hz support (despite HDMI 2.1 ports), enthusiast gamers will want to look elsewhere.
Note that this isn't just Sky Q over the internet, so the way Sky Glass works – mainly not having a hard drive to store recordings – may irk some users.
Read our full
Sky Glass review
7. Panasonic LZ2000 – Best for Movies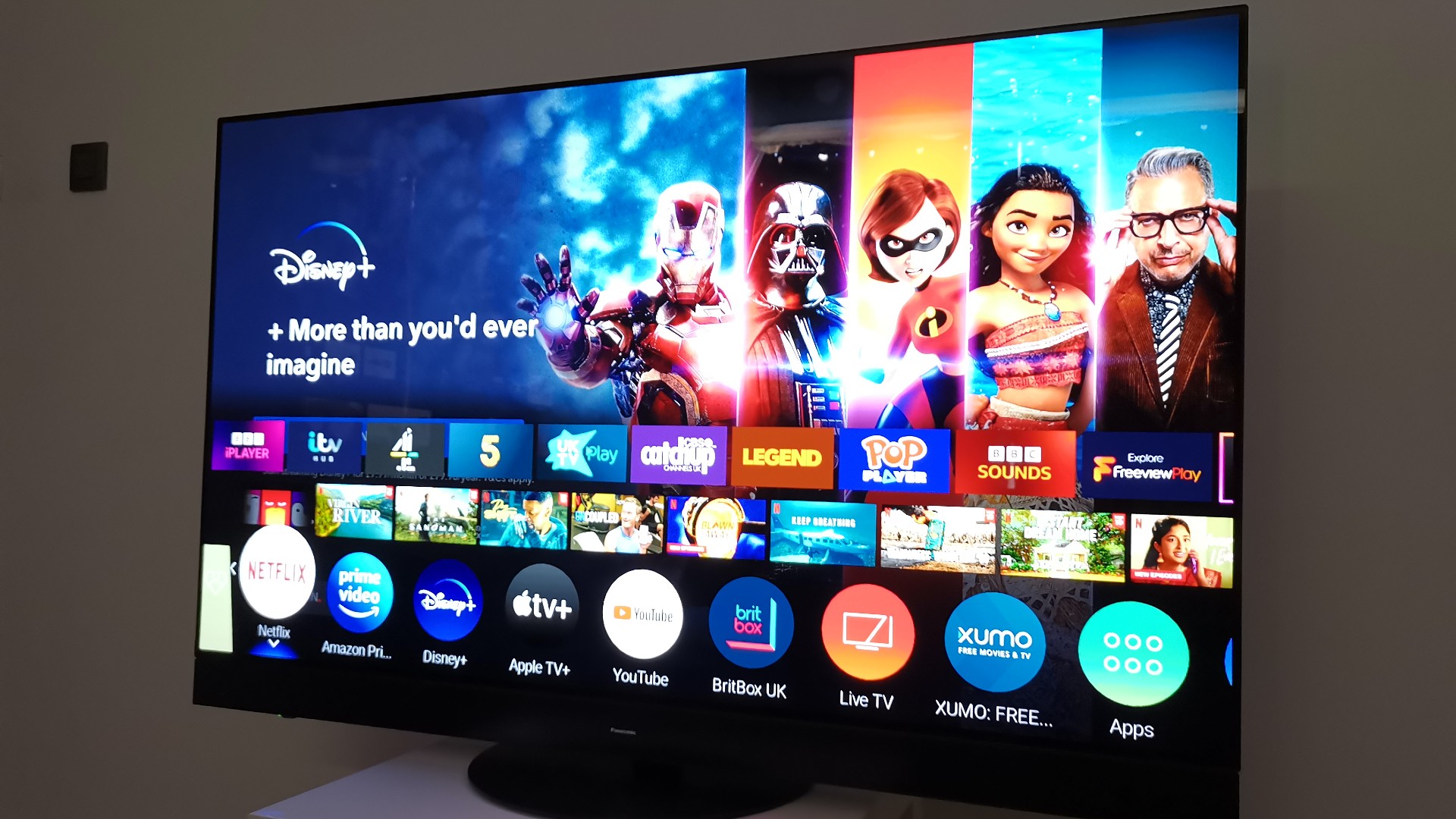 Pros
Superb image performance
Advanced Dolby Atmos sound system
Game Control Board
Freeview Play
Cons
Expensive
Only two HDMI 2.1 ports
It's another success for Panasonic following on from the excellent JZ2000. The LZ2000 is an excellent choice for film buffs thanks to its top-notch home theatre experience.
The Master OLED Pro panel is nothing short of stunning and there's plenty of tech under the hood to make sure all kinds of content looks great. This includes ambient light AI picture monitoring, Dolby Vision IQ, HDR10+ Adaptive, Filmmaker mode with Intelligent Sensing and Netflix Adaptive Calibrated Mode.
Very few sets have that kind of list of credentials and there's also the best all-round implementation of Dolby Atmos sound we've heard to date. Furthermore, there's 120Hz support for gamers with a useful Game Board Control for quick access to relevant settings, even if this is only supported on two of the HDMI ports.
Perhaps the main barrier here is the price because even Panasonic's My Home Screen platform is decent with plenty of streaming services and an intuitive interface.
Read our full
Panasonic LZ2000 review
8. TCL RC630K – Best Budget Model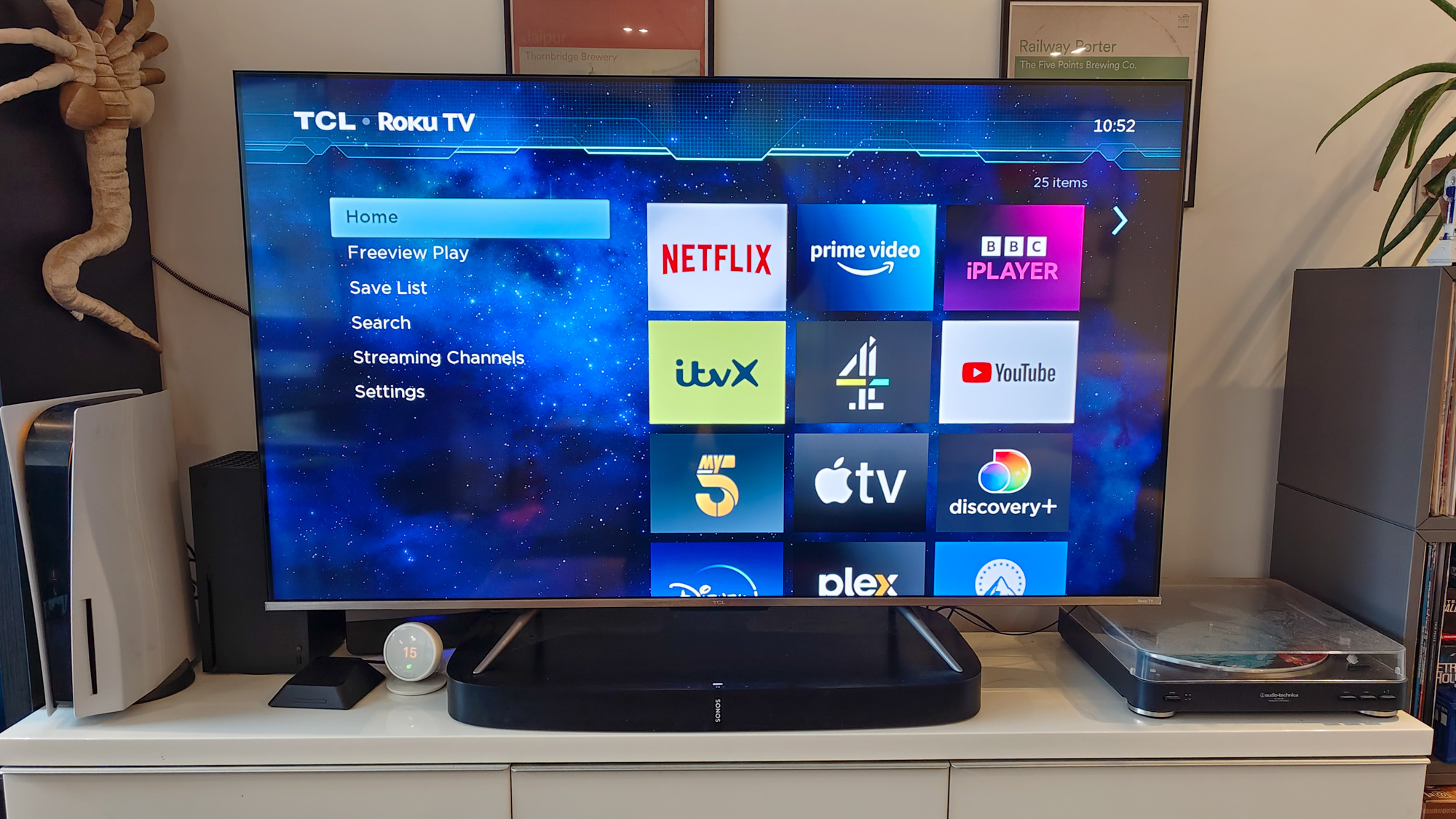 Pros
Bright, impressive 4K QLED display
Smooth Roku software
Excellent HDR support
Fantastic value
Cons
ITV and Channel 4 apps lack live TV
No voice controls in the remote
TCL is the king of budget TVs right now and the RC630K is simply amazing value for money for those on a budget.
You'll likely be surprised at what you get for your money here with a 4K QLED screen in a range of sizes, though buying 50in and above is your best best. The picture quality is very good and the screen is bright, with a plethora of HDR standards onboard.
The built-in Roku software as well as Freeview Play gives you access to a wealth of content without the need for a streaming stick or otherwise, and if you don want to plug things like consoles in there are four HDMI ports.
It's no surprise that the TV doesn't support a 120Hz refresh rate but otherwise, the downsides are very minimal here.
Read our full
TCL RC630K review
9. Samsung The Sero (2022) – Unique Rotating Design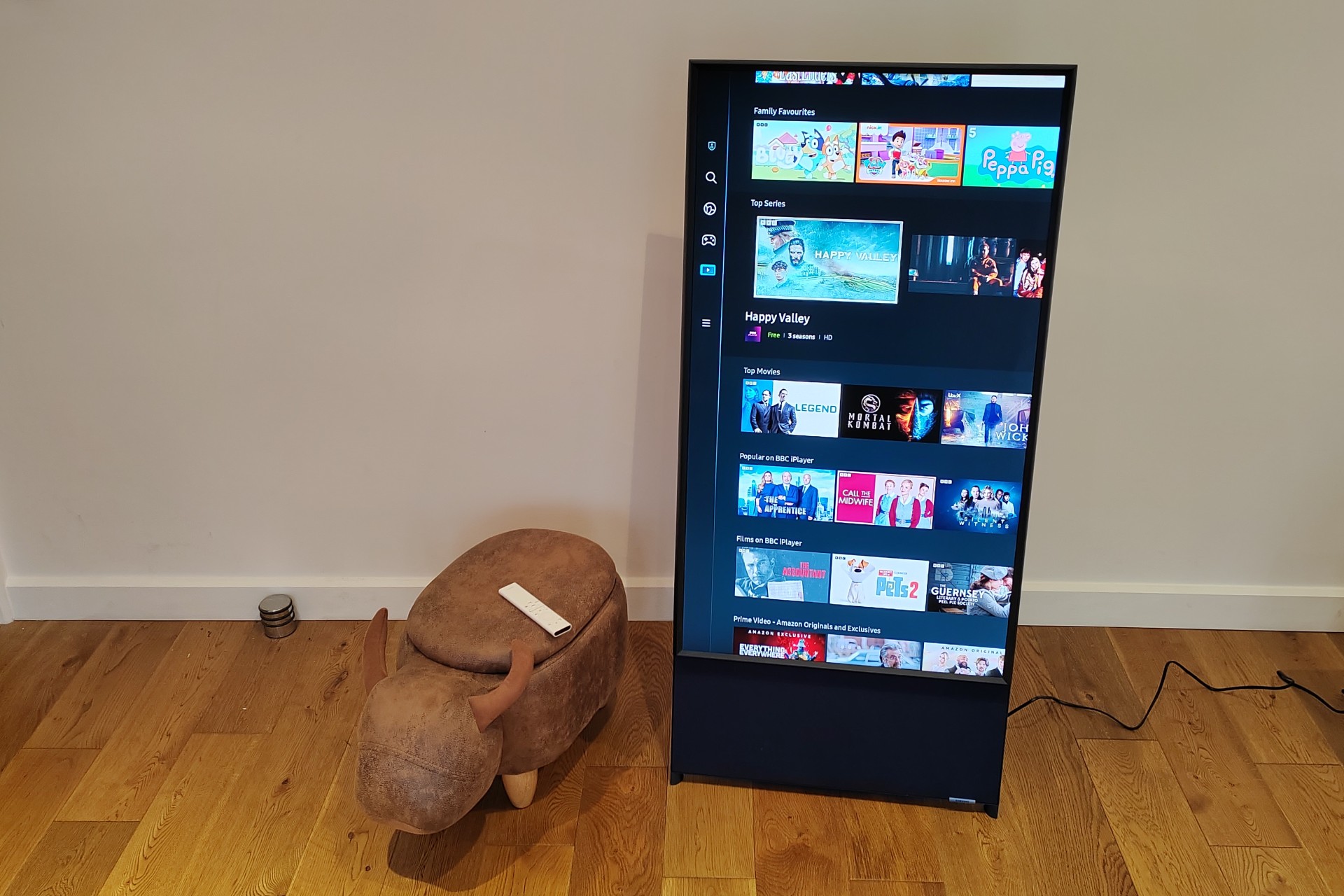 Pros
Unique rotating screen
Game Hub
Tizen smart platform
Can be used as Bluetooth speaker
Cons
No 120Hz support
Expensive
Requires lots of space
It won't be for everyone, but the Sero is a really impressive and interesting TV if you'll make use of its features.
The standout quality here is the way the Sero can rotate (by itself) from a traditional landscape orientation into portrait. This means you can use apps like TikTok on the big screen without it only being shown in the middle of the screen. Since you can also mirror your phone screen there's lots of scope for portrait entertainment from photo viewing to gaming.
This rotating design does mean you need a lot of space and there's no room on the stand for things like set-top-boxes but the Sero does have a decent built-in sound system and you can use it as a Bluetooth speaker, too.
It's worth noting that there's only one colour of the Sero available and the 4K QLED panel only comes in one size: 43in. It's excellent quality and there's a nice matt finish, but no 120Hz for the next-gen console gamers out there.
Read our full
Samsung The Sero (2022) review
4K Smart TV buying guide
4K TVs have a resolution of 3840×2160 pixels, which is exactly four times more than Full HD. You should look for a model that has several inputs – not just one – that can handle incoming 4K content sources. These can be Ultra HD Blu-ray players, games consoles and media streamers such as the Apple TV 4K and Amazon Fire TV 4K.
The key specification to look out for is HDMI version 2 input with HDCP 2.2 support. The latter is a version of copy protection used by all external 4K sources, so the more inputs that support it the better. If you buy a budget TV, it most likely will only have one HDCP 2.2-compliant input. Learn more about
HDMI ports here.
This means you can only connect one 4K device to the TV, which is not ideal. The prices of 4K UHD TVs have fallen dramatically, so most cost the same as HD models did a couple of years ago.
While the extra resolution that 4K offers is best appreciated on a large screen (50in or more), that hasn't stopped smaller panels appearing. While there's no reason not to buy a 4K TV at 40 inches, and the performance can be excellent, don't expect to see overt picture improvements if you're sitting the typical 8-10 feet away.
If you want 4K resolution at 120fps (or 120Hz) to make the most of the PS5 and Xbox Series X then you'll need HDMI 2.1. Find out more about
next-gen console compatibility here.
All the TVs tested here have 4K resolutions. These UHD (Ultra HD) sets are the ones to buy now. Only go for a Full HD (1920×1080 pixels) set if you can't afford a 4K model or you're buying something under 40in.
4K content is becoming more widely available with broadcasters gearing up to show a lot of sport and drama in 4K. 4K is also available over your broadband connection as long as it's quick enough.
Around 15Mb/s should provide you with a source of 4K video from Amazon, Netflix, YouTube and
Sky Q. Alternatively you can buy a 4K Blu-ray player and 4K UHD Blu-ray discs.
BT also broadcasts sport in 4K (football, rugby, Moto GP, squash, to name but four) via its Infinity broadband. Because this streams at 2160/50p a much faster broadband connection is required. BT will generally refuse to offer a 4K set-top box to those Infinity customers on less than a 45Mb/s connection.
4K? What about 8K!
Just as 4K is starting to become mainstream, manufacturers are now beginning to shout about 8K. This doesn't mean you shouldn't buy a 4K TV.
8K broadcasts are a long way off, and there is almost no 8K content to watch. But just like 4K TVs, 8K models will upscale video so it looks sharper. But the same rules apply about screen size: you need a very, very large screen to notice the extra detail.
Unlike previous leaps in TV quality (black and white to colour, SD to HD), both 4K and 8K started off without proper, agreed standards. This is another reason why 4K is a more sensible purchase now: modern sets have the necessary H.265 support to decode broadcasts, but some early models didn't.
You can plump for 8K now to future-proof and you'll get HDMI 2.1 by default supporting next-gen consoles, but you won't get 120fps as you'll be limited to 60Hz. 
HDR
A new generation of HDR (High Dynamic Range) UHD TVs arrived in 2017 which offer higher peak whites and better colour depth than what came before. However, to appreciate these capabilities you need to feed your HDR 4K TV with HDR content, and there aren't masses around although it's on the rise.
You'll find UHD Blu-rays such as Planet Earth II, and content on Amazon and Netflix, but the rest is likely console games rather than TV shows and films. HDR comes in different standards including HDR10, HLG and Dolby Vision. You can read more about
Dolby Vision here. 
There's plenty of HDR content around now but the different versions make it a little tricky. Also note that while cheaper sets support HDR, they tend to have much lower-grade panels. They particularly struggle to offer enough brightness to really show HDR content properly.
Make sure you read our full reviews to see how each TV performs.
Voice commands
The Google Assistant, Bixby and Siri are assistants that originated in smartphones but are gradually finding their way into TVs.
With a voice-activated assistant onboard, you'll be able to adjust the volume and change the channel on the TV, but also control anything else within its scope, such as smart lights and heating. It's certainly a nice feature to have, but it's not a deal-breaker if it's missing.
If you can't install your TV yourself, note that 
Amazon now offers services including wall-mounting from around £100. What you can do yourself is to tweak the settings using our guide on 
how to get the best picture from your TV.