Oppo smartphones have been growing in popularity in Europe, Australasia and Asia, with competitive handsets in the foldable, flagship and foldable spaces.
While Oppo might not be as much of a household name as Samsung, it's actually one of the top five global smartphone brands (on market share) on a regular basis, and most of its phones now launch in the UK.
Over the last few years we've seen improvements in its hardware and more competitive devices across the board, with constant reworkings and improvements to its Android software skin ColorOS – now one of our favourite versions of Android.
Oppo's latest 5G flagship line is the Find X6, which launched in March 2023 and includes the Find X6 Pro and Find X6. However, these are China-exclusive models, so the latest flagship series available in the UK is the Find X5 line, which has a Pro, regular and Lite model.
Note that the company skipped the Find X4, so the Find X3 series are actually 2021's models – and thanks to price drops many of them are still solid buys.
The company's Reno line offers handsets in the mid-range space (the latest handset is the Reno 10), with a good balance between features and price. Then there are the company's budget offerings within the Oppo A series, along with its Find N foldables – although so far only the Find N2 Flip is available outside of China.
Best Oppo phones 2023
1. Oppo Find N2 Flip – Best Oppo Phone
Pros
Sturdy, gapless hinge design
Excellent main camera
Big cover display
Good battery
Cons
No water-resistance
No wireless charging
Unreliable Bluetooth
The Oppo Find N2 Flip is the only Oppo foldable you can buy outside China, and it offers direct competition to the Samsung Galaxy Z Flip 4.
Oppo is helped by the fact that its price is extremely competitive – especially in the UK – but don't mistake this for the cheap and cheerful option. It still packs a flagship processor, better build quality than Samsung's offering, and the same main camera you'll find in the likes of the OnePlus 11.
You'll have to live without wireless charging or water-proofing, and accept the risk that as a foldable it might not last as long as a traditional phone. But if you can live with those compromises, this really is flipping fantastic.
Read our full
Oppo Find N2 Flip review
2. Oppo Find X5 Pro – Best Flagship
Pros
Beautiful, unique design
Powerful camera
Brilliant display
Cons
Big and heavy
No periscope lens
Expensive
The Find X5 Pro is Oppo's all-singing, all-dancing flagship device from spring 2022, and a year on it's still an excellent phone.
Yes, it's expensive, there's no denying that. But you get a Snapdragon 8 Gen 1 chipset, 12GB RAM and 256GB storage, and 80W wired charging together with 50W wireless.
The main and ultrawide cameras both pack the same 50Mp sensor, and offer almost exactly the same quality shots, with punchy colours, oodles of detail, and great dynamic range. There's 'only' a 2x zoom camera – no periscopic lens here, sadly – but results are impressive here too.
It's a big, heavy phone – thanks in part to the ceramic rear – and the design takes some getting used to, but this is an excellent all-rounder that delivers in every area.
Read our full
Oppo Find X5 Pro review
3. Oppo Reno 10 5G – Best Mid-Range
Pros
Great cameras
Long battery life
120Hz AMOLED screen
Affordable
Cons
No IP rating
Lots of unnecessary apps
Two years of OS updates
The Oppo Reno 10 5G has an excellent AMOLED display, and an equally impressive camera set-up, led by a 64Mp main wide-angle lens. It's also got a great battery life that managed over 13 hours in our internal tests.
It does come with no IP rating, and some bloatware with pre-installed apps. However, that impressive price tag really gives you a lot for your money, and is especially competitive in comparison to other mid-range rivals.
Read our full
Oppo Reno 10 5G review
4. Oppo Find X5 – Best Affordable Flagship
Pros
Great cameras
Unusual design
Strong performance
Cons
No IP rating
Not the latest processor
The Oppo Find X5 only loses out on a few of the most elite touches found on the Find X5 Pro. It still retains a premium design, a superb display, and an almost-identical camera setup.
Really all you miss out on are the ceramic body, the IP rating, and the latest chip – with last year's (still excellent) Snapdragon 888 powering the phone instead.
Most importantly, it undercuts plenty of flagship rivals, delivering great value for money right now, especially now that it has gone down in price.
Read our full
Oppo Find X5 review
5. Oppo Reno 8 – Best lower mid-range
Pros
Stunning colour-changing finish
Two-day battery life
Speedy charging
Capable performance
Cons
Mixed camera set-up
No variable refresh rate
The Reno 8 is an impressive mid-range phone. It has a stunning design, capable performance, a user-friendly OS, speedy charging and an extremely durable battery life. The main camera is also largely impressive – though the other lenses aren't anything to shout about.
Whilst there are some notable downgrades from the Pro variant of this phone – notably the processor, the refresh rate, the camera software and the IP rating – the Reno 8's price tag is much better situated in the mid-range market. It's a true gem, and a worthy rival to other phones from OnePlus and Google.
Read our full
Oppo Reno 8 review
6. Oppo Find X3 Pro – Best Former Flagship
Pros
Striking design
Beautiful screen
Novel microlens camera
Cons
Big and bulky
Now 1+ years old
The Find X3 Pro was Oppo's top flagship in 2021, and it's still an excellent option.
You get a Snapdragon 888 chipset, 12GB RAM and 256GB storage, and 65W wired charging together with 30W wireless.
Like the Find X5 Pro, the main and ultrawide cameras both use the same 50Mp sensor, and offer almost exactly the same quality shots, with punchy colours, oodles of detail, and great dynamic range. You also get the 2x zoom camera, along with one novelty the newer phone lacks: a microlens camera, capable of taking super-closeup shots.
Those cameras are capable of outputting images in 10-bit colour, and in fact the phone supports true 10-bit storage and encryption too, right through to the 10-bit, 120Hz, WQHD+ display.
Read our full
Oppo Find X3 Pro review
7. Oppo Find X5 Lite – Best Long Battery Life
Pros
Fast 65W charging
Great battery life
Cons
Mixed cameras
Only 90Hz
Android 11
Battery and charging are the Find X5 Lite's biggest strengths. With a 4500mAh cell the phone can comfortably last a couple days of use, and the 65W wired charging means you can top it back up to full in a little over half an hour.
The main camera and selfie shooter are both good, but the other rear lenses disappoint a little. More damningly, despite launching in 2022 the phone ships with the older Android 11, meaning it's already a year behind on software.
Still, this is one of the best mid-range phones in Oppo's line-up, and has plenty to offer for those who can't afford the flagships.
Read our full
Oppo Find X5 Lite review
8. Oppo Find X6 Pro – Best Camera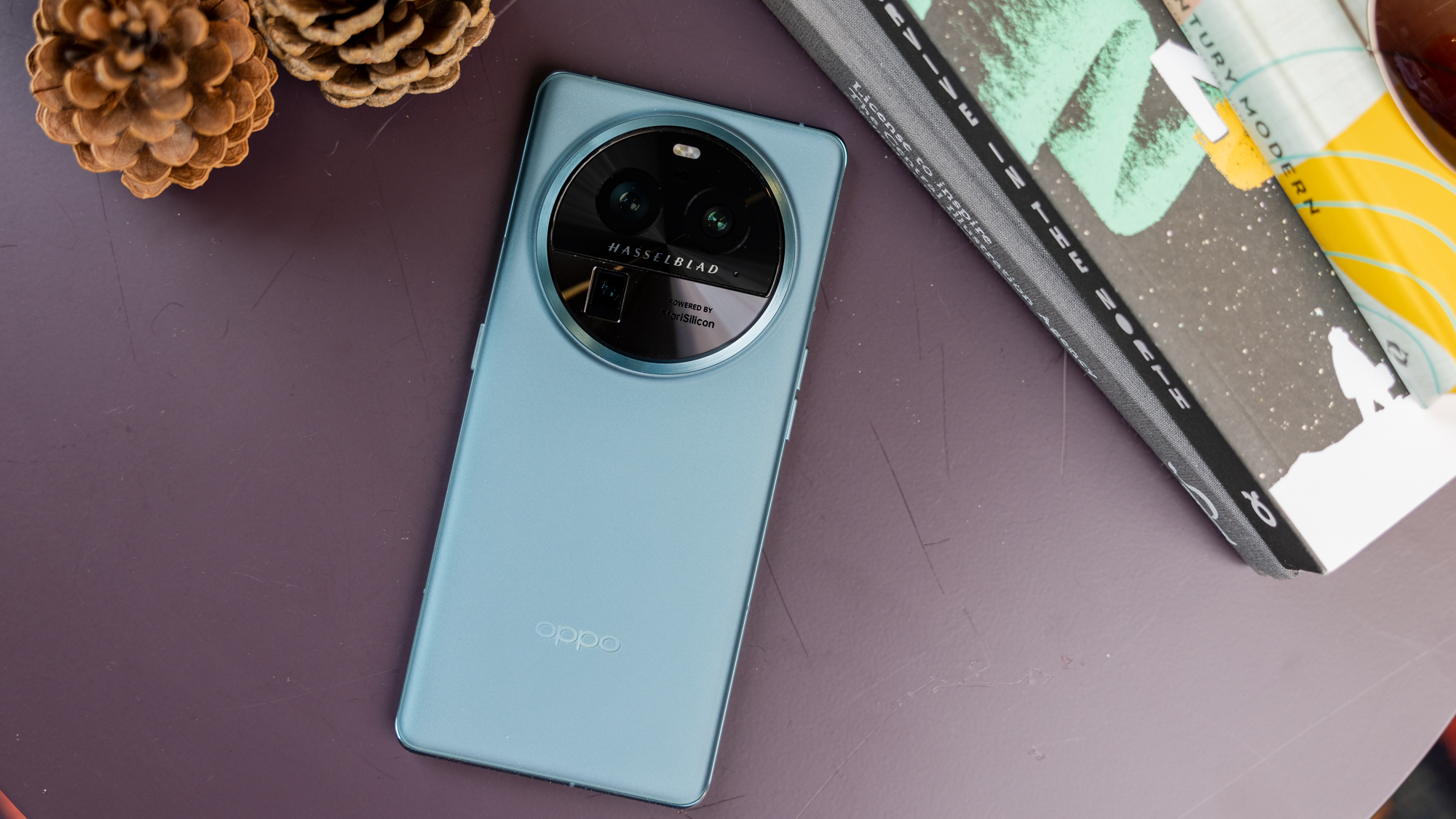 Pros
Phenomenal 1in main camera sensor
Very good display
Top performance
Very fast wired charging
Cons
Chinese version of ColorOS
No official warranty outside China
Must sideload Google Play Store
The Oppo Find X6 Pro is the latest flagship phone from the brand, and has one of the best cameras of any smartphone on the market at the time of writing.
The 1in sensor plays a huge part in this, allowing for more light to be let in which in turn renders scenes with incredible colour, detail and dynamic range.
Unfortunately, this is a China-exclusive model. The Find X6 Pro doesn't run Google services out of the box, and as such the software isn't really friendly for a Western market.
This is a massive shame, as it also comes with impressive 100W wired fast-charging, a powerful Snapdragon 8 Gen 2 chipset and a gorgeous 6.82in 120Hz AMOLED display. If it were optimised for European buyers, this phone would have certainly topped this chart.
Read our full
Oppo Find X6 Pro review
9. Oppo A78 5G – Best Budget
Pros
Decent performance
Excellent battery life
90Hz display
Cons
Lacklustre cameras
Built-in bloatware
Plasticky body
The Oppo A78 5G is a competitively priced budget 5G phone that's a great choice if you want the latest connectivity tech but don't have a lot to spend – though it does come with compromises within that.
First, the good stuff. The 90Hz LCD display, excellent battery life, and unexpectedly impressive performance that is capable of some mid-range gaming thanks to the MediaTek 6833 processor.
As for the bad? You'll have to put up with mixed cameras, lots of bloatware and a cheap-looking build in comparison to more mid-range models in this chart.
While this isn't the only 5G phone that costs this little, it's one of the stronger options out there.
Read our full
Oppo A78 5G review
10. Oppo Find N – Best Book Foldable
Pros
Incredible folding hardware
Strong triple camera
Surprisingly affordable
Cons
No IP rating
Only available in China
The Oppo Find N is one of the absolute best foldables around – which makes it such a shame that, for now at least, it's only available in China, as is its follow-up the Find N2 – which we haven't yet had the chance to test ourselves.
Still, we have tested the first Find N, and if you're brave enough to import the phone then you'll find a phenomenal bit of kit. This has one of the sturdiest foldable designs around (though unlike Samsung's latest, there's no waterproofing) along with flagship specs – including a very capable triple rear camera.
Read our full
Oppo Find N review
Buying advice for an Oppo phone
1.
Are Oppo phones good?
For the most part, yes. Like any company, Oppo has its hits and misses, but on the whole the quality of its devices is excellent – especially its flagships, like the Find X5 Pro. Its cheaper phones are solid, but tend to be a little more expensive than rivals with similar specs.
The company is best known for its impressive camera and display tech, along with seriously fast charging, so if those are your priorities then you should definitely consider an Oppo handset.
2.
What software do Oppo phones run?
Every Oppo smartphone runs Android, with the company's custom ColorOS skin on top. This is one of our preferred Android skins, with a great balance between customisability and ease-of-use.
3.
Do Oppo phones run Google?
Yes. You may have heard about Huawei, another Chinese phone company, which now has to sell phones without Google software thanks to a US trade embargo. But Oppo has no such embargo or restrictions, and there's no reason to think it will.
The only exceptions are the China-exclusive models, such as the Find X6 Pro.
4.
What are the best Oppo alternatives?
Oppo's major rival is probably Xiaomi, the other giant Chinese phone company currently enjoying success in the global market. Xiaomi phones often offer a similar set of specs to Oppo's, and sometimes at cheaper prices, though we much prefer Oppo's software.
Oppo is also a part of a tech conglomerate called BBK, and the company owns other phone manufacturers. In fact, both Realme and OnePlus share R&D with Oppo, and run similar software, so if you like the idea of an Oppo phone then you should definitely consider those too. Vivo is also a part of BBK, but has its own R&D facilities, so its phones are a little more unique.
5.
Why don't Oppo phones come out in the US?
Oppo phones don't go on sale in the US or Canada, but that's not because of any ban on them. Instead, Oppo simply doesn't choose to sell smartphones in the US – it's a challenging market, and one currently dominated by Apple and Samsung, which makes it hard for even huge foreign companies to break in.
Oppo's sister company OnePlus does sell phones in North America though, so you should look to try a OnePlus phone if you really can't find anything from Oppo.
Related stories for further reading