At a glance
Expert's Rating
Pros
Expansive display
Relatively light for a 16in laptop
Physical webcam blocker
Cons
Drab display
Slightly cheap build quality
Poor battery life
Our Verdict
The Asus Vivobook 16 is a serviceable mid-range laptop, but it also feels like a clumsy and bare-bones offering. While performance is solid, a drab display, cheap finish and poor battery life mean it's difficult to make a case for, at least in comparison with other more well-rounded options.
While the flashy Asus Vivobook 16X and Vivobook 16 OLED might be hogging the headlines with their stand-out screens, that's not the end of the story with this laptop family. There's also the Vivobook 16, which seems to give you a more basic setup with a more modest 16-inch IPS LCD.
According to Asus, the Vivobook 16 is "the best everyday laptop for college". With stand-out features such as a physical webcam shield, large 16in display and extremely flexible 180-degree hinge, it might be onto something.
However, underwhelming battery life, a somewhat dim and drab display, and a not-inconsiderable £899 RRP for the range-topping i7 model that I'm reviewing here might give you pause for thought. Do
Especially with laptops like the flexible and accomplished Lenovo Yoga 7i 16 and the Dell Inspiron 16 2-in-1 available for similar money. Does the Vivobook 16 do enough in the hotly contested sub-£1,000 laptop category?
Design & Build
Plastic build
Relatively lightweight
Decent port selection
The Asus Vivobook 16 feels like quite a basic design, with a slightly cheap-feeling all-plastic construction. While the base is reasonably sturdy, with a rounded, rough-textured bottom giving it a rugged feel, the shiny grey plastic around the keyboard and on the back of the display feels a little naff.
Jon Mundy / Foundry
Indeed, I've noticed that some of that plastic has started to flake away on the top edge of the laptop in two different places. Given that I didn't take the Vivobook 16 out of my house, and rarely even removed it from my desk during the test period, that's a bit of a concern.
The shiny grey plastic around the keyboard and on the back of the display feels a little naff
Especially when you consider that the top half of the display is likely to be undertaking more mechanical wear than your average laptop. It might not be a touchscreen or stylus-compatible screen, but a 180-degree hinge means that it's designed to be manipulated, and can be laid totally flat. 
One positive of that plasticky build is that this isn't a particularly heavy laptop for its size. It weighs just 1.88kg, which is lighter than both the aforementioned Yoga 7i and the Inspiron 16 2-in-1. 
One stand-out design element here is the physical webcam shield, which offers a simple mechanical slider mechanism in the centre of the top bezel. It works simply but effectively, with an orange colour indicating that you can't be seen.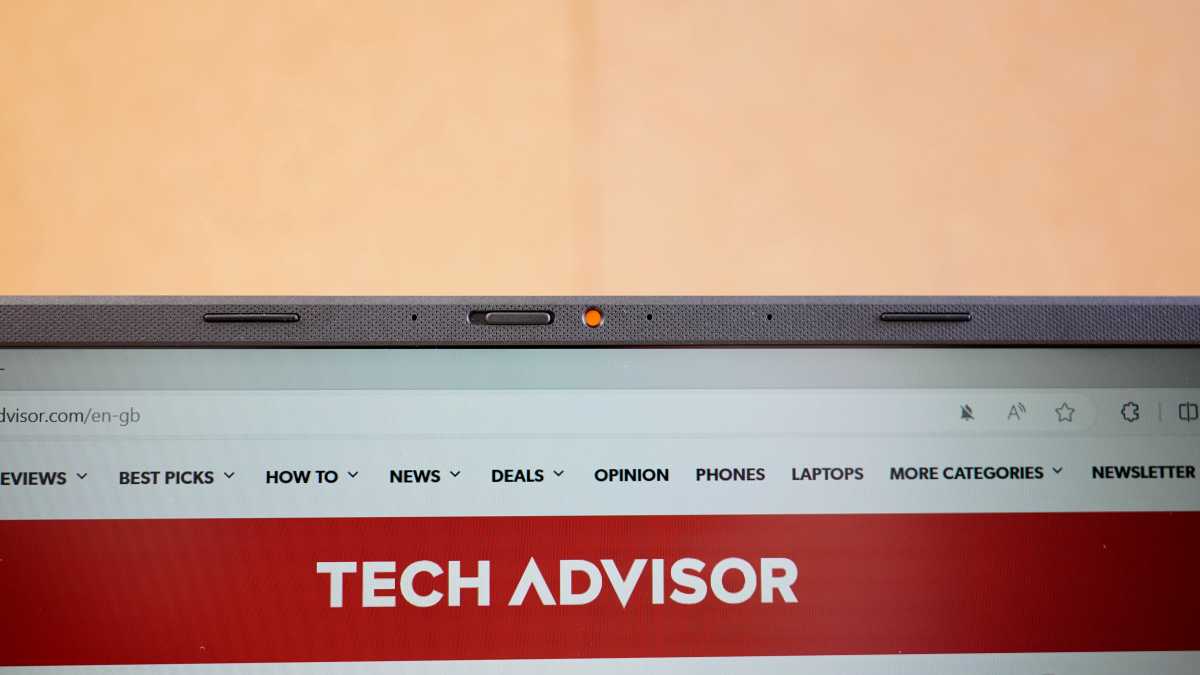 Jon Mundy / Foundry
In terms of connectivity, there's mixed news. The inclusion of three USB Type-A ports and an HDMI port is welcome, but just the one USB Type-C port feels like an oversight in 2023. There's no SD card slot either, which will be a blow for some creatives.
That single USB-C port can't be used for charging, with the Vivobook 16 relying on a proprietary port. I would have liked to at least have the option – it makes the device more of a pain to cart around.
Jon Mundy / Foundry
Keyboard & trackpad
Solid full-size keyboard
Decent trackpad
No fingerprint sensor or face unlock
The typing experience on the Vivobook 16 is decent, with a full-sized chiclet keyboard (quieter but with less travel than a mechanical one) that finds space for dedicated numerical keys. The latter does serve to squish things up somewhat, with the Enter key a little trickier to locate than I would have liked, but you'll adjust.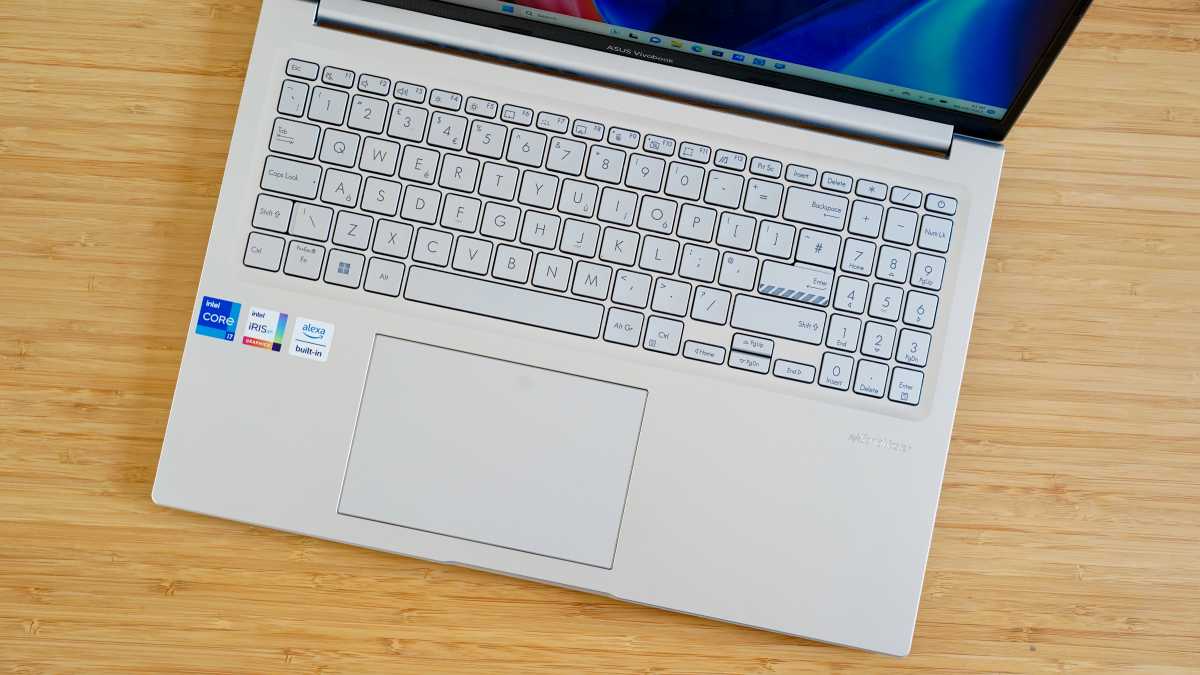 Anyron Copeman / Foundry
There's a full set of function keys, too, including a dedicated mic mute button. It's by no means the only laptop with this option, but alongside a physical camera blocker, the Vivobook 16 is certainly a solid pick for the privacy-conscious.
Key travel is good, and I was able to quickly make the adjustment from my MacBook Pro workhorse to the Vivobook 16 without too many false presses. The typing experience isn't as good – this is a much cheaper laptop after all – but it doesn't feel like a massive downgrade. Each key is backlit, though the effect seems to vary depending on your angle.
The Vivobook 16 is certainly a solid pick for the privacy-conscious
Another feature Asus seems keen to push to the fore – at least judging by the large sticker to the right of the touchpad – is its Antimicrobial Guard Plus, which supposedly protects these frequently-touched surfaces. It's impossible to test, of course, beyond confirming that I didn't fall ill during my time with the laptop. But it's a nice idea, especially if you'll be sharing your laptop with one or more people in your household.
I found the touchpad to be perfectly functional, with decent sensitivity and a well-sprung physical click. However, its off-centre positioning – a consequence of that number pad, no doubt – proved a little off-putting, and made it a struggle to stretch my right thumb across to left-click. I quickly resorted to double tapping the trackpad instead, which works well as an alternative.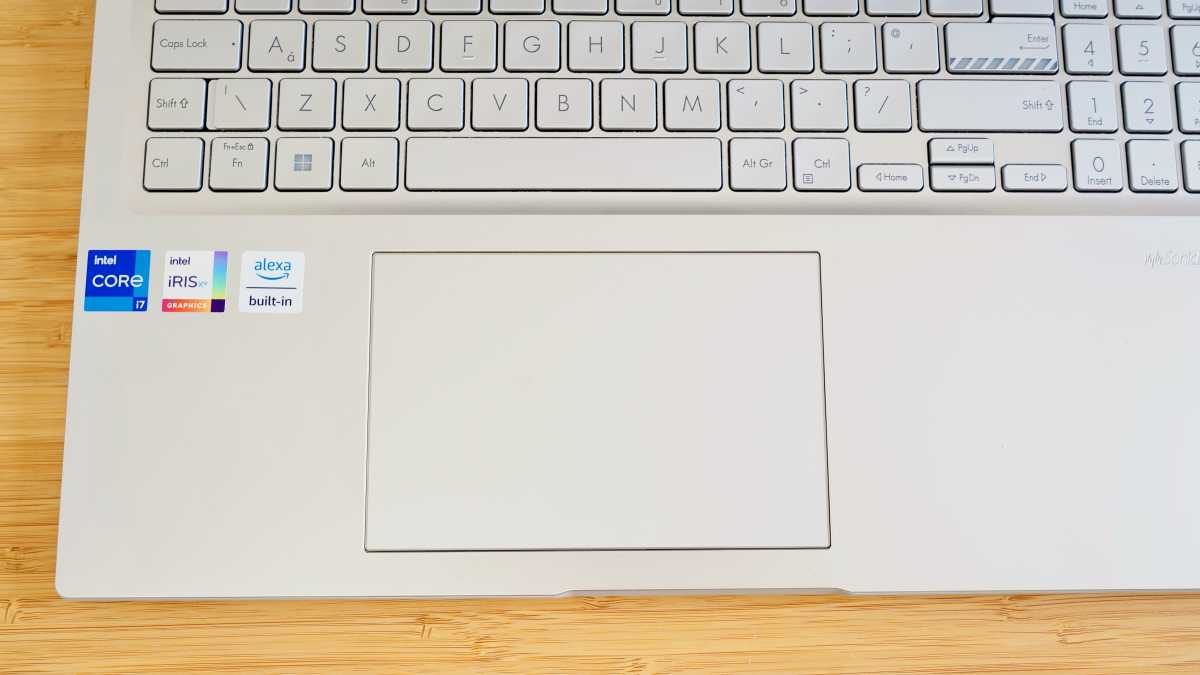 Anyron Copeman / Foundry
Notable by its absence is the fingerprint sensor that comes with pricier laptops such as the Vivobook 16X. With that 720p camera not able to supply Windows Hello facial recognition, you'll have to rely on an old fashioned pin or password for entry, which is a bit of a pain, especially if you're shelling out for the top model.
Display & audio
16in LCD FHD+ resolution
60Hz refresh rate
Adequate stereo speakers
The main thing that can be said for the Vivobook 16's display is that it's a nice size. Not only does it measure 16in, but a 16:10 aspect ratio feels particularly spacious when doing anything other than watching videos and playing certain games.
You're probably not going to want to do an awful lot of either of those things here, though. While other members of the family offer punchy OLED displays, the regular Vivobook 16 has a somewhat drab IPS-level LCD panel. It maxes out at a 60Hz refresh rate, and packs a regular 1920 x 1200 (FHD+) resolution.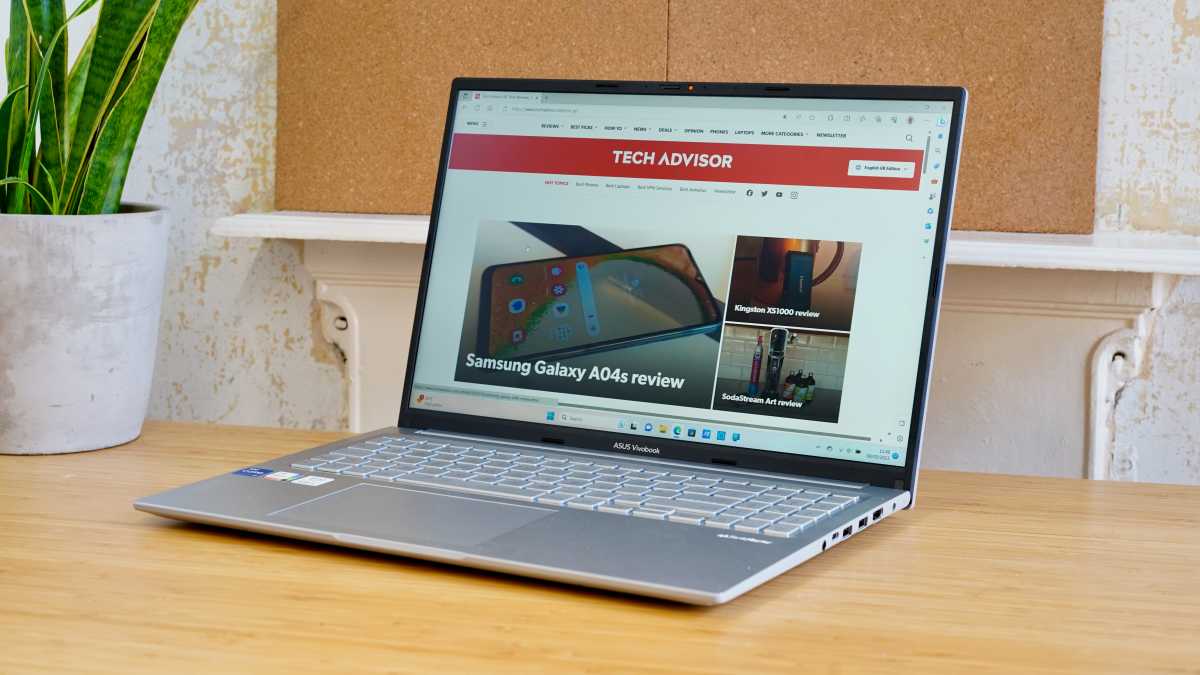 Anyron Copeman / Foundry
Asus claims a decidedly unspectacular maximum brightness of 300 nits, which I confirmed in recording an average measured luminance of 304 nits. It's dim enough that you'll want to avoid outdoors usage altogether, adding to the general sense that this isn't a particularly portable laptop.
Colour accuracy isn't great either, with an average sRGB gamut coverage of 62.9% against a gamut volume of 63.5%, and an average Delta E of 4.71 (the closer to 1 the better). HDR is not supported.
I was left wondering what the point of the Vivobook 16's 180-degree hinge was
Touchscreen operation isn't supported either. Taken together with the fact that this "IPS-level" display doesn't have anything beyond adequate viewing angles, I was left wondering what the point of the Vivobook 16's 180-degree hinge was.
In terms of audio output, you get a pair of bottom-mounted stereo speakers that are capable of nice clear highs, but not much else. They're perfectly fine for vocal output like podcasts, YouTube videos, and video calls (via an adequate 720p camera), but they lack the bass for sustained music and movie audio output, and there isn't a huge amount of discernible separation.
Specs & performance
12th-gen Intel U-series CPUs
No discrete GPU option
Solid everyday performance
The Vivobook 16 unit that Asus sent for review runs on a 12th gen Intel Core i7-1255U processor, which appears to be the top-of-the-line option in the UK. The Asus UK website is also showing i5-1235U, i3-1215U, and i3-1115G4 options, while Amazon also appears to be selling a Ryzen 5 model.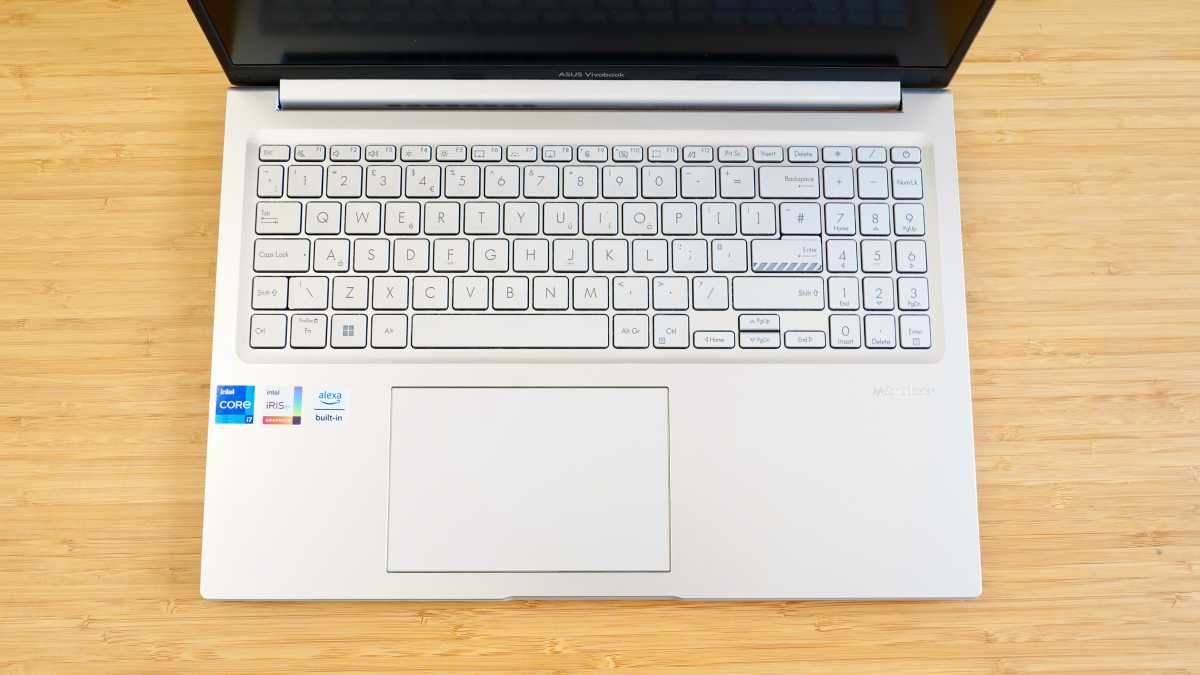 Anyron Copeman / Foundry
Sticking with my test model, this isn't the very latest Intel processor generation, nor even the most powerful example of its generation, but then we're not talking about a top-end laptop here. These processors are paired with either 8- or 16GB of DDR4-SDRAM, with my i7 model packing the full amount. My test model also has a 512GB PCIe SSD, but lower-end models drop down to 256GB.
In usage I found this i7 iteration of the Vivobook 16 to be reasonably responsive, at least in the light usage scenarios for which it's intended. Apps and web pages boot up snappily, while jumping between multiple tabs on web browsers, word processing applications, and menus never phases the laptop too much.
Apps and web pages boot up snappily, while jumping between multiple tabs on web browsers, word processing applications, and menus never phases the laptop too much
With no discrete GPU options like the Vivobook 16X, you'll have to make do with an integrated Intel Iris Xe graphics solution. Suffice to say, this isn't a machine to get if you want to enjoy some 3D gaming. I was able to get 3D FPS Atomic Heart running on low settings, but it was hardly smooth or pretty.
Benchmark scores are broadly in line with other similarly specced laptops that we've tested, though it did come up somewhat short on the GPU-focused 3DMark Night Raid test for whatever reason. 
The Vivobook 16's thick body seems to have yielded decent air flow, as I didn't observe it getting too warm during more intensive moments, even as the fans kicked in.
Battery & charging
42Wh battery
Disappointing battery life
Solid 45W charging
Asus has packed the Vivobook 16 with a compact 42Wh battery, which is somewhat concerning in a 16in laptop. Neither the display nor the processor is the kind of high-performance component that would drink a lot of juice, but even so.
Anyron Copeman / Foundry
Sure enough, I found the Vivobook 16 to be somewhat lacking in the stamina department. I unplugged the laptop at full power at around 9am on a typical work day, which involved working across multiple Chrome tabs, some light YouTube streaming (largely as background audio), a single brief image edit, and some word processing in iA Writer. Just 4 hours 25 minutes into my day, the Vivobook 16 ran out of charge – and that included a 10 minute coffee break during which I closed the lid. 
I didn't have a power saving mode set to kick in, but even so. This isn't a very strong result. Ideally, you'd want a workhorse laptop to be able to get close to a full working day of usage unplugged.
This impression was confirmed when running the standard TA loop 720p video test, with the screen set to a standard 120 nits brightness. The Vivobook 16 ran out of charge after just 9 hours 17 minutes. Many larger laptops will get you well into double figures on this test.
Just 4 hours 25 minutes into my day, the Vivobook 16 ran out of charge – and that included a 10 minute coffee break during which I closed the lid
On the plus side, such a small battery charges up pretty quickly, even with a mere 45W charger bundled in. I was able to get almost half of a full charge back in 30 minutes, which is pretty good going.
Software
Runs Windows 11 Home
A few extra pre-installed apps
The Vivobook 16 runs Windows 11 Home out of the box, with little in the way of extras. There's the typical annoying McAfee trial pop-up to contend with, while elsewhere you'll find Amazon's Alexa app preinstalled.
In terms of Asus provisions, GlideX is a cross-device, cross-platform screen-sharing solution that lets you use your tablet as a secondary display, while ScreenXpert aims to provide a smartphone-like "secondary touchscreen" UI for speedy navigation.
Price & Availability
At the time of writing, Currys is offering an entry-level Intel Core i3-1115G4 model with an RRP of £549. Amazon can go one better, with the i5-1235U model selling for £429.
The top-of-the range i7-1255U model tested here carries a relatively steep RRP of £899, but I've seen it on the Amazon Asus Store for a little over £650.
The laptop isn't currently available in the US.
Should you buy the Asus Vivobook 16?
The Asus Vivobook 16 offers an expansive 16in laptop experience for well south of four figures, which is a welcome proposition. However, that display isn't especially vibrant or accurate, which robs the laptop of some of its multimedia potential.
What's more, a puny battery, just the one USB-C port, and a rather cheap-feeling finish saps a fair amount of that initial full-sized laptop pizazz. 
Heavy discounting means that anyone specifically in the market for the largest laptop screen possible at the lowest price possible will definitely want to include the Vivobook 16 in their calculations. For the vast majority of people, however, you can get a better-balanced laptop package elsewhere.
Specs
358.7 x 249.5 x 19.9 mm
1.88kg 
16-inch Full HD IPS-like LCD display (16:10 aspect ratio, 1920×1200) 
Full-size keyboard with backlighting 
720p HD Camera
Dual speakers
Intel Core i7-1255U
Intel Iris Xe graphics 
16GB DDR4-SDRAM
512GB SSD
1x HDMI
1x USB 3.2 Type-C
1x USB 2.0 ​​Type-A
2x USB 3.2 Type-A
1x 3.5mm jack
42Wh battery
45W charger
Wi-Fi 6 
Bluetooth 5.3
Windows 11 Home