Amazon might be known as one of the biggest e-commerce companies in the world, but it also makes plenty of its own hardware.
New Fire TVs, Echo smart speakers and Kindles could all be on the agenda at the company's biggest hardware event of the year. Here are all the new products it could launch.
But with Amazon keeping a tight lid on any leaks, we have no idea which will actually be revealed. So, with no public stream of the event, join us live to find out the news as it happens.
Amazon September 2023 event: Live updates
14.55 UTC: The Amazon event will begin in five minutes. Join us live for all the announcements.
15.00 UTC: We're underway! Amazon is showing off some of its most popular products, giving us an indicator of what's on the way…
15.03 UTC: Amazon's outgoing hardware chief Dave Limp is on stage, and it looks like Alexa is first on the agenda.
15.06 UTC: First up: the all-new Echo Show 8. It has upgraded audio to cut down on background noise. There's new room adaptation technology that fine tunes playback. The new Echo Show will respond to where you are in the room and show different content. The response time is up to 40% faster too.
Anyron Copeman / Foundry
15.08 UTC: It costs $149.99. You can pre-order one today, and it will begin shipping next month.
15.11 UTC: Next – AI. Generative AI will drive Amazon's new ambient technology. Alexa will up its game where natural conversation is concerned. It'll be just like talking to another person.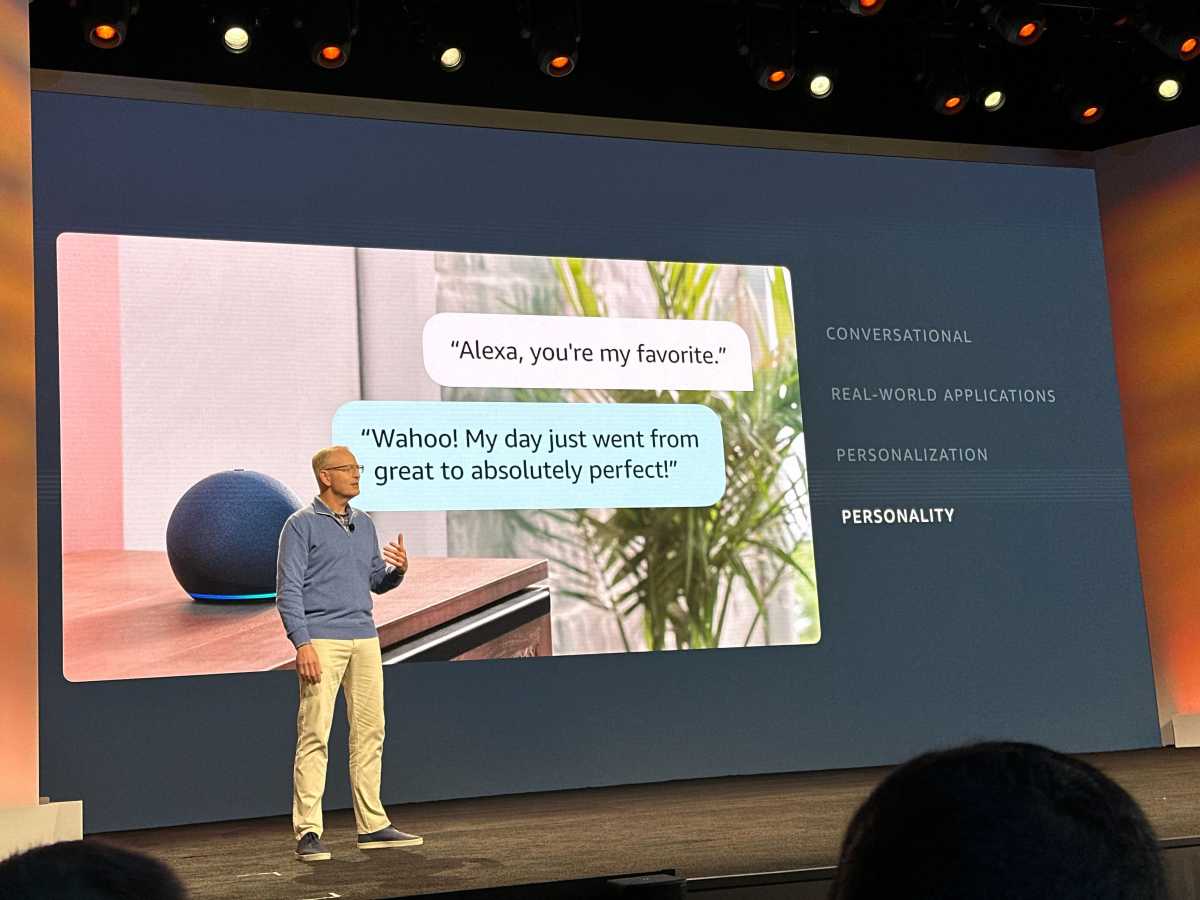 Anyron Copeman / Foundry
15.14 UTC: Personalised home technology is another biggie for Amazon ambient tech, powered by an LLM (Large Language Model).
15.15 UTC: It's montage time! People are happily discussing the way they use Alexa.
15.18 UTC: Dave Limp is now chatting in real-time with Alexa. It's not going brilliantly.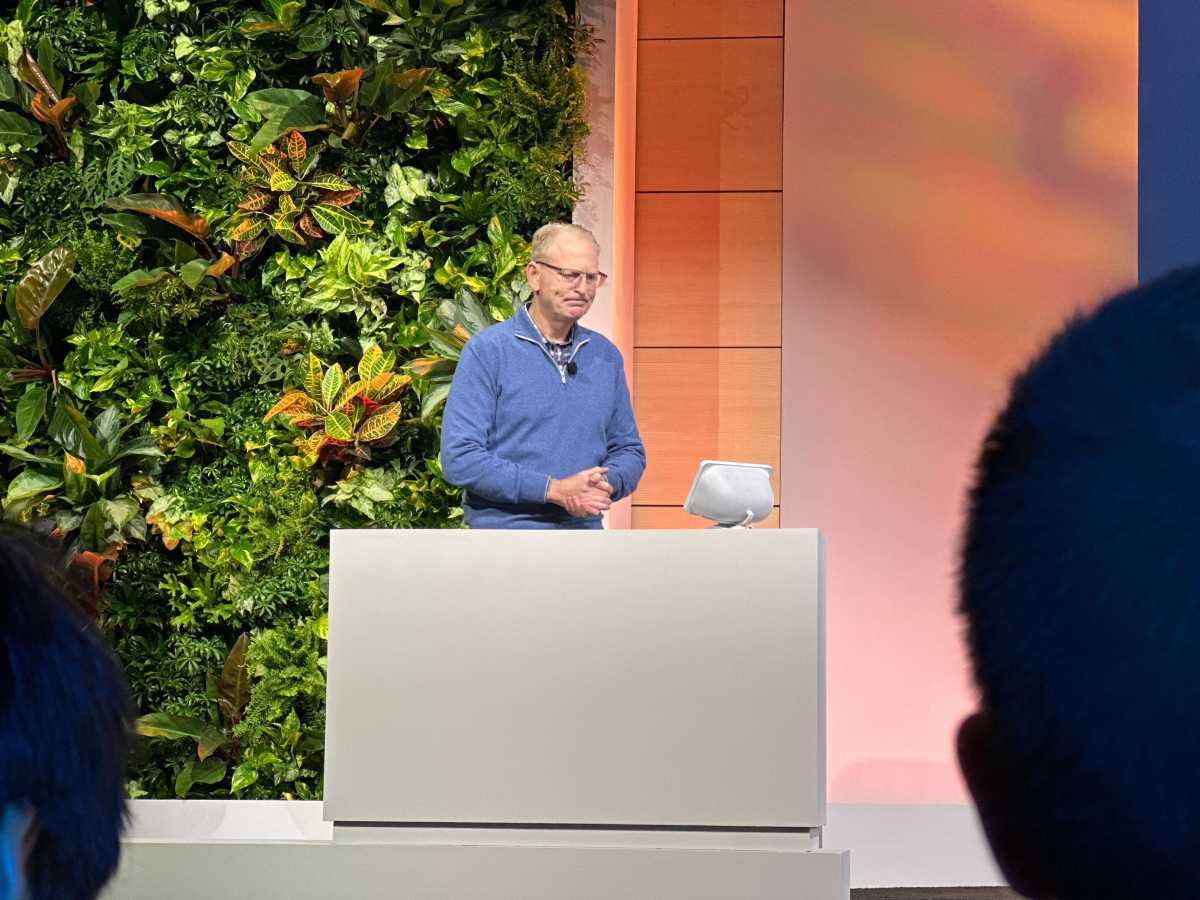 Anyron Copeman / Foundry
15.20 UTC: Alexa has composed and sent a message to Dave's friends to the app. Was it efficient? Yes. Was it a little creepy? Yes. Yes, it was.
15.22 UTC: News! Once a conversation with Alexa has started, you won't need to keep using the wake word.
15.24 UTC: Instead, computer vision recognises you are looking at the Echo Show screen. And that's done locally with on-board processing.
15.26 UTC: Just a reminder, folks: we are still on the Echo Show 8. All new language features will be available on earlier models, right up until the original Echo. But the part where you don't have to keep saying Alexa will be only on new devices.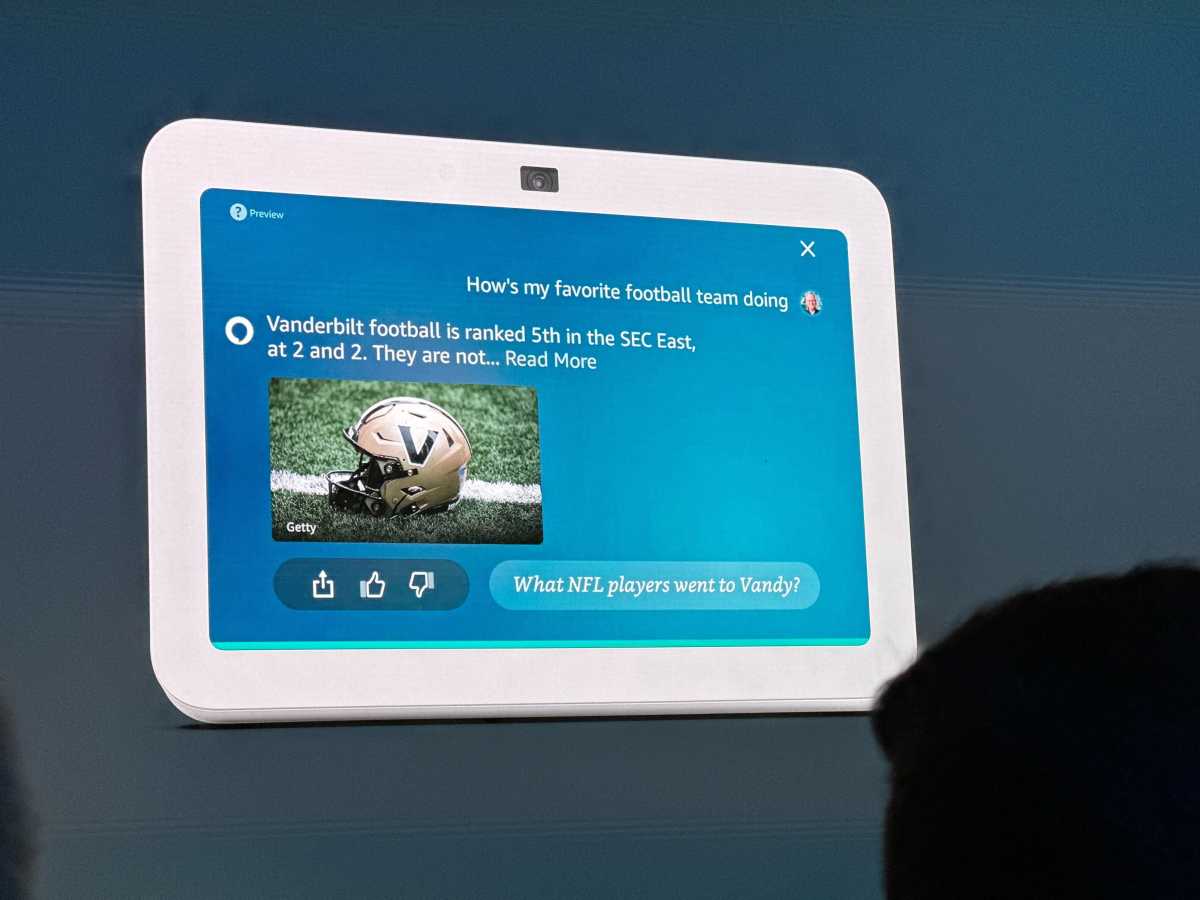 Jim Martin / Foundry
15.27 UTC: New speech to speech model: a unified model that means that Alexa can express laughter and surprise.
15.30 UTC: It's also worth noting that only US users will be getting early access to "the new Alexa", with no word on when it'll come to other markets.
15.32 UTC: Now there's some info on how Amazon's LLM will help developers. We're prepping for the next product news…
15.34 UTC: Onto accessibility now. Eye Gaze allows people to control the Fire Max 11 using only their eyes. It doesn't look like it's coming to other devices yet.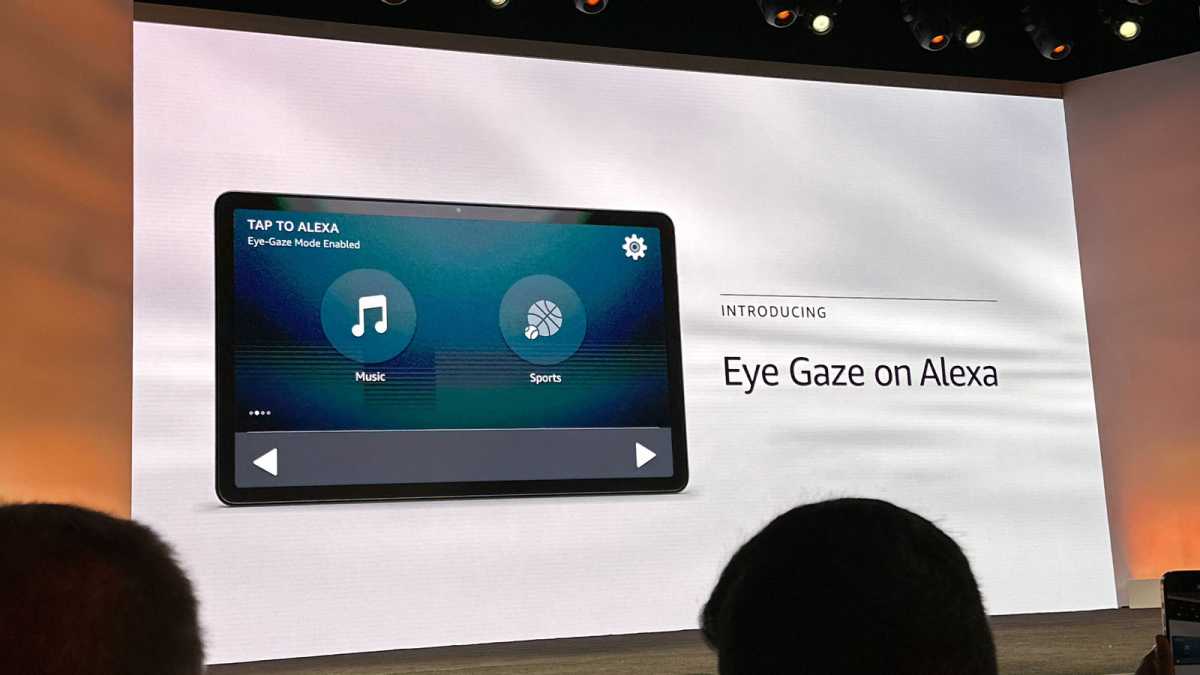 Jim Martin / Foundry
15.35 UTC: Alexa Emergency Assist lets anyone lets anyone use an Echo device to call for help. Key data will be shared with the emergency services, and your emergency contacts notified. It'll cost $5.99 per month or $59.99 per year. This is likely US only.
15.39 UTC: Explore with Alexa is a new mode specifically designed for kids. It'll use the likes of WWF and AZ Animals for information, and combine trivia with questions in a conversational format.
Jim Martin / Foundry
15:40 UTC: New product klaxon! The Echo Pop Kids is a new smart speaker designed for kids. Featured designed include Marvel and Disney themes, and costs $49.99.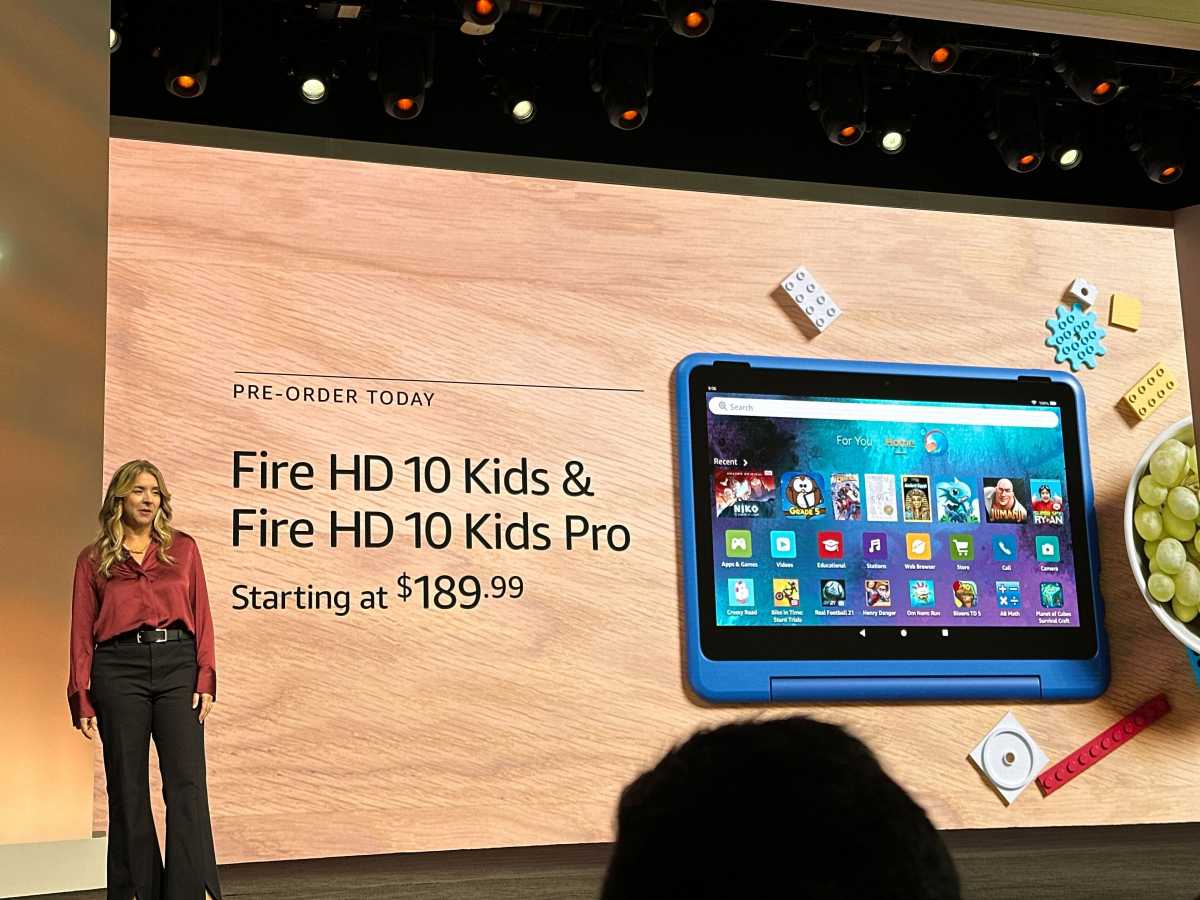 Jim Martin / Foundry
15.41 UTC: Now, new Fire HD Kids tablets. it's all happening. The Fire HD 10 Kids and Kids Pro include a year of Amazon Kids+, and start at $189.99.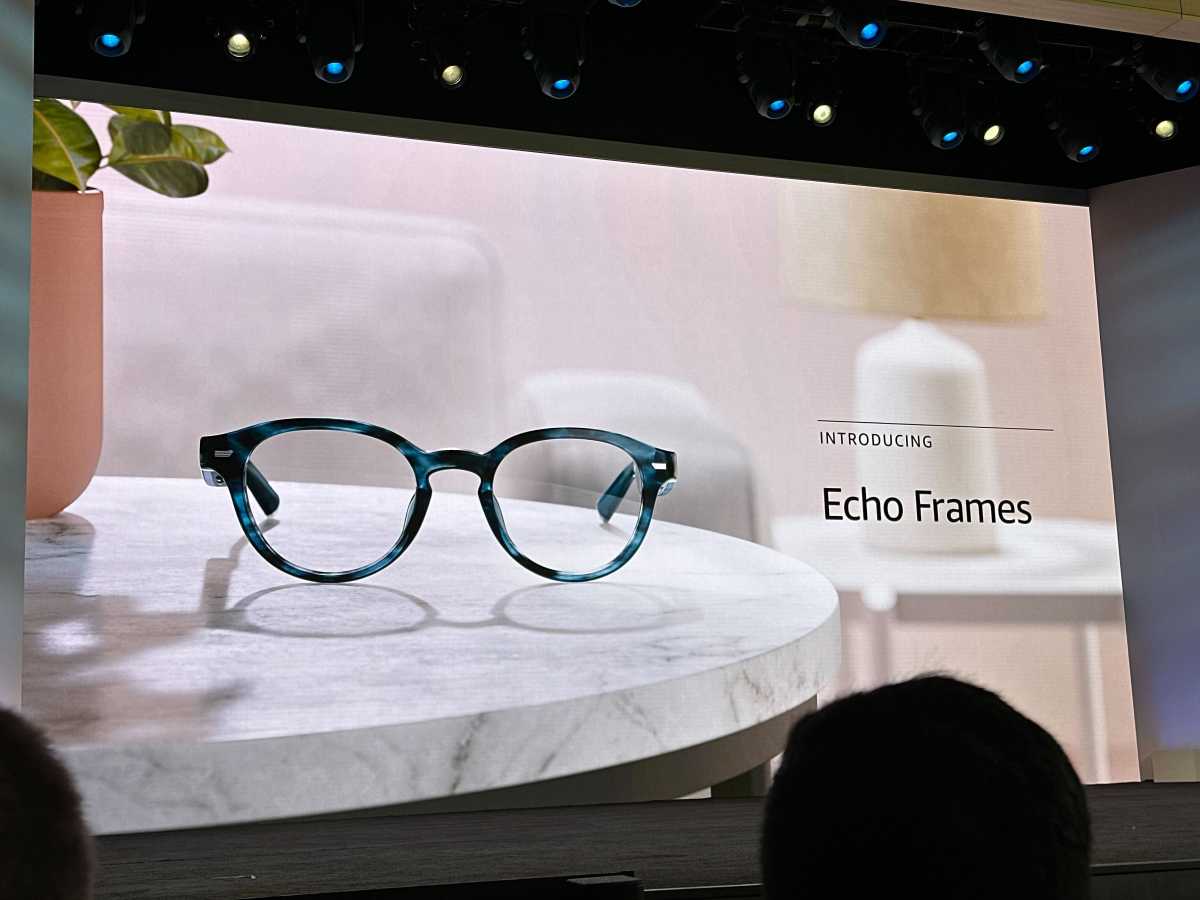 Jim Martin / Foundry
15.44 UTC: Next, new Echo Frames. The updated smart glasses now offer up to 6 hours of battery life, multi-point pairing and improved audio, with more balanced sound and less distortion. The wake word performance has supposedly been improved, and there are seven different styles available – including prescription and blue light blocking lenses. They'll start at $269.99.
15:46 UTC: Fire TV now. Amazon wants to make it easier to decide what to watch via the search experience. And no surprises, it uses AI.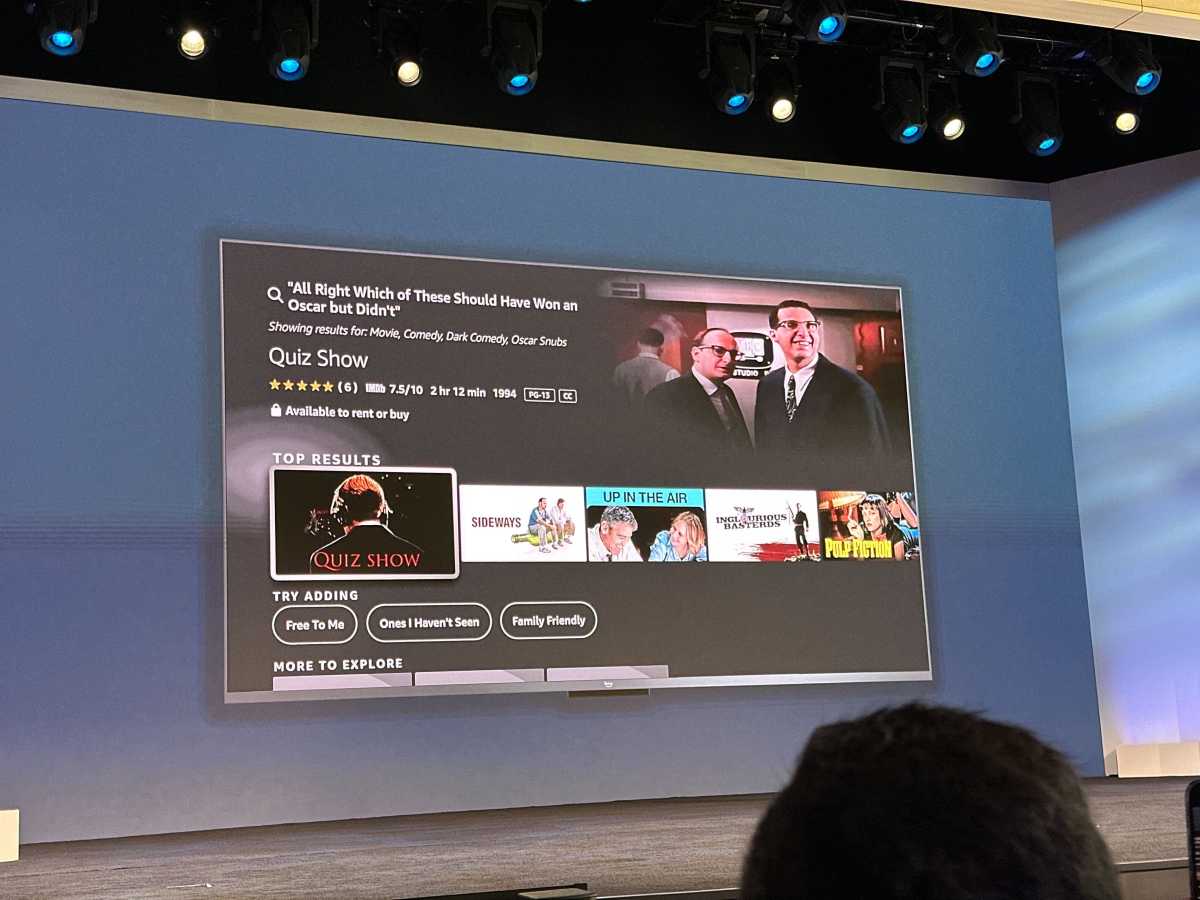 Jim Martin / Foundry
15.49 UTC: The on-stage demo is going pretty well this time. It can essentially become a personalised movie/TV recommender. Remember, Amazon owns IMDb, which gives it access to loads of information.
It's personalised, based on your own viewing history and profile. It's coming to US customers in an update later this year.
15.51 UTC: New Fire TV soundbar! It costs $119.99, and is compatible with all Fire TV devices via Bluetooth, all within a compact design.
Jim Martin / Foundry
15.52 UTC: Products coming thick and fast now. Next is an update to the Fire TV Stick 4K. It has an upgraded processor that's supposedly 30% more powerful, plus Wi-Fi 6 support. It costs $49.99.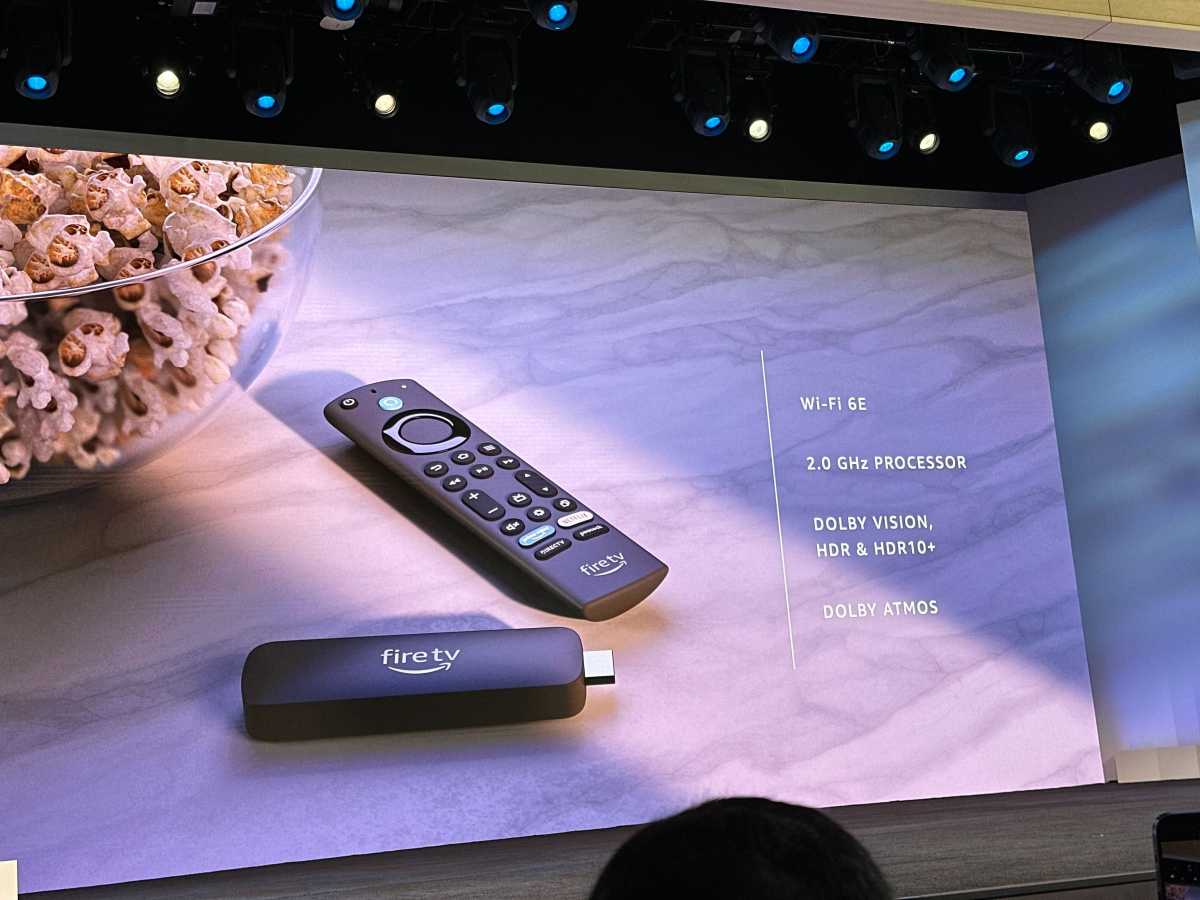 Jim Martin / Foundry
15.53 UTC: The new Max model supports Wi-Fi 6E, has a 2.0GHz processor and supports Dolby Vision, HDR, HDR+ and Dolby Vision. It costs $59.99, and pre-orders for both start today. And the new Ambient Experience includes the option for Gen AI artwork. You can even edit your own photos on the fly, using just your voice. But it's only on the Fire TV Stick 4K Max. 
15.56 UTC: Gen AI photo demo time. Mixed results.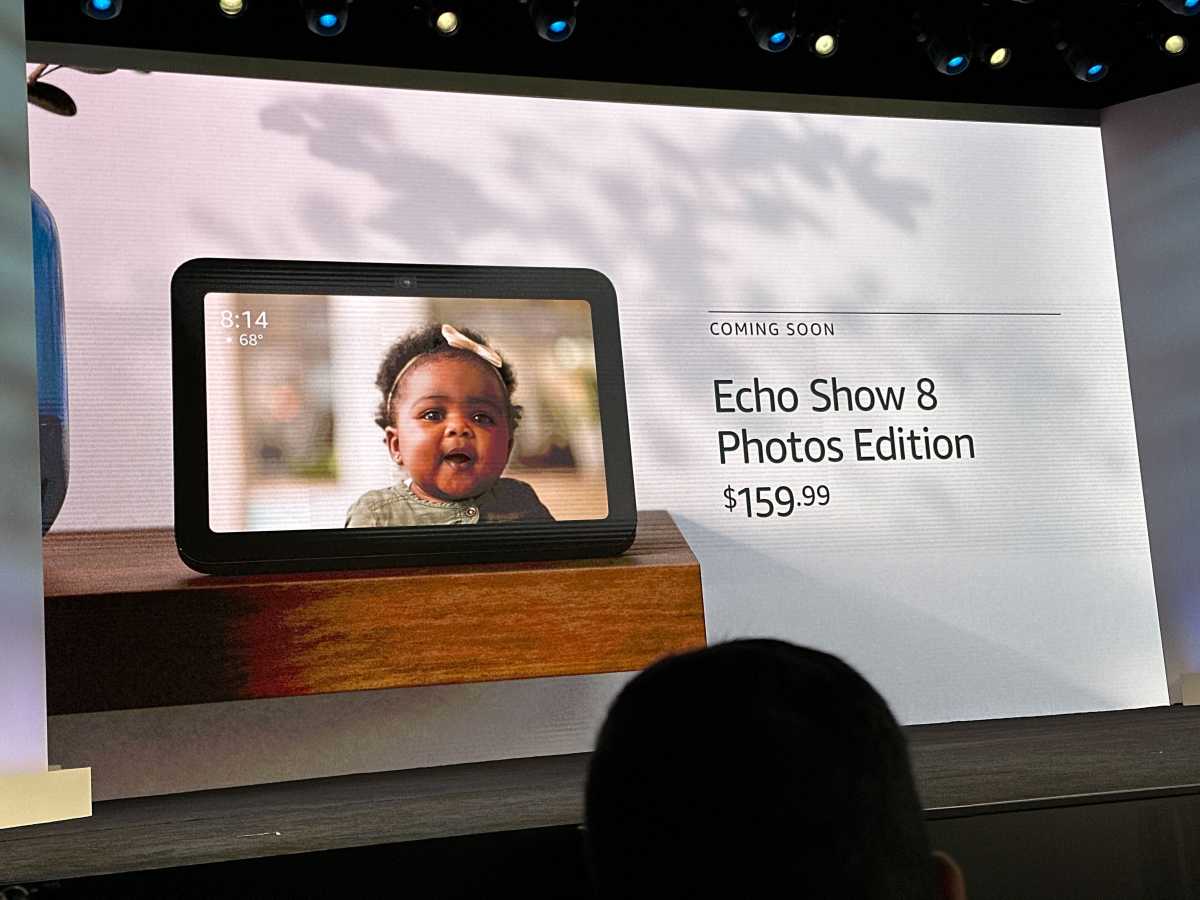 Jim Martin / Foundry
15.58 UTC: The Echo Show 8 Photos Edition, alongside new Photos+ subscription, puts photos front and centre. It costs $159.99, with a $1.99 per month Photos+ subscription after six months.
15:59 UTC: Possums get a confusing mention.
Breaking news. We are updating this article live…