Gone are the days when you had to write content on your own and the productivity was quite low. You can now skyrocket your productivity and accuracy with an AI writing generator. There are a number of fast, intuitive, and versatile AI writing tools, but finding the right one for you is challenging. With the AI writing landscape being so large, you can easily end up working  with a subpar tool if you're not careful.
This article will prevent that from happening. Here are 10 great options for you to try out.
1. HIX.AI 
HIX.AI
HIX.AI is an excellent choice for many reasons, including versatility.
For example, if you want to create different types of content, you can't go wrong with this AI writer. It's adept at over 120 forms of writing, such as creating hashtags, slogans, and stories, and checking spelling, grammar, and plagiarism, while ensuring that all contents are correct, engaging, and original. Plus, it is powered by GPT-3.5 and GPT-4, the two most advanced language models in the world.
Additionally, HIX.AI's ArticleGPT is the tool that you can utilize to generate fact-based, SEO-optimized and hallucination-free articles from dependable resources, emphasizing factuality and trustworthiness. It places keywords naturally within lines and conforms to the style users specify so as to convey the message to your target audience precisely.
HIX.AI
Moreover, HIX.AI offers browser extensions for both Chrome and Edge to come up with online pieces within seconds on various platforms, including but not limited to Google Docs, email clients and social media platforms. By simply typing // to activate the writing assistant to write any content you want, supercharging your workflow with AI prowess.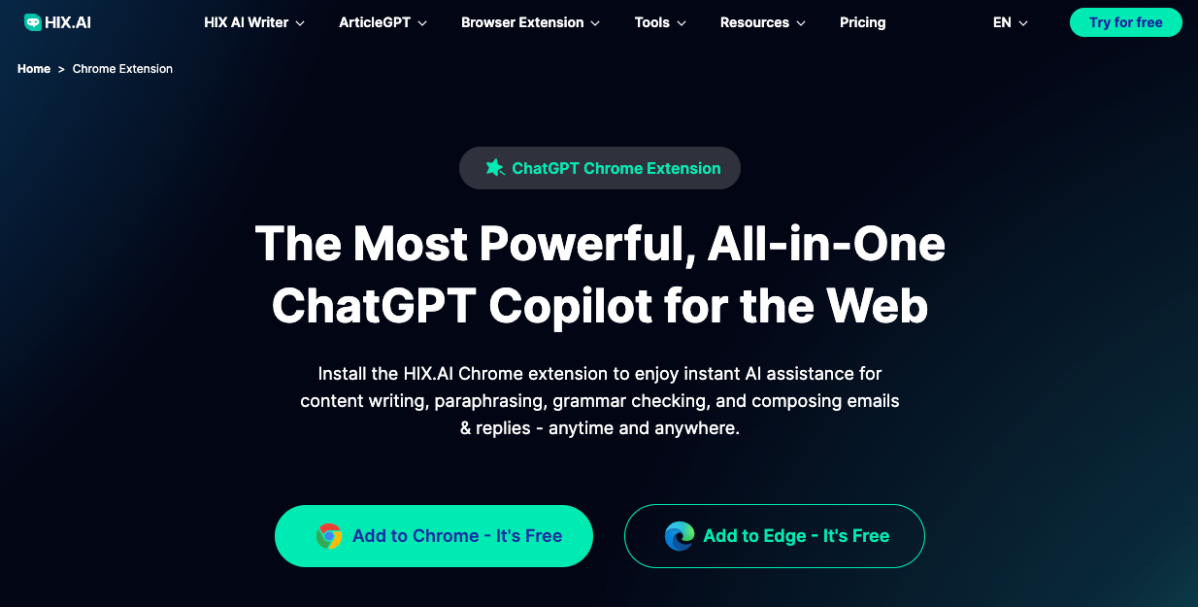 HIX.AI
Pros 
Creates pretty much any form of content 
Generates unique content
User–friendly interface 
Up-to-date database
Cons
Mastering all tools may be time-consuming
2. Jasper 
Jasper
Another AI writing bot you can consider is Jasper. This platform has provided solid operation across the board. 
It doesn't give you as many types of content to work with as HIX.AI, but it still does a good job in this respect. There are over 50 forms to choose from, allowing you to target different groups of followers. 
When it comes to integrations, Jasper doesn't limit you to just one or two platforms. On the contrary, this AI writing model works with Chrome, Grammarly, Surfer SEO, and many other tools to jumpstart your productivity. 
Moreover, it has a minimal learning curve. Even if you struggle with some of the features of this AI blog writer, you can access an array of tutorials. Courses and conference recordings are two of the most common examples.
Finally, Jasper has a powerful Business plan that's ideal for bulk production. It unlocks analytics and unlimited SEO features, too, for improved content generation. 
Pros 
Integrates well with several platforms
50+ forms of content 
Learning materials 
Great for business users
Cons 
3. Rytr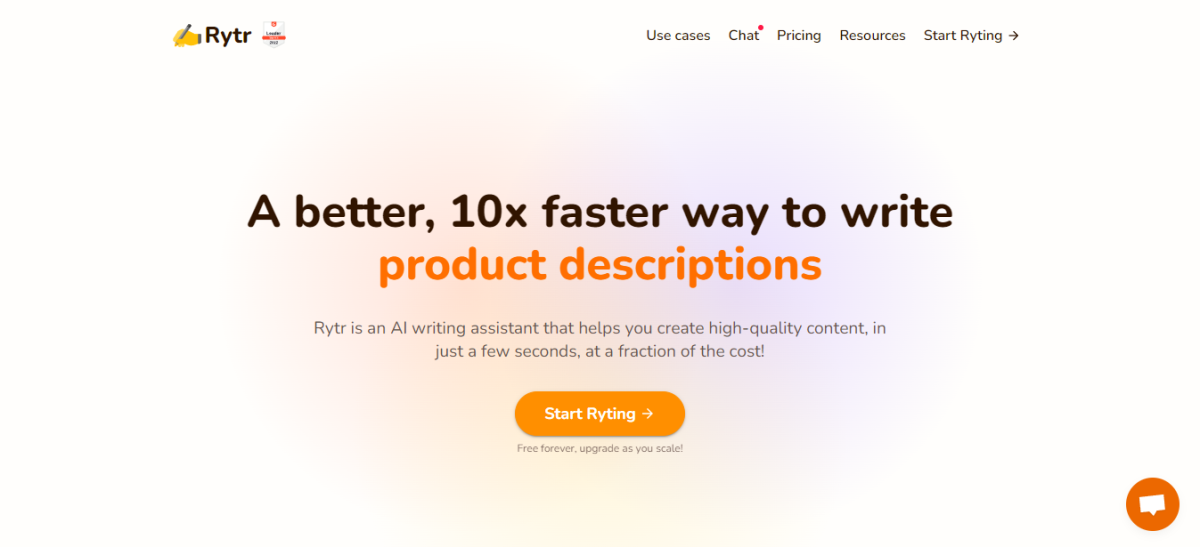 Rytr
The last thing you need is to be bogged down by all your projects. Rytr comes to the rescue with seamless management features. It organizes your work in convenient folders, so you have an easier time finding them. Furthermore, there's a History section that lets you access your previous articles for reference. 
When it comes to flexibility, this AI writing tool isn't too shabby at all. With over 50 types of content, it's a versatile solution that can come up with immersive product descriptions, emails, articles, and sales pitches. 
In terms of integrations, you shouldn't have difficulty adding this AI writing generator to your favorite platforms. The Semrush integration is particularly notable, as it allows you to create content while conducting keyword research. 
Lastly, the software is available in more than 30 languages, enabling you to target foreign audiences. 
Pros
Project management features 
Semrush integration 
50+ content types 
30+ languages 
Cons 
Word count limitations on paid plans 
4. Writesonic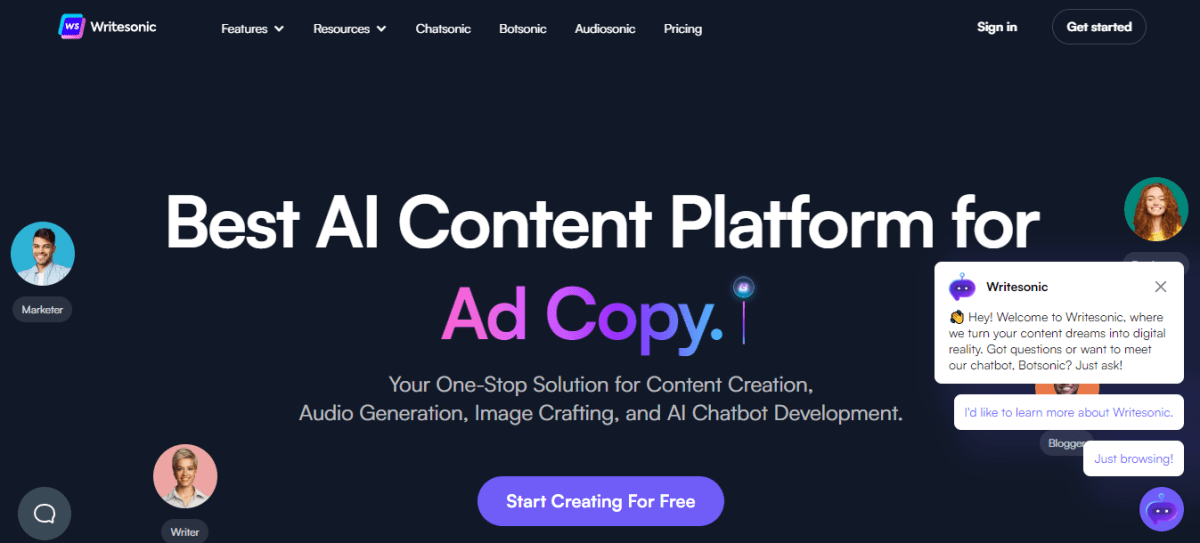 Writesonic
Many deem Writesonic the best AI writing assistant for corporate use. While this might be a slight stretch, there's some merit to this statement. 
That's because Writesonic offers dedicated tools for various departments. For example, suppose you have an eCommerce team in your company, they can utilize the software to write landing pages, ads, and other types of sales copy. This ensures the content aligns with their goals, translating into more efficient campaigns. 
Another great thing about Writesonic is that it runs on GPT-4. It tends to provide higher-quality content than some other platforms that use older models. 
To top it all off, Writesonic is perfect for writing ads. Whether you need Facebook or Google advertisements, the tool can generate them in seconds. 
Pros
Different versions for different departments 
GPT-4 operation
Streamlined ads 
Cons 
Limited customization and editing features 
5. Simplified 
Simplified
As the name suggests, Simplified is about simplifying your content writing. It does so through over 50 templates, including blog posts, sentence expanders, rewriters, paraphrasing features, and product descriptions. 
Moreover, this AI writing program has a convenient scheduling option. You can publish your content as soon as it's ready or schedule it for another time.
Customization is also commendable. The tool lets you choose from more than 10 tones, so you can tailor your content to your target audience. 
Pros 
Over 50 templates 
Content scheduling 
Robust customization 
Cons
6. Copy.ai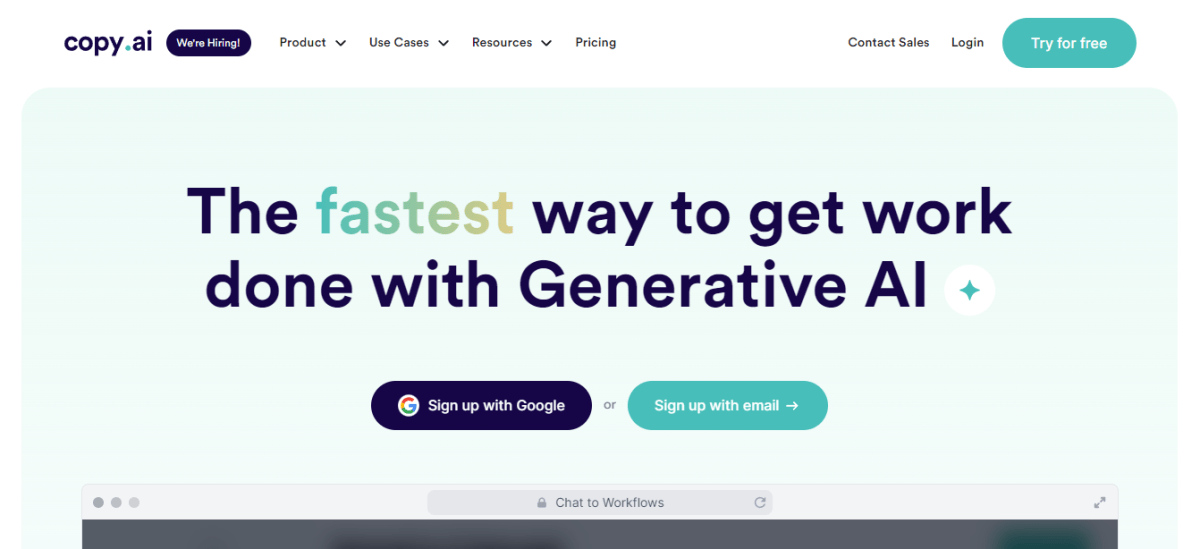 Copy.ai
If you're worried about data protection, you need a platform that doesn't allow information leaks. Copy.ai does a great job in this respect. As a SOC II-compliant AI writing tool, it processes and stores your data in ultra-secure solutions. 
Flexibility-wise, Copy.ai is right up there with the crème de la crème of AI writers. It has lots of different templates and creates content for a range of departments. E-commerce, SEO, marketing, and sales are just some of the workflows this program is designed for. 
Furthermore, the app integrates with a number of content management systems. As such, it's perfect for editing and collaborations. 
Pros 
Secure platform 
Versatile content generator 
Great for teamwork
Cons
Requires thorough fact-checking 
7. Anyword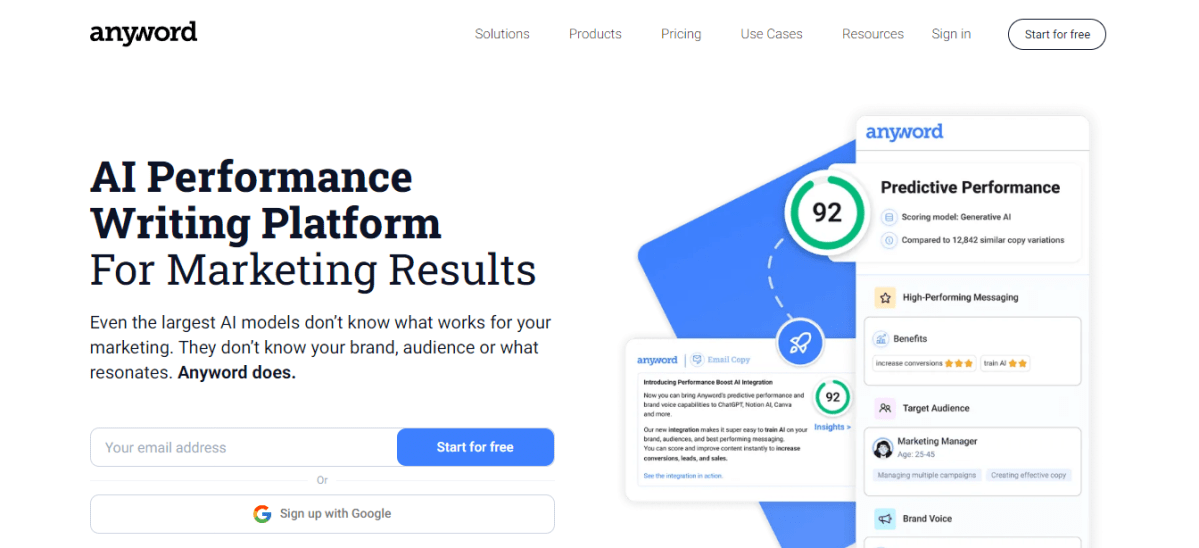 Anyword
We've covered a few AI writers geared toward enterprise use. Anyword joins the fray.
What makes it ideal for corporate use is its scalability. Whether you're a small or large business, you'll have no problem integrating it into your workplace. That's because the Business plan has unlimited seats and workspaces.
As for content generation itself, the tool excels at making different types of copy readily available. Whether you need product descriptions and ads or social media posts and emails, Anyword won't let you down.
On top of that, this AI blog writer has superb performance scores. It compares your posts to those made by your competitors, allowing you to analyze your content and figure out how to improve it.
Pros 
Perfect for business 
Content variety 
Powerful analytics
Cons 
Expensive if you want to use every feature 
8. Article Forge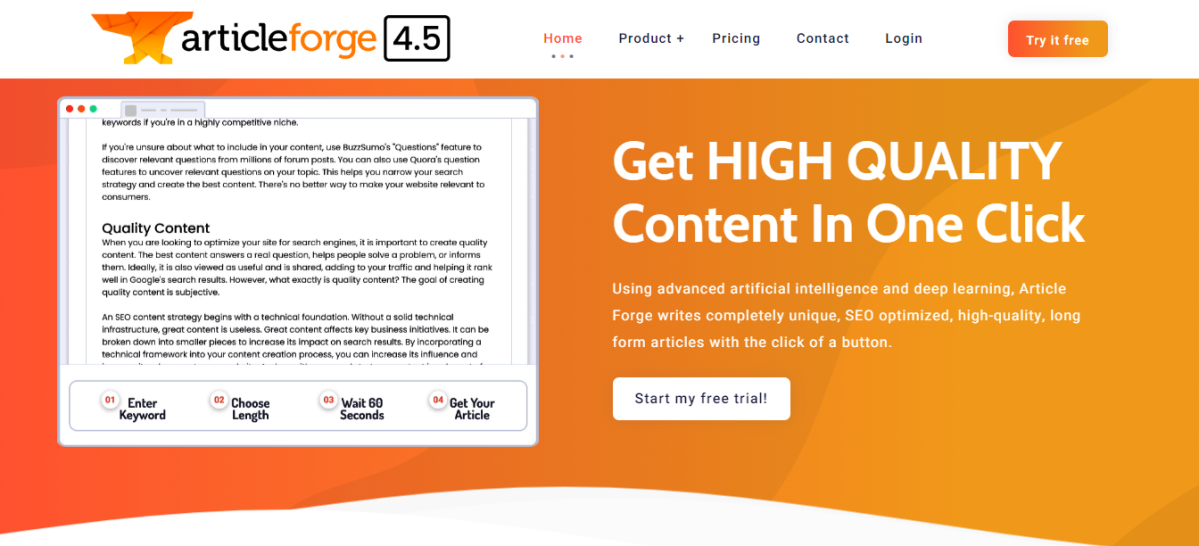 Articleforge
Sometimes, speed counts most when producing content. If that's your priority, check out Article Forge. Once you provide the tool with your input (keywords, language, and desired length), it takes less than a minute to write some of the longest articles. 
Best of all, there's no risk of plagiarism. This AI writing tool guarantees all the content is original, be it social media posts, long-form articles, or ads. 
Additionally, the platform keeps abreast of the latest events. It uses real-time insights to help you write articles about the most recent topics. 
Pros 
Super-fast 
Original content 
Writes about breaking news
Cons 
9. WordAI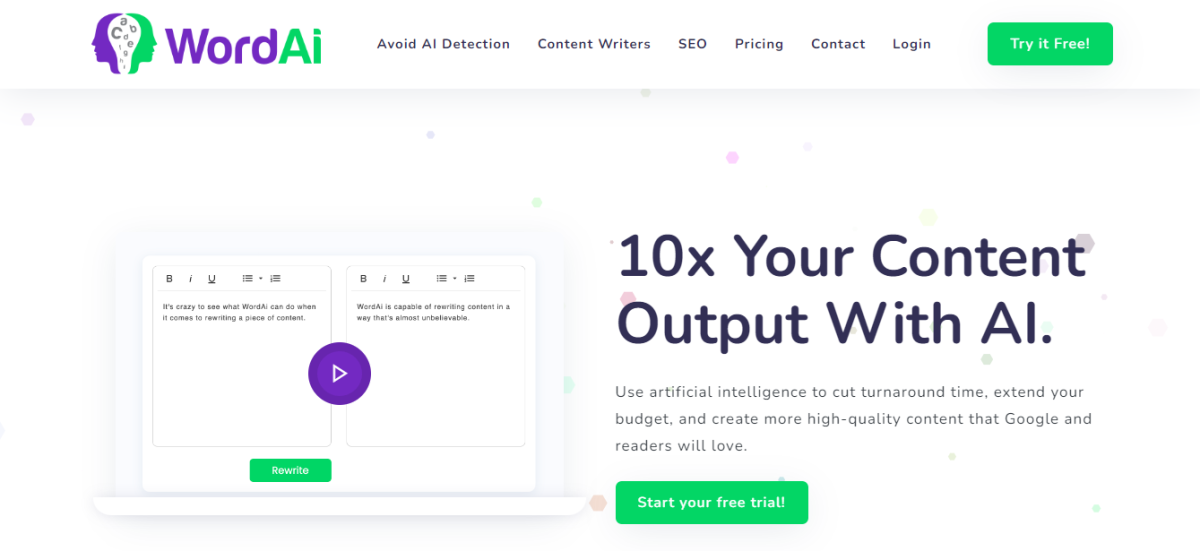 WordAI
WordAI caps off our list of the best AI writing tools. The highlight of this platform is its ability to paraphrase content pretty much indefinitely. Give it one block of text, and it can generate up to 1,000 fresh versions.
Like Article Forge, WordAI guarantees that you won't have plagiarism issues. All the content is original, allowing you to repurpose it.
Finally, many prefer WordAI to some other AI writers due to its affordability. There's a three-day free trial and a $9 Starter plan.
Pros 
Powerful rewrite tool
No plagiarism
Affordable
Cons 
Lacks customizability and advanced editing
10. ClickUp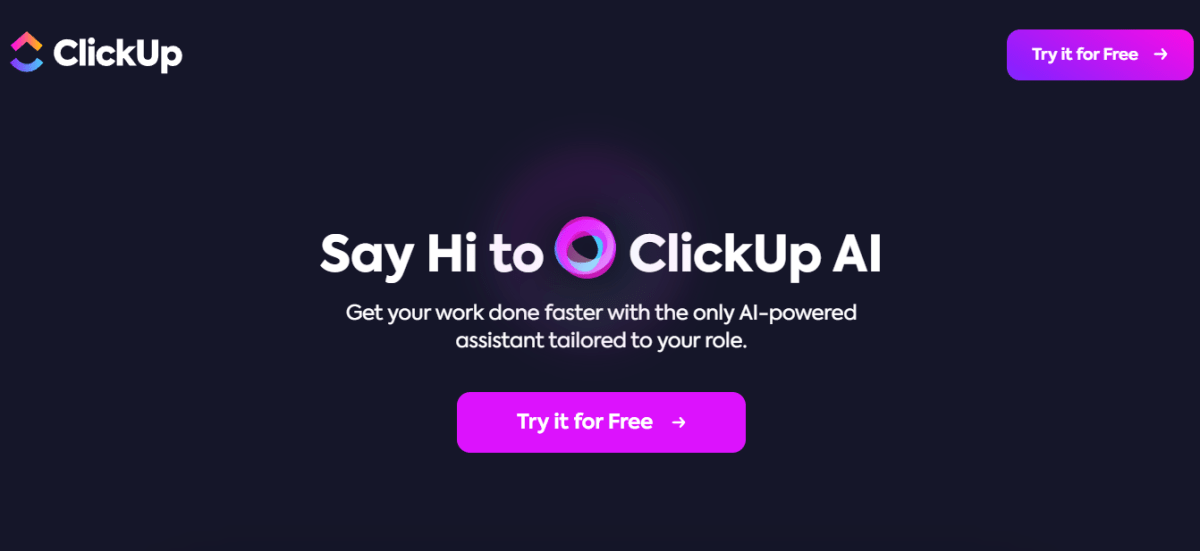 ClickUp
ClickUp is one of the most famous productivity platforms, with a wide variety of tools to help you work faster. They recently added an AI writing generator to the mix. 
The biggest perk of ClickUp is that it seamlessly integrates with other tools in the ClickUp suite. For example, if you wish to take notes in your Online Notepad, the AI writer will let you do so faster and more accurately. 
That's not the only integration with this software. It blends with more than 1,000 programs and apps, allowing you to elevate productivity across the board. 
In addition, ClickUp is highly versatile. Blog posts, long-form articles, case studies, briefs, outlines, emails, and product descriptions are just some of the types of content it can generate. 
Pros 
Complements ClickUp apps 
More than 1,000 integrations 
Diverse content generator
Cons 
Not every integration is smooth 
Steep learning curve with some forms of content 
Take Your Workflows to New Heights With a Polished AI Writing Solution
Choosing an AI writing tool used to be a game of hit-and-miss, but that's no longer the case. Use one of the 10 tools above and you'll eliminate the need to risk accuracy and speed when generating content because top-quality options are readily available. 
The only question is, which one should you select? While each product brings a lot to the table, none is as versatile and polished as HIX.AI. 
Think about it – with over 120 types of content, the possibilities of generating immersive copy are endless. Also, with state-of-the-art algorithms, all long articles generated are fact-checked and hallucination-free. Finally, you get a Chrome extension to boost productivity with improved workflow.